Amber Heard Sits Emotionless as Jury Rules in Johnny Depp's Favor
Amber Heard sat emotionless in the courtroom in Fairfax, Virginia, on Wednesday afternoon while listening to the jury rule in her ex-husband Johnny Depp's favor in the $50 million defamation lawsuit against her.
Depp won his claim based on three statements Heard made in her 2018 op-ed with The Washington Post titled, "I spoke up against sexual violence—and faced our culture's wrath. That has to change."
Depp was awarded a total of $15 million in damages, while Heard had a partial win in her counter-defamation claim, winning $2 million in damages. The judge later adjusted Depp's punitive damages earnings of $5M to $350,000 per Virginia's legal maximum.
Throughout the reading of the verdict, Heard remained stoic, showing little to no emotion as the jurors ruled largely in favor of her ex-husband.
When the jury ruling was finished, Heard could be seen embracing both of her attorneys, Elaine Bredehoft and Benjamin Rottenborn before leaving the courtroom.
After the ruling, Heard released a statement saying that the jury verdict was a "setback" for women who have spoken out about domestic violence.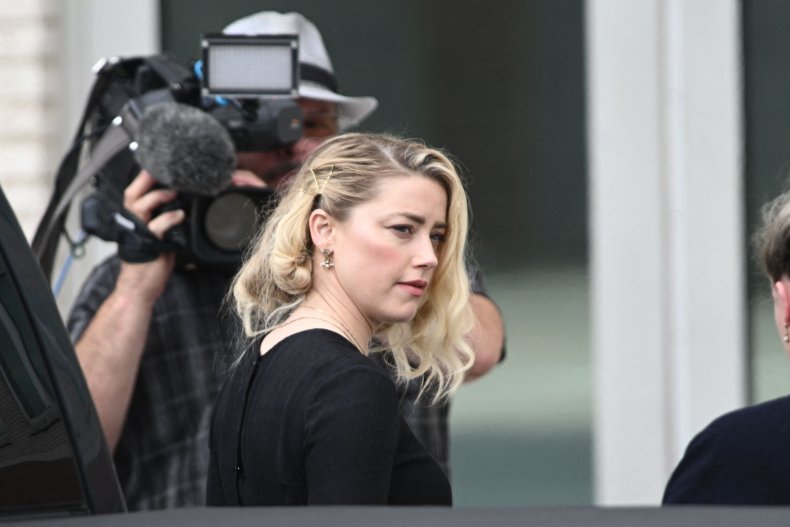 "The disappointment I feel today is beyond words," Heard said. "I'm heartbroken that the mountain of evidence still was not enough to stand up to the disproportionate power, influence, and sway of my ex-husband.
"I'm even more disappointed with what this verdict means for other women. It is a setback. It sets back the clock to a time when a woman who spoke up and spoke out could be publicly shamed and humiliated. It sets back the idea that violence against women is to be taken seriously."
She added that the First Amendment appeared to be "overlooked" in this trial. "I'm sad I lost this case. But I am sadder still that I seem to have lost a right I thought I had as an American—to speak freely and openly," she said.
The Aquaman actress' fans shared the hashtag, "I Stand With Amber Heard" on Twitter following the verdict, some echoing the sentiments Heard wrote in her statement.
"Amber Heard had photos, video, text messages, audio recordings, eyewitnesses, medical notes, therapists notes and she was still not believed. This is a massive setback for women," one user on Twitter wrote.
Another Twitter user wrote, "My heart breaks for amber heard...it breaks for women past and present who have been silenced by powerful men. it breaks for women who do not have the privilege that they do. it breaks for girls who will grow up to see this is how they're treated."
And Eve Barlow, a journalist and outspoken friend of Heard's, tweeted a photo of Heard and wrote, "No matter what I'm always behind you, Heard."