Amber Heard's Sultry Dance With 'In the Fire' Crewmember Goes Viral
A video clip of Amber Heard enjoying a sultry dance session with a crewmember on the set of her upcoming movie In the Fire has gone viral on TikTok.
Last week, TikTok user Bernardo Triana shared a video of himself dancing with the Aquaman star to late singer Selena's enduring classic "Como la Flor." Heard was seen smiling, laughing, and singing along as the two danced among other revelers.
Casually clad in jeans and a black tank top, Texas native Heard looked carefree as she partied alongside members of the cast and crew on the set. The seconds-long clip has proved popular on TikTok, garnering more than 16 million views in a matter of days.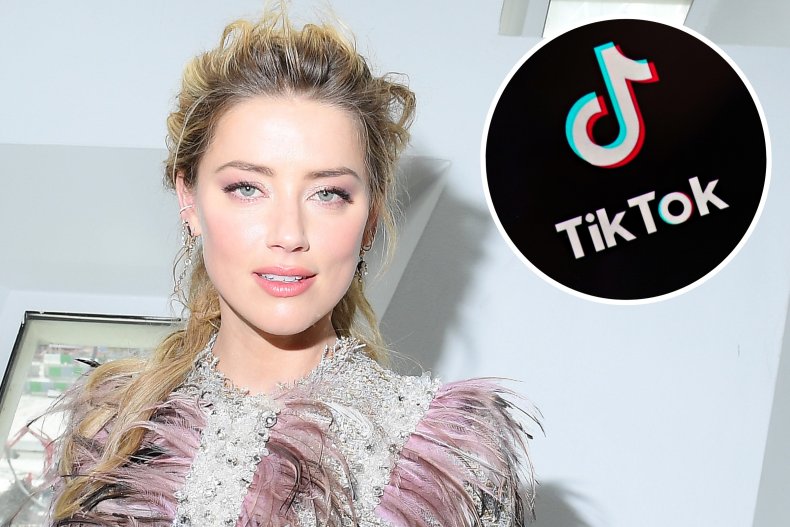 According to ¡Hola! magazine, the footage was filmed in Guatemala, where Heard shot scenes for the supernatural period thriller in the weeks leading up to her high-profile defamation court battle with ex-husband Johnny Depp last spring.
In the Fire, directed by Conor Allyn, stars Heard and Spanish actor Eduardo Noriega. Per Variety, the film is set on a farm in Colombia in the 1890s and follows a couple whose autistic son is accused of being possessed by demonic forces. A release date for the film is yet to be announced.
Triana, who also shared behind-the-scenes footage of Heard, has spoken highly of working with her, saying in a recent live video: "Amber was very kind. She hired me as her assistant. She spoke to me in Spanish. Everyone has an opinion on her, but at the end of the day, I had a great experience with her. She is a great person."
Heard has kept a low profile in recent months, following her contentious court case against Depp. The Pirates of the Caribbean star sued Heard for $50 million over a 2018 op-ed for The Washington Post in which she said that she was a domestic abuse survivor, though she did not name Depp. Lawyers for Depp argued that it was obvious Heard was referring to the actor.
On June 1, the jury in the Virginia trial found that Heard had defamed Depp and awarded him more than $10 million. Depp, in turn, was ordered to pay $2 million to Heard—who had countersued for $100 million, alleging that he had defamed her through comments made by his attorney Adam Waldman.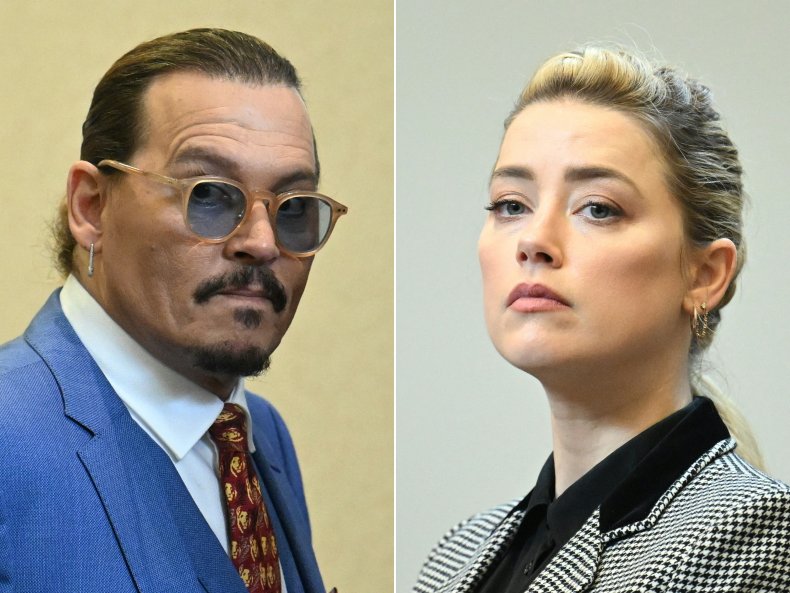 While it was announced in November that Heard was appealing the decision, the star later revealed in December that she would be settling the case with Depp.
"After a great deal of deliberation I have made a very difficult decision to settle the defamation case brought against me by my ex-husband in Virginia," Heard said in a statement on Instagram.
"It's important for me to say that I never chose this. I defended my truth and in doing so my life as I knew it was destroyed. The vilification I have faced on social media is an amplified version of the ways in which women are re-victimized when they come forward. Now I finally have an opportunity to emancipate myself from something I attempted to leave over six years ago and on terms I can agree to."
"I have made no admission," Heard continued. "This is not an act of concession. There are no restrictions or gags with respect to my voice moving forward. I make this decision having lost faith in the American legal system, where my unprotected testimony served as entertainment and social media fodder."
Heard said she felt "vindicated" when the former couple faced a court in the U.K. after Depp took legal action against The Sun newspaper and journalist Dan Wootton for labeling him a "wife beater." Depp ultimately lost the case.
"When I stood before a judge in the U.K., I was vindicated by a robust, impartial, and fair system, where I was protected from having to give the worst moments of my testimony in front of the world's media, and where the court found that I was subjected to domestic and sexual violence," Heard wrote.
"In the U.S., however, I exhausted almost all my resources in advance of and during a trial in which I was subjected to a courtroom in which abundant, direct evidence that corroborated my testimony was excluded and in which popularity and power mattered more than reason and due process. In the interim, I was exposed to a type of humiliation that I simply cannot re-live."
She described that even if her appeal were to be successful, it would mean a retrial where a new jury would have to hear the evidence all over again.
"Even if my U.S. appeal is successful, the best outcome would be a re-trial where a new jury would have to consider the evidence again. I simply cannot go through that for a third time," Heard explained.