Heard Supporters Livid at Reports Some Jurors Slept During Trial
Amber Heard supporters have expressed their collective outrage, after the court stenographer revealed that some jurors fell asleep during her trial against Johnny Depp.
Depp, 58, had filed a $50 million defamation lawsuit against his ex-wife Heard, 36, over a 2019 op-ed for The Washington Post, in which she stated that she was a public figure representing domestic abuse. Heard countersued for $100 million for nuisance.
Following a six-week televised trial that concluded at the end of May, the seven-person jury, made up of five men and two women, ruled largely in Depp's favor, awarding him $10 million in compensatory damages and $5 million in punitive damages (the latter of which was adjusted to $350,000, per Virginia law limits).
Judy Bellinger, a stenographer who works for Planet Depos, a private firm hired by both Depp and Heard's teams to record everything said in court, worked throughout the trial at Virginia's Fairfax County Courthouse.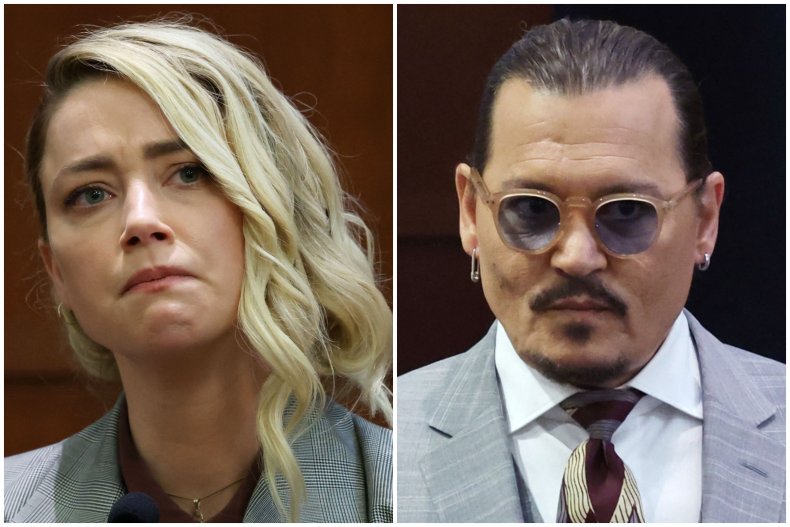 In an interview with Law & Crime Network, Bellinger said that a "few" of the jurors dozed off at points during proceedings.
"There were a few jurors who were dozing off," said Bellinger, who added that the jurors fell asleep in both rows. "And it was tough. There were a lot of video deposition, and they would just sit there and all of a sudden I'd see their head drop."
Bellinger went on to say that the "best" juror, who she noticed had paid the most attention intently, ended up being one of the randomly chosen alternates and ultimately had no involvement in the final verdict.
"Unfortunately, the one alternate that was on there, she was probably the one that listened the most," Bellinger said. "I watched her facial expressions, she was very deeply into every word that was being said. I thought she would've made a great juror, and she did not get to see it to the end... She was paying close attention."
As the video was circulated across social media, the comments sparked outraged among a number of Heard fans.
"I'd say I can't believe the judge allowed multiple sleeping jurors to go unchecked, but I'd be lying," commented one person on Reddit.
"In fairness, sometimes the judge doesn't notice because they are also paying attention to the witness and not staring at the jurors," another explained. "Often it's the attorneys or court officer that bring it to a judges attention."
Referring to the deluge of trial snippets shared by fans on social media in recent weeks, another wrote of the jurors: "They probably figured they'll just get caught up on TikTok later. Seriously, they had one job and couldn't pay attention or follow instructions enough to do it. And this was during video depositions that Judy noticed it, so I'm positive the judge noticed it too. What a farce.
"It'd be a comedy but because of the content and effects it's cruel. Defamation is too complicated to have even gone to a jury. I'm so overwhelmed by the lack of curiosity, intelligence, analytical thinking and boundaries that this trial has exposed in people even the jurors who had a literal job requiring them to find those things in themselves."
"The fact they had jurors mentally checking out, but the one most invested in doing their job, didn't even make jury? Real terrible stuff," commented another.
Bellinger was seen hugging Depp on May 27, the final day of the trial, in a video widely shared across social media.
Supporters of Heard have claimed this is proof that it was not a fair trial as it was an example of non-impartial behavior, five days before the verdict was revealed. Bellinger later spoke out to share her side of events and denied accusations that she was "partying" with Depp.
Depp, who was in the U.K. at the time that the verdict was delivered last Wednesday, said in a statement that the "jury gave me my life back."
Heard had alternatively stated that she was "heartbroken" over the verdict, which she deemed a "setback" for women.
"I believe Johnny's attorneys succeeded in getting the jury to overlook the key issue of Freedom of Speech and ignore evidence that was so conclusive that we won in the U.K.," she stated.
"I'm sad I lost this case. But I am sadder still that I seem to have lost a right I thought I had as an American—to speak freely and openly."