Amber Heard Turned Kate Moss Stair Incident 'Ugly' in Her Mind: Johnny Depp
Johnny Depp once again took the witness stand on Wednesday in the defamation trial of ex-wife Amber Heard, claiming that Heard took the story of former girlfriend Kate Moss falling down the stairs and made it "ugly."
One of the most widely debated facts of the trial, which came after Depp sued Heard for $50 million, was that Depp once pushed his former girlfriend Moss down a staircase when they dated in the 1990s.
Heard mentioned the rumor with Moss at least twice in court, opening the door for Depp's legal team to call the supermodel to testify. On Wednesday, she testified that Depp never pushed her down any stairs. Instead, Moss said she slipped on some stairs in the rain while on vacation with Depp in Jamaica and Depp came to help her.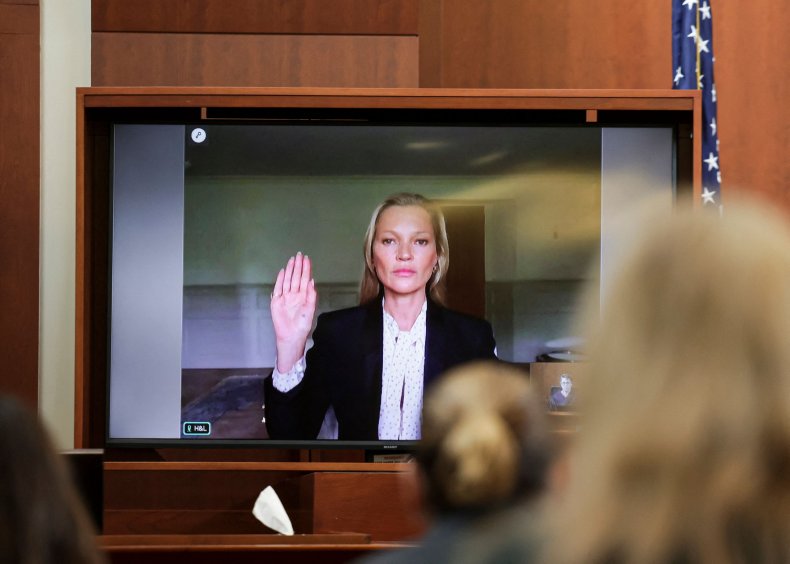 Depp later took the stand and was asked about the staircase incident as well. He once again recalled the incident in Jamaica as Moss had recalled it, and then said he told Heard about it.
"Miss Heard took the story and turned it into a very ugly incident, all in her mind," Depp testified. "There was never a moment where I pushed Kate down any set of stairs, yet she's spewed this three times before.
"That's the whole story. But then the rumor of it, I had never heard a rumor of that before Miss Heard grabbed hold of it. It's like that, I'm sorry."
Debunking the rumor incited significant praise on social media for Moss, as Depp fans thanked her for speaking out.
The trial is in its sixth and final week and has seen a significant amount of accusations from both parties about alleged abuse and violence. Depp sued Heard for $50 million for defamation after she wrote an opinion piece with The Washington Post titled I spoke up against sexual violence — and faced our culture's wrath. That has to change.
While the article did not name ex-husband Depp, the Pirates of the Caribbean actor's legal team claimed that the article damaged his reputation and caused him to lose a number of projects.
Depp was also not the only one who had a past incident brought up in the trial. Heard also had an allegation resurface that she domestically abused her ex-partner, Tasya van Ree. Van Ree issued a statement in 2016 that Heard was wrongly accused, but unlike Moss coming forward to deny the accusation, van Ree was not called to be a witness.
The trial is coming to a close this week and closing arguments are expected on Friday. Heard countersued Depp for $100 million for nuisance.
Follow Newsweek's live blog for additional updates.
Update 5/25/22, 2:06 p.m. ET: This story has been updated with additional information.