Amber Heard Sparks Outrage With Tweet Suggesting Nannies Hide From ICE Checkpoints in Hollywood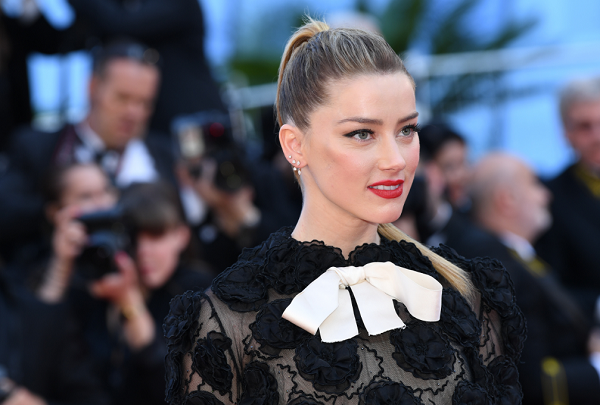 Amber Heard's recent attempt to slam the U.S. Immigration and Customs Enforcement fell flat with her Twitter followers. The actress visited the Tornillo Port of Entry in protest of immigrant separations in Texas last week, but her outspoken nature on the nation's immigration issue sparked immediate outrage after she suggested Hollywood's elite should hide their nannies and housekeepers from ICE checkpoints on Tuesday.
In a since-deleted tweet, the 32-year-old actress wrote: "Just heard there's an ICE checkpoint in [H]ollywood, a few blocks from where I live. Everyone better give their housekeepers, nannies and landscapers a ride home tonight."
Heard might have written the tweet in jest, but dozens of people found her comment offensive.
Minutes after deleting the tweet, Heard issued a follow-up response to clarify her statement. "Checkpoints on your home streets… Is this the 'great' America we're aiming for? Raids, fences and police-state-like checkpoints don't feel like the 'land of the free' our immigrant ancestors built," she wrote.
Heard brought followers' attention back to the issue at hand later on Tuesday by posting a photo of an unidentified girl and encouraging people not to get distracted by what's important.
"With this human rights crisis being so politicized, it is hard to make a simple statement w/out it being used to distract from the real issues," she wrote. "It's hard for everyone to not be negatively affected by this subject in some way."
Dozens of celebrities have used their social platforms to protest President Donald Trump's zero-tolerance immigration policy, which has seen hundreds of migrants separated from their children who are too young to live in adult detention camps. Although Trump signed an executive order in late June promising to keep migrant families together, more than 2,000 children who crossed the border illegally with their parents are still separated from their loved ones and are currently being held in custody of the Health and Human Service, CNN reported June 23.