'Teen Mom's Amber Portwood Arrested in Indianapolis on Domestic Battery Charge
MTV's Teen Mom star Amber Portwood was arrested in Indianapolis, Indiana, early Friday morning.
The 29-year-old was taken into custody on charges of domestic battery, according to jail records, and is still in the arrestee processing center. Her specific charge, according to Indiana law, relate to her allegedly touching a family or household member in a "rude, insolent or angry manner."
The Indianapolis Metropolitan Police Department told TMZ the incident involved Portwood's boyfriend, Andrew Glennon. Glennon allegedly claimed the two got into a heated argument and Portwood assaulted him while he was holding their one-year-old son.
Given that the child was present at the time of the alleged offense, officers contacted Child Protective Services, according to TMZ. Newsweek reached out to the police department. Representatives declined to comment.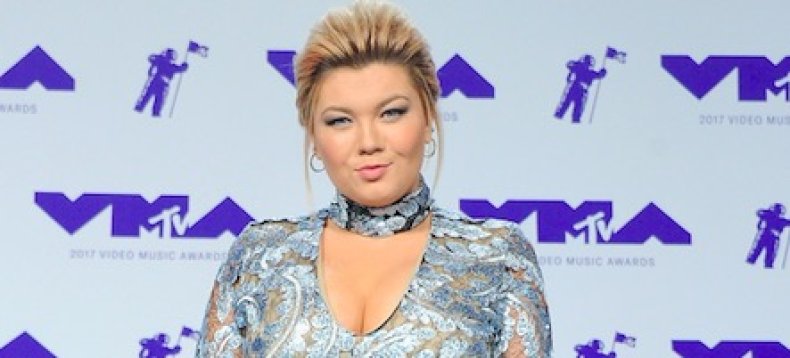 James is Portwood's only son and was born about 10 years after Portwood gave birth to her daughter Leah, a time that was chronicled on the debut season of the show Teen Mom.
"James is great, he's so smart, he's walking already," Portwood recently told US Weekly. "I can't believe I have a one-year-old. I think I'm the only one that's waited 10 years to have a kid, which is a good thing I guess, but I really wanted my next child to be with somebody that I knew I was going to stay with."
Portwood explained to US that when she first met Glennon in 2017, they fell in love quickly and were "so perfect together." The interview painted the picture of a happy family life, and Portwood said all those close to her were doing well, including Leah's father Gary Shirley.
"I've said a few times if it happened I wouldn't be mad," Portwood said when asked about the prospect having another child. "There are many things I would do differently with Andrew. I wouldn't wait to get married, I wouldn't wait for anything. He's my soulmate and he's a beautiful person. I don't see anybody else I could mesh with."
This isn't the first time Portwood has been arrested. In 2011, she pleaded guilty to two felony domestic battery counts, stemming from a fight with Shirley. In December of that year, she was arrested for violating probation. Then in May 2012 she was sentenced to five years in prison on a felony drug charge. She ultimately served 17 months.
Portwood is due back in court Monday, according to jail records. It's unclear if she has an attorney.