Amber Rose Slams Instagram Bullies Who Called Her Son 'Gay': 'This Is Why Young Kids Kill Themselves'
Amber Rose went after the cyberbullies who called her 5-year-old son "gay" for liking Taylor Swift. After posting two videos of her son Sebastian opening a gift from the "Bad Blood" crooner on Tuesday, Rose found the comments section flooded with trolls calling the child gay for liking Swift.
Rose—who started the Amber Rose Foundation and the Amber Rose Slutwalk to combat derogatory labels, sexual violence and gender inequality—lashed out at the hateful commenters.
"Shout out to all the hyper-masculine men and ignorant dumb ass women that will call a five-year-old gay for liking Taylor Swift," she wrote in an Instagram story post. "This is why young kids kill themselves. And this is also why our society is so f---d up."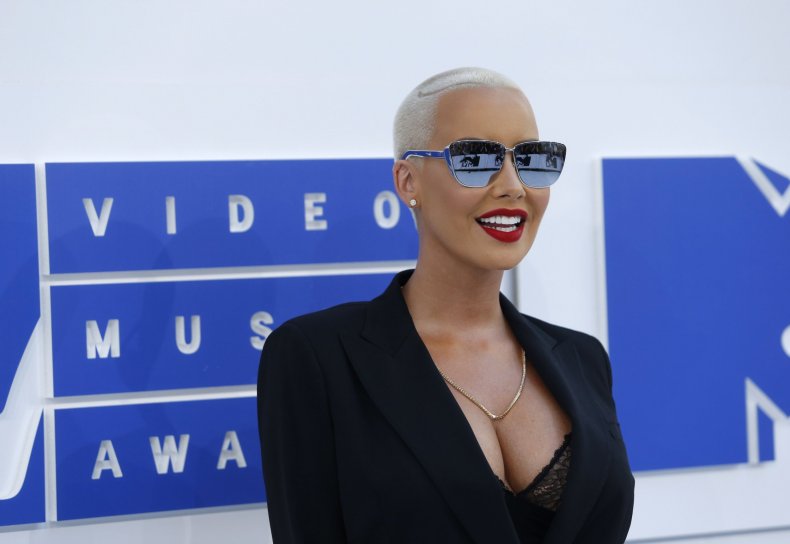 Suicide is the second leading cause of death for children ages 4-17, according to Centers for Disease Control and Prevention data between 2014 and 2016. In 2016, an American Academy of Pediatrics study "found a clear relationship between both bullying victimization and perpetration and suicidal ideation and behavior in children and adolescents."
In her defense of Sebastian, Rose said she doesn't shame her son or limit his passions to what is perceived as socially acceptable.
"We allow him to be himself," she said of her son, whose father is rapper Wiz Khalifa. "He can listen to whatever music he likes, he can like whatever color he wants and we let him be passionate about whatever his little heart desires."
Rose continued, "We don't make our son live by society [sic] norms that's why he's so special.
"Liking a certain type of music will not make you 'pick' your sexuality you dumb f---s," Rose wrote. "P.S. my son just got accepted into the most prestigious private school in Los Angeles because he's smart as f--k and creative as f--k like his parents."
Rose also took a shot at the bully's bank accounts. "He also has more money in his bank account than any of you trolls could ever imagine Lol," she wrote. "Let's do better for the next generation people. Grow the f--k up and teach ur kids to love and not hate.
"P.S.S. Regardless if he's gay or straight when he gets older he will be around the most amazing loving people that will support him no matter what," Rose said.
In October, Rose posted a video of Sebastian singing the lyrics to Swift's "Look What You Made Me Do" with the caption, "He loves him some @TaylorSwift."
One user tagged Khalifa in the post, urging him to "get your son [...] before his mom turns him gay."
Despite the homophobic remarks, most commenters were supportive, calling the child "cute" and "adorable."
Rose did not immediately respond to Newsweek's request for comment.