Amber Rose's SlutWalk Offers Counseling to Rape Survivors
Activist and unapologetic feminist Amber Rose will celebrate her Amber Rose SlutWalk in the heart of Los Angeles Saturday. This year marks her fourth SlutWalk, an annual event launched in 2015.
The SlutWalk, a global phenomenon, first surfaced in Toronto in 2011 after a police officer advised a group of women to not "dress like sluts" to avoid being sexually assaulted. Since then, the movement has been celebrated annually in more than 200 countries and includes Rose's festival.
Rose, born Amber Levonchuck, was a victim of slut shaming before creating the Amber Rose SlutWalk. She came across a picture of a woman attending a SlutWalk event, and after researching the movement, she decided to bring more awareness to the event by creating her own SlutWalk. Now, the Amber Rose SlutWalk is attended by hundreds of people from all walks of life. And with the #MeToo movement hitting the one-year mark Friday, Saturday's highly inclusive affair is arguably more crucial than ever before.
"We give counseling for rape survivors. We also have a full festival to celebrate the people at the same time. It's very emotional," Rose, 34, told Newsweek. "It's a safe place for people to come and talk about their life experiences with other people that can relate to them and realize that they're not alone."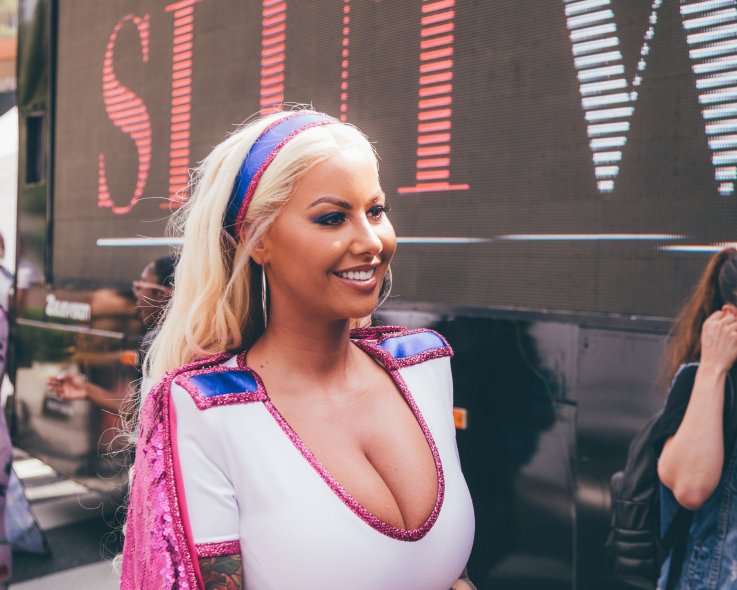 Added Rose, "I think it's really cool to come into a safe place where there's zero tolerance for bullying or body shaming. There's a lot of people with different body types that come and wear whatever the hell they want. They're embraced with hugs and love instead of ridicule.... We don't have that a lot in this world."
Rose's SlutWalk, like other SlutWalks celebrated worldwide, address rape culture and sexual violence. It also serves an event to educate attendees on the movement's mission. The event will start with a march led by Rose at 10 a.m. PT. Doors to the festival grounds will open at noon and close at 5 p.m.
Unlike previous years, Rose's event will address the importance of voting. Those in attendance can register to vote on-site. This convenient feature is especially timely with next month's midterm elections
"Right now, I'm learning a lot about politics. That was never really my thing, but I think it's so prevalent right now. I think it's needed," Rose said. "You vote for the president you want in office, but I never really looked at judges, governors, mayors and people that are really changing the world that aren't the president. I didn't grow up learning that. I feel like now I'm learning a lot more about all that and how to go about doing it. We have voter's registration at the SlutWalk this year. I feel like that's the next thing I'm getting into."
Beyond Rose's SlutWalk, she hopes to use her platform to create video content for places like YouTube. She said this will allow her to be "open and honest" without having to rely on a network to host her, as she did in 2016 with The Amber Rose Show on VH1.
Rose's "passion of helping women" doesn't stop there. Creating her SlutWalk, she said, is solely based on this passion.
"When you have passion about something, then you'll go ask everybody for money. That's how I started my SlutWalk," Rose said. "I literally called people. I texted them. I didn't email them.... I was, like, 'Yo, I need money to start this.' The worst thing they could say is no.... You said no, that's cool. I'm going to move on, and I'm going to make it happen. I'm going to figure out how to get this done."
The Amber Rose SlutWalk will take place in Los Angeles's Pershing Square. It is free, but VIP tickets are sold out.
Amber Rose's SlutWalk Offers Counseling to Rape Survivors | Culture