Amber Rudd Profile: Who Is Britain's New Home Secretary?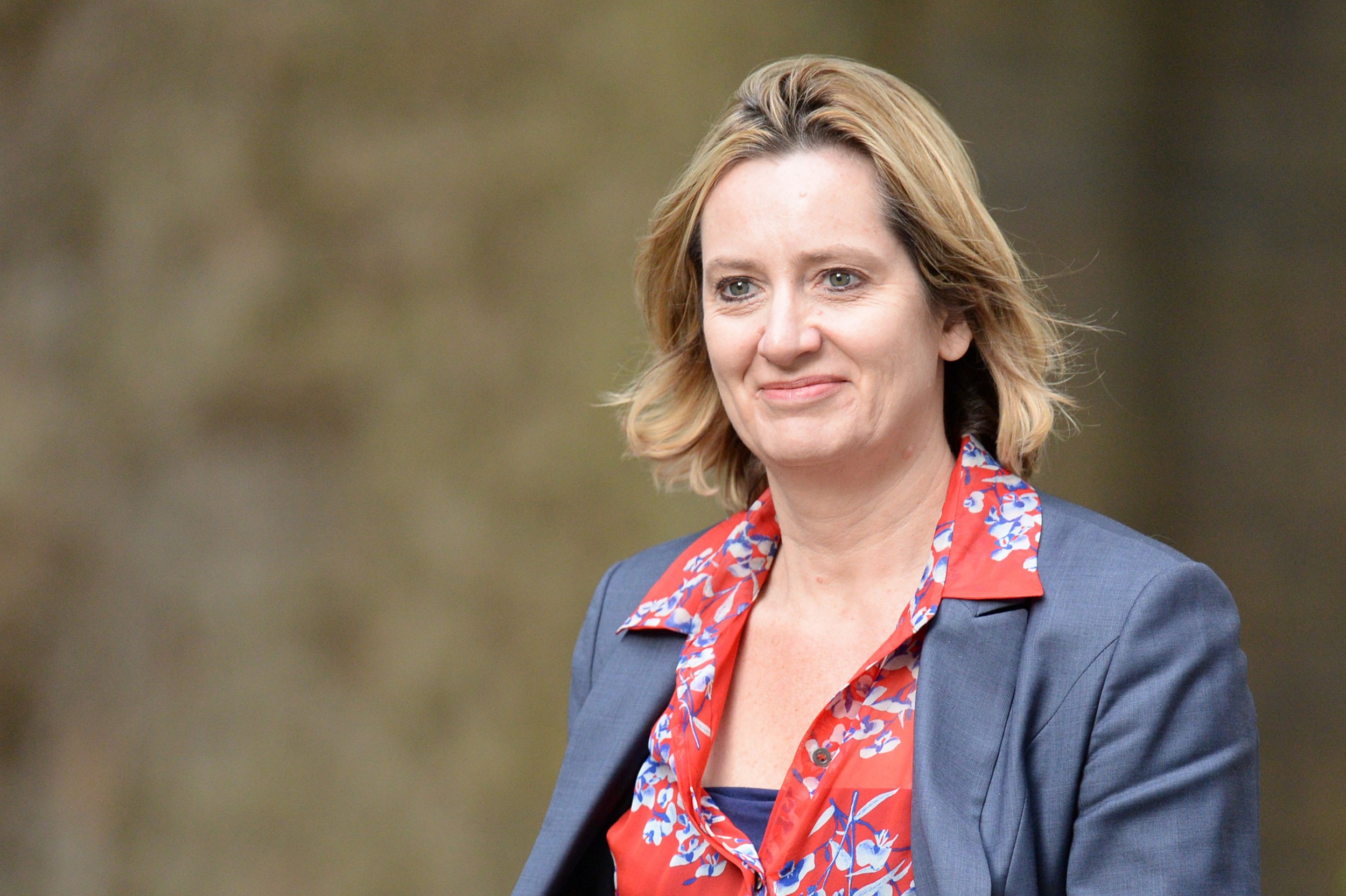 Amber Rudd has been appointed as Home Secretary by the new Prime Minister Theresa May.
Rudd was secretary of state for energy and climate change under former Prime Minister David Cameron and she will now take the post vacated by May, making her one of the most powerful government ministers. She will sit across the cabinet table from former Mayor of London and new Foreign Secretary Boris Johnson, whom she described during a debate leading up to the EU referendum as being the "life and soul of the party" but "not the man you want driving you home afterwards."
The pro-Remain MP supported May's leadership bid, saying that Energy Minister Andrea Leadsom was not ready to be prime minister. She was a staunch figure in the Remain campaign and has enjoyed a steep elevation since she took the constituency of Hastings and Rye back from Labour in 2010. But who is Amber Rudd and what will she bring to May's cabinet?
Rudd was born in 1963, in London, to Tony Rudd, a stockbroker and financial journalist, and Ethne Fitzgerald, a magistrate who also worked as the secretary of the Kensington Society. The youngest of four siblings, Rudd lived a privileged life. Her childhood homes consisted of a Kensington townhouse and a country mansion in Wiltshire. Chalcot House, near Bath, previously belonged to Nicholas Phipps, whose mother, Lady Sybil, was a sister of the Dowager Duchess of Gloucester and the Duke of Buccleuch.
After a private education, Rudd went to the University of Edinburgh and graduated in 1986 with a master's degree in History. Four years later, in 1990, she married the writer A.A. Gill, a restaurant reviewer for Vanity Fair and The Sunday Times. Rudd's privileged upbringing was far from lost on Gill, who nicknamed her "the Silver Spoon" in his restaurant columns. Gill and Rudd have two children, Flora and Alasdair, but the couple separated in 1995 and later divorced. In December 2015, Gill told The Evening Standard: "The truth is I adore Amber. We're still close friends and she's been the most amazing mother to our two children."
After university, Rudd worked in investment banking in London and New York. Before being elected as an MP for Hastings and Rye in 2010, having moved there three years earlier, she set up a freelance recruitment business and wrote for financial publications. She was Parliamentary private secretary to the Chancellor from 2012 to 2013 before becoming assistant whip.
Rudd was appointed under-secretary of state in the Department for Energy and Climate Change in 2014, and, following the 2015 general election, where she held her seat with an increased majority, she was promoted as secretary of state for energy and climate change. In May 2015 she was appointed as a member of the Privy Council.
In July 2015, Private Eye reported that Rudd faced a potential conflict of interest because she is to decide on the Hinkley Point C nuclear power station (a much-delayed proposal to construct a 3,200 MWe nuclear power station with two EPR reactors in Somerset, England) while her brother Roland is chairman and founder of Finsbury, a lobbying firm that represents a construction company with a £100 million contract to help build the nuclear plant. The Private Eye report noted that despite the MPs' register of interests including a new category of "family members engaged in lobbying," Rudd "makes no mention of her brother or his interests," and added, "The Eye asked the Department of Energy & Climate Change if Rudd had told its permanent secretary about Roland and Finsbury (another conflict of interest procedure) but it did not reply."
The links between decisions to be taken by the Department for Energy and Climate Change and Rudd's brother's lobbying interests had previously been reported in the Daily Mail. In May 2015, the newspaper reported that Rudd would not be making a decision on plans by Halite Energy Group to store natural gas in underground caves in Lancashire. Halite is represented by the lobbying firm Rudd's brother chairs.
The newspaper reported: "It is one of the first big decisions in energy secretary Amber Rudd's in-tray—but she won't be making it. Last night Rudd conceded that she would play no part in the decision. But the Department for Energy and Climate Change insisted that this was not because of any conflict of interest. A spokesman said the decision was never due to have been made by her, and that it would be down to a junior minister. But last night officials were unable to say which minister would make the decision."
In November 2015, Rudd proposed that the U.K.'s remaining coal-fired power stations should be shut by 2025, with there use restricted by 2023, saying that "we need to build a new energy infrastructure, fit for the 21st century." In November 2015 a leaked letter showed that the government was not on course to deliver its mandatory renewable energy target, leading to accusations from The Ecologist that Rudd had knowingly misled parliament.
In July 2015, Craig Bennett, of Friends of the Earth, accused Rudd of hypocrisy in claiming to want to address climate change while at the same time, in his view, "dismantling an architecture of low-carbon policies carefully put together with cross-party agreement over the course of two parliaments." Rudd replied that the government "must help technologies eventually stand on their own two feet, not encourage a permanent reliance on subsidy."
Rudd caused outrage in 2013 when, during an interview with the Financial Times, she explained why she wanted to represent the south coast constituency of Hastings—"I wanted to be within two hours of London and I could see we were going to win it." Continuing to describe her constituents, she said: "You get people who are on benefits, who prefer to be on benefits by the seaside. They're not moving down here to get a job, they're moving down here to have easier access to friends and drugs and drink."
During the EU referendum, Rudd was criticised for using "scaremongering political tactics" when she warned that Brexit would push up energy bills. She also once controversially declared that she is a "Thatcherite" on climate change because Margaret Thatcher was the first leader to raise the issue at the U.N.
Rudd says she entered politics in her forties after deciding to take her "life back." "In my twenties I was leaving university, getting married or having a baby. And then, in my thirties, I was just keeping my head above water," she told the Financial Times in 2013. "When I hit 40 I thought I have got to get a grip of my life and really point it in the direction I want it to go rather than just swim hard against the current."
One of Rudd's children is currently studying at university and the other is a "budding entrepreneur," according to the MP's website. Her bio states that she "enjoys relaxing by walking in Hastings Country Park, roaming around the towns of Hastings and Rye and surrounding villages, and visiting friends in and around the constituency."
Fun fact: Rudd helped to find extras for the film Four Weddings and a Funeral for which she was credited as the "aristocracy co-ordinator," and appeared briefly in one of the church scenes in the film. The film's director, Richard Curtis, said he gave Rudd the job of casting extras because "she knew a lot of dukes and earls."