'Catch and Kill' HBO: Who is Ambra Gutierrez—Where Is She Now?
Catch and Kill: The Podcast Tapes brings to life Ronan Farrow's podcast and bestselling book, Catch and Kill: Lies, Spies, and A Conspiracy to Protect Predators. Ambra Gutierrez played a huge role in helping journalists uncover and subsequently tell the world of Harvey Weinstein's crimes.
Almost three years after being assaulted by Weinstein, the former movie mogul was arrested in New York and charged with rape, and several counts of sexual abuse.
In February 2020, he was found guilty of rape in the third degree and a criminal sexual act. He was sentenced to 23 years imprisonment in March 2020.
Gutierrez features in episode one of Catch and Kill: The Podcast Tapes, reflecting on her encounters with Harvey Weinstein when she was a 22-year-old aspiring model in New York City.
She also reveals the high-stakes police sting operation she was involved in to capture a chilling admission from Weinstein, and what she did next when the authorities declined to prosecute.
Gutierrez's unfortunate encounter with Weinstein proved to play a vital part in Ronan Farrow's puzzle, who for 10 months had been investigating allegations made about Weinstein by 13 women and the roadblocks put in the way to prevent the truth from being told.
Her story was finally published in full for the entire world to see, as part of Farrow's 2017 piece for The New Yorker—"From Aggressive Overtures to Sexual Assault: Harvey Weinstein's Accusers Tell Their Stories."
Who Is Ambra Gutierrez?
Ambra Gutierrez, 29, is a Filipina-Italian model and former finalist of Miss Italy.
In March 2015, when Gutierrez was 22 years old, she alleges she was physically assaulted by Weinstein in his office in Tribeca, New York City, when they met to discuss her portfolio. She went to the police immediately, who asked her if she would be willing to wear a wire and meet with Weinstein.
The following day, Gutierrez met with Weinstein at the bar of the Tribeca Grand Hotel, wire intact.
During her second encounter with Weinstein, she was repeatedly asked to come into his hotel room while he showered, despite Gutierrez stating she wanted to leave and "go downstairs."
She then asked Weinstein why he tried to assault her the day before, he responded: "Oh, please, I'm sorry, just come on in. I'm used to that. Come on. Please."
When Gutierrez questioned Weinstein's comment about being used to groping women, he responded: "Yes."
She then asked why he grabbed her breast without consent, he admitted: "I won't do it again."
After two minutes of back and forth in the hallway outside Weinstein's room, Gutierrez was finally able to leave.
Despite the verbal confession, District Attorney Cyrus Vance, Jr. decided not to press charges due to lack of evidence.
When private intelligence firm K2 uncovered Gutierrez's past, they made their way into American tabloids Weinstein had close ties to.
Gutierrez began to receive widespread negative press in American tabloids, questioning her credibility.
As heard in Catch and Kill: The Podcast Tapes, Gutierrez's history was being discussed in the tabloids, including her link to former Italian Prime Minister Silvio Berlusconi.
When she was 19-years-old, Gutierrez was invited to one of Berlusconi's infamous sex parties, known as "Bunga Bunga" parties.
To this day, Gutierrez insists she had been unaware of the nature of Berlusconi's parties and was under the impression she was attending a work event organized by her agent.
There, she witnessed women performing sex acts and she had been groped herself numerous times.
When she and a friend went to leave, they were allegedly told by one of Berlusconi's associates, "You can forget your careers."
In 2010, Gutierrez had provided a police statement and agreed to testify against the prime minister on charges that he paid for sex with a minor.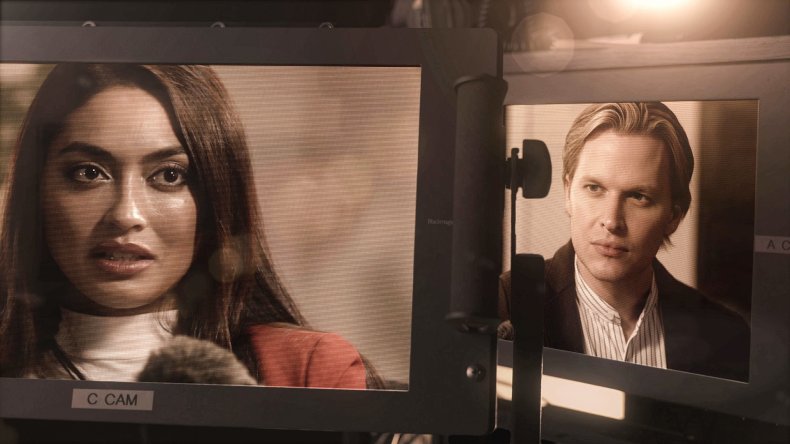 Following the smear campaign by the tabloid media, Gutierrez eventually began to stop receiving modeling jobs and fell into depression. She also developed an eating disorder.
Gutierrez then signed a strict 18-page NDA with Weinstein. In Catch and Kill: The Podcast Tapes, she explained she did not really know what she was signing at the time and was only trying to protect her family from Weinstein.
She explained to Ronan Farrow: "I didn't even understand almost what I was doing with all those papers.
"I was really disoriented. My English was very bad. All of the words in that agreement were super difficult to understand. I guess even now I can't really comprehend everything."
She also told Farrow that Weinstein's attorney was physically shaking as she picked up the pen to sign the document.
Gutierrez recalled: "I saw him shaking and I realized how big this was. But then I thought I needed to support my mom and brother and how my life was being destroyed, and I did it. The moment I did it, I really felt it was wrong."
As part of the NDA, Gutierrez was instructed to hand over all of her technology to a cybersecurity firm named Kroll.
Luckily, Gutierrez managed to save a secret copy of the recording, which was handed to Farrow at a restaurant in Manhattan two years later.
Seeing her story go public, Gutierrez said she felt "extreme happiness" adding "the freedom that maybe a person could feel after being in jail. It was just being born again."
Where Is Ambra Gutierrez Today?
Today, Gutirrez is a humanitarian. She is a member of the Model Alliance's Leadership Council, which aims to help create a safe and fair work environment for other models.
She is also a supporter of the Me Too Movement, becoming one of the first artists to publicly support the movement in Iran.
Gutierrez continues to model and is signed by Next Models and One Management.
Catch and Kill: The Podcast Tapes airs every Monday on HBO.
The first two episodes of Catch and Kill: The Podcast Tapes are streaming on HBO Max now.