Ambulance Called at Greta Thunberg Rally After Large Crowds Form to Hear Climate Activist Speak
An ambulance was to a Greta Thunberg rally in the U.K. city of Bristol on Friday.
A speaker called for an ambulance and a stretcher shortly before Thunberg was due to take the stage at 11.45 a.m. local time, with large crowds gathering in the city center to hear the 17-year-old activist speak despite the rain and poor weather.
The student striker gave an impassioned speech at the Bristol Youth Strike for Climate, disparaging elected officials for their "beautiful words and promises" while ignoring the climate crisis.
"As world leaders act like children, it falls on us to be the adults in the room," she told audiences, adding: "We should not be the ones who will have to lead on this and tell the uncomfortable truth.
"Once again, they sweep their mess under the rug for us young people—for their children—to clean up for them."
However, she urged fellow climate activists to continue the struggle and pointed to the cancelation of plans to extend Bristol airport as a moment of success for the movement earlier this month.
The refusal of the plan to boost the airport's capacity by an additional two million after a flood of public complaints was declared a "historic win" by environmental group Extinction Rebellion, the BBC reported.
"Of course this is far from enough but it shows that it does actually make a difference," she said. "Activism works. So I'm telling you to act."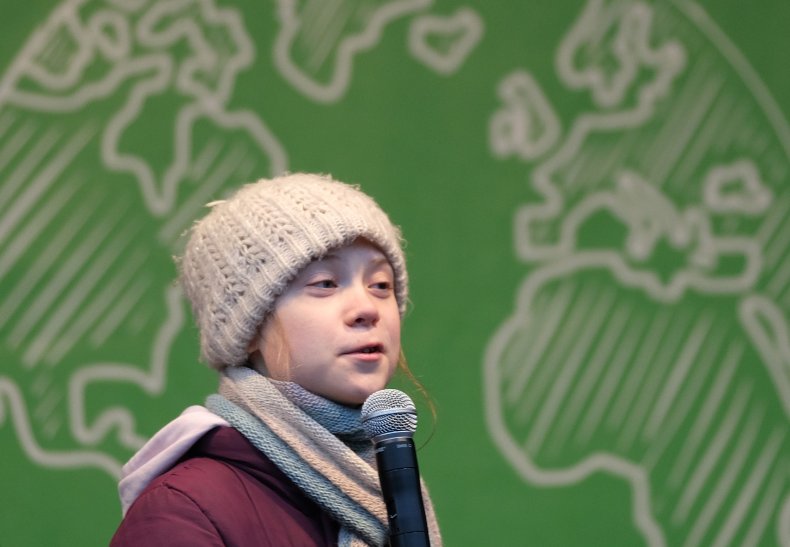 Snapping at her critics, who appeared to flood Twitter ahead of her arrival in the U.K., Thunberg promised that she and the other activists protesting climate change will not back down.
"If you feel threatened by that, I have some very bad news for you," she said. "We will not be silenced because we are the change and change is coming whether you like it or not."
Speaking directly to her supporters, Thunberg said: "We must continue and we have to be patient and remember that the changes required will not happen overnight since the politics and the solutions are still far from sight."
"But if enough people are pushing for change, then change will come—and we are those people and every single person counts."
The event has drawn vast crowds with people traveling to Bristol from places as far afield as Scotland, while schools closed their doors and roads shut to prepare for the event.
Despite the poor weather, which saw Thunberg take shelter in Bristol Cathedral before her speech, people of all ages appeared bearing signs to take place in the march.
"If you look throughout history, great changes have come from the people," Thunberg told audiences.