Is 'Kevin Can F*** Himself' Taking Aim at Kevin James' Sitcom 'Kevin Can Wait'?
Kevin Can F*** Himself arrives on AMC this weekend, lambasting the classic trope of a sitcom wife and taking aim at the male archetypes we've grown to love—or should that be groan to love?
Schitt's Creek star Annie Murphy leads this new series as a doting wife trying to break free from her stereotypical role as a secondary character to her husband Kevin McRoberts (Eric Peterson).
The comedy aspect of the series may seem familiar to some viewers. All clues seem to point towards a specific show, and a specific actor that audiences know. So we have to ask, is Kevin Can F*** Himself based on Kevin James and his sitcom, Kevin Can Wait?
Let's investigate.
What is Kevin Can F*** Himself About?
The AMC show is a dark comedy, following the life of prototypical sitcom wife, Allison McRoberts. On-screen she stars in a three-camera comedy environment when she's in the room with her chunky but funny husband Kevin.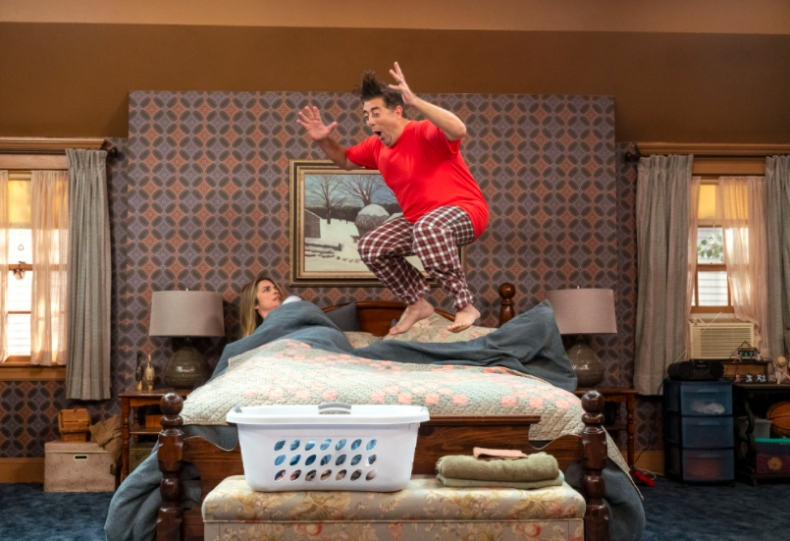 However, when she steps away from him, the laughter stops, and the series takes on a grittier tone, much more similar to a TV drama.
Kevin Can F*** Himself follows Allison as she unintentionally lives this double life and grows more weary of Kevin's antics.
Similarities between Kevin Can Wait and Kevin Can F*** Himself
Perhaps it's a coincidence that the male lead of Kevin Can F*** Himself shares his first name with Kevin James, but James' recent sitcom title shares a shocking resemblance.
2016's Kevin Can Wait starred James as the lead, Kevin Gable. Season 1 featured James with his wife Donna Gable, played by Erinn Hayes, a school nurse who is the matriarch of the family household. In a bold move, the creators of the show decided to kill off Hayes' character off-screen between the first and second seasons.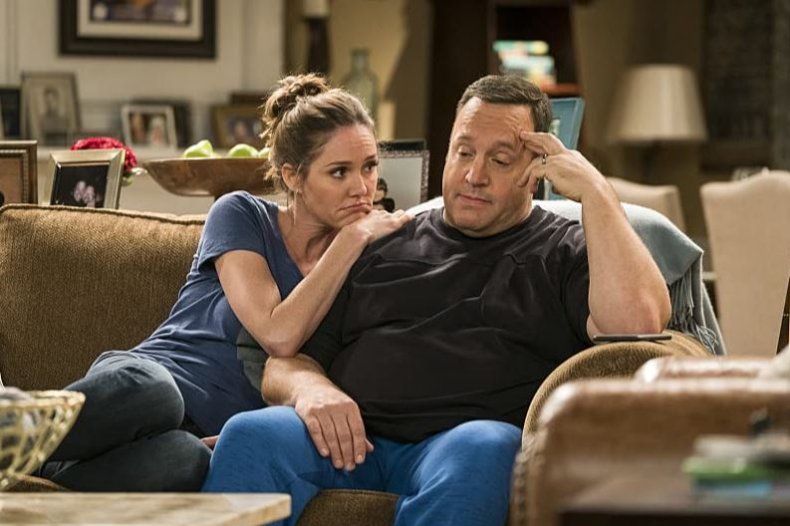 At the time James told the New York Daily News that they made the decision because they were "literally running out of ideas."
He said: "The plot of the show didn't have enough drive. If we got through a second season, I wouldn't see us getting through a third one."
James' former King of Queens sitcom wife Leah Remini stepped into the regular cast once Hayes' had left.
Perhaps this antipathy towards important female characters in a sitcom is the attitude that the creators of Kevin Can F*** Himself are rallying against?
Newsweek has reached out to Kevin James and his representatives for comment.
What will he make of the series? Kevin can watch the new AMC series this weekend to find out.
How can I watch Kevin Can F*** Himself?
Kevin Can F*** Himself starts with two episodes on AMC on Sunday June 20 at 9 p.m. ET/PT.
The first two episodes of the series are also available to watch on AMC+ now, and the third episode will be available to watch directly after the latest episodes have aired on television. This will be the weekly plan if you want to stay one episode ahead of everyone else.
A subscription to AMC+ costs $9.99 a month but you can also subscribe through existing streaming services like Prime Video, Apple TV, Roku, DIRECTV and YouTube TV. Signing up through another service offers a range of discounts and free trials.