AMC Theaters Draws Backlash for Not Requiring Masks to Avoid Politics
Cinema chain AMC Theaters announced Thursday that when it reopens its doors, patrons will not be required to wear a face mask, even in states where coronavirus cases are on the rise.
Under AMC's "Clean and Safe" plan, theaters will initially only operate at 30 percent capacity. By Labor Day, AMC is expected to raise that allowance to 50 percent with full houses expected to be allowed in time for the holiday movie season. AMC Theaters CEO and President Adam Aron said requiring moviegoers to wear face masks in theaters would be "counterproductive."
"We did not want to be drawn into a political controversy," Aron said in a Thursday interview with Variety. "We thought it might be counterproductive if we forced mask wearing on those people who believe strongly that it is not necessary. We think that the vast majority of AMC guests will be wearing masks. When I go to an AMC feature, I will certainly be wearing a mask and leading by example."
All AMC employees will be required to wear face masks. Theaters will be selling face masks for $1 to patrons who do not have one.
Social media users reacted to AMC's decision, with MSNBC correspondent Katy Tur expressing disbelief.
Mike Flanagan, director of the Netflix series The Haunting of Hill House, said employees of the theaters "deserve better."
"I worked at Cineplex Odeon in Bowie, MD though high school," Flanagan tweeted. "My first job, I loved it. Customers could be tough, some messes I cleaned were INSANE. And that's WITHOUT the possibility of a customer giving you a potentially fatal disease to take home. AMC employees deserve better."
MSNBC correspondent Joy Reid tweeted that AMC's decision could keep people away from watching movies in its cinemas.
"Indeed," Reid tweeted. "And by making this decision to 'stay out of politics,' they have very much waded into politics. Lots of people won't set foot in one of these theaters now."
Video essayist Jonathan McIntosh said he would "stick with streaming."
"There's nothing 'political' or 'controversial' about basic public health measures," McIntosh tweeted. "What AMC means is they don't want far-right conspiracy nuts to boycott their company and they're willing to kill their customers to avoid it. I'll stick with streaming, thanks."
Comic book writer Dan Slott tweeted that he would have to cancel his membership to the AMC Stubs program.
"I'm an AMC Stubs member," Slott tweeted. "I don't consider masks 'political.' They're a necessary tool in flattening the curve during this pandemic & helping our hospital workers on the frontline. If masks are optional at AMC theaters, I'll have to cancel my membership."
Other theater chains are planning to reopen over the summer. Regal Theatres announced Tuesday it would begin showing movies again in July. "Where required by local governance, all employees and guests will wear masks," read a statement on Regal's website. In addition, the chain's automated reservation system will maintain two empty seats between groups of attendees.
Cinemark, which is the third-largest cinema chain in the U.S., expected to begin a limited reopening on Friday. However, patrons will only be required to wear face masks if state or county guidelines mandate them. Employees are expected to wear both face masks and gloves at all times.
The graphic below, provided by Statista, shows the mask-wearing rate in some of the world's major nations.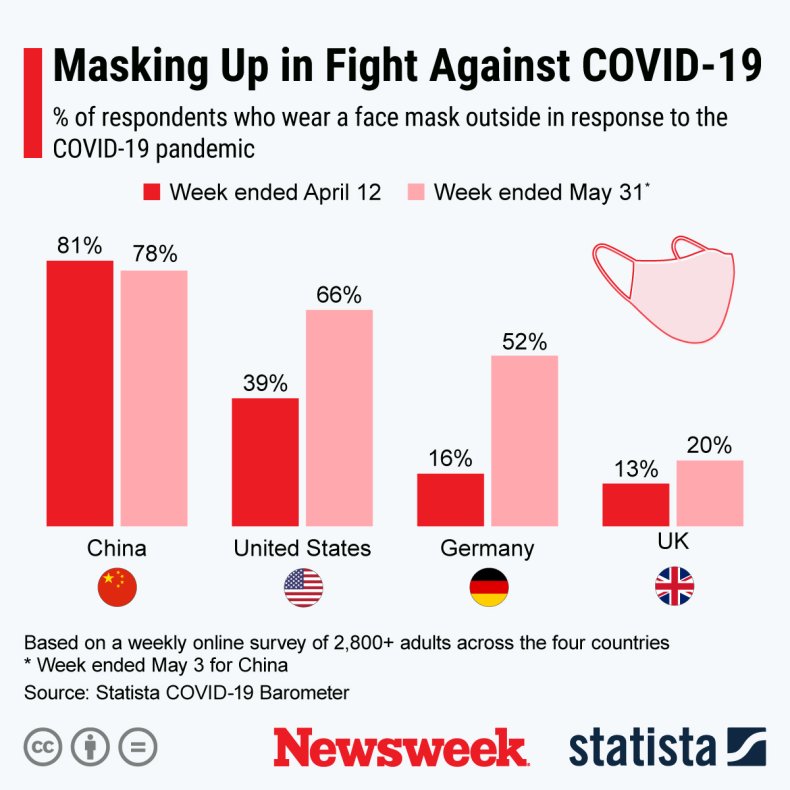 This article has been updated with a graphic from Statista.