'This Is America': Alexandria Ocasio-Cortez Shares Horror at Hundreds of Migrant Families Trapped in Parking Lot at Border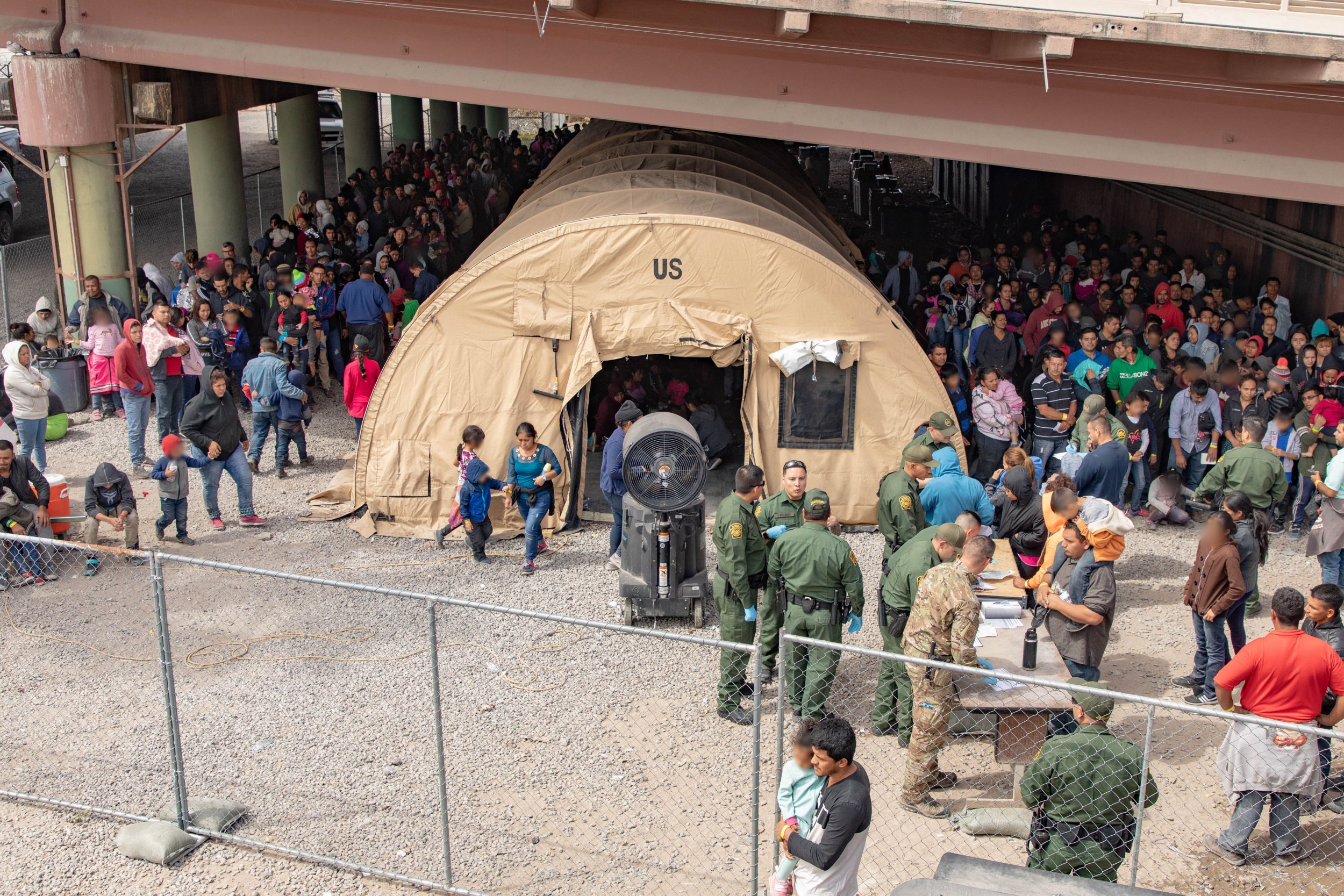 Sharing a photo of hundreds of women, men and small children packed into a parking lot at a Border Patrol station in El Paso, Texas, Representative Alexandria Ocasio-Cortez has called on Americans to reflect "on the course of action" the country has chosen to respond to the influx of migrant families arriving at the U.S.-Mexico border in search of asylum.
The photo, which was captured and posted to Twitter by Washington Post reporter Nick Miroff, shows families standing behind a fence lined with concertina wire. Miroff wrote: "This is El Paso right now, where hundreds of migrant families are being held in the parking lot of a Border Patrol station because there is no room for them inside, or anywhere else."
"Look at this picture," Ocasio-Cortez wrote, sharing the photo. "When you're looking at this photo, you're looking at a mirror."
"This is America. This is Texas. This is our...course of action, the one we chose. I cannot and will not accept it," the New York congresswoman said, before adding a string of hashtags, calling for an end to family separation, for the reunification of separated families and for the abolishment of the U.S. Immigration and Customs Enforcement agency, a demand that was a central component of her grassroots electoral campaign.
Commenting on the influx of predominantly Central American families that have been arriving at the southern border in hopes of being granted asylum in the U.S., Miroff said the situation had become "much, much bigger" than the "child migrant crisis of 2014" under the Obama administration.
In a news conference in El Paso on Wednesday, U.S. Customs and Border Protection agency Commissioner Kevin McAleenan, appeared to agree, asserting that the agency had finally hit the "breaking point" it has been warning about for weeks, with March set to "be the highest month" in apprehensions and encounters with migrants in over a decade.
"Two weeks ago, I briefed the media and testified in Congress that our immigration system was at the breaking point. That breaking point has arrived this week at our border," McAleenan said. "CBP is facing an unprecedented humanitarian border security crisis all along our southwest border and nowhere has that crisis manifested more acutely than here in El Paso.
"We are now on pace for over 100,000 apprehensions and encounters with migrants—with 90 percent (90,000) crossing the border illegally between ports of entry," McAleenan said.
In line with McAleenan's speech, CBP said its Office of Field Operations would be temporarily reassigning up to 750 CBP officers to Border Patrol Sectors "that are confronting the unprecedented humanitarian and border security crisis on the Southwest border.
"Border Patrol processing facilities on the Southwest border have far exceeded capacity and the Border Patrol does not have the personnel to process, care for and transport individuals in custody without help from its partners," the agency said in a statement, adding: "CBP officers will support sectors with care and custody responsibilities, including hospital watch and transportation."
According to Miroff, as of Wednesday, CBP also had 1,350 unaccompanied minors in custody, with 20 percent 12-years-old or younger.
The Post reporter said the children were being held in "overcrowded, unhealthy stations, with no parents," adding that the Department of Health and Human Services, which oversees the care of migrant children held in federal custody, "can't pick them up and place them fast enough and CBP can't release them."
Immigration advocates have long called for more resources to be put toward the asylum process, rather than toward the construction of a border wall, with one report from the Migration Policy Institute asserting that what President Donald Trump has called a "border crisis is in fact a crisis in the asylum system–one that has been worsened at every turn by his administration's harsh policies and rhetoric.
"Whether steel slats or concrete, a wall will not fix these problems," the report, which was published in January, said. "Instead, the money would be far better spent retooling an overwhelmed asylum system, adapting border enforcement infrastructure and procedures to respond to the changing composition of arrivals, and working cooperatively with Mexico to tackle the factors propelling Central Americans to flee."
The report said that "for considerably less than the $5.7 billion for the wall and by managing existing resources differently, the administration could turn this ship toward a different sea," by working to improve the asylum system in the U.S. rather than focusing on the physical fortification of the border.