America's Disgraced Politicians: Where Are They Now?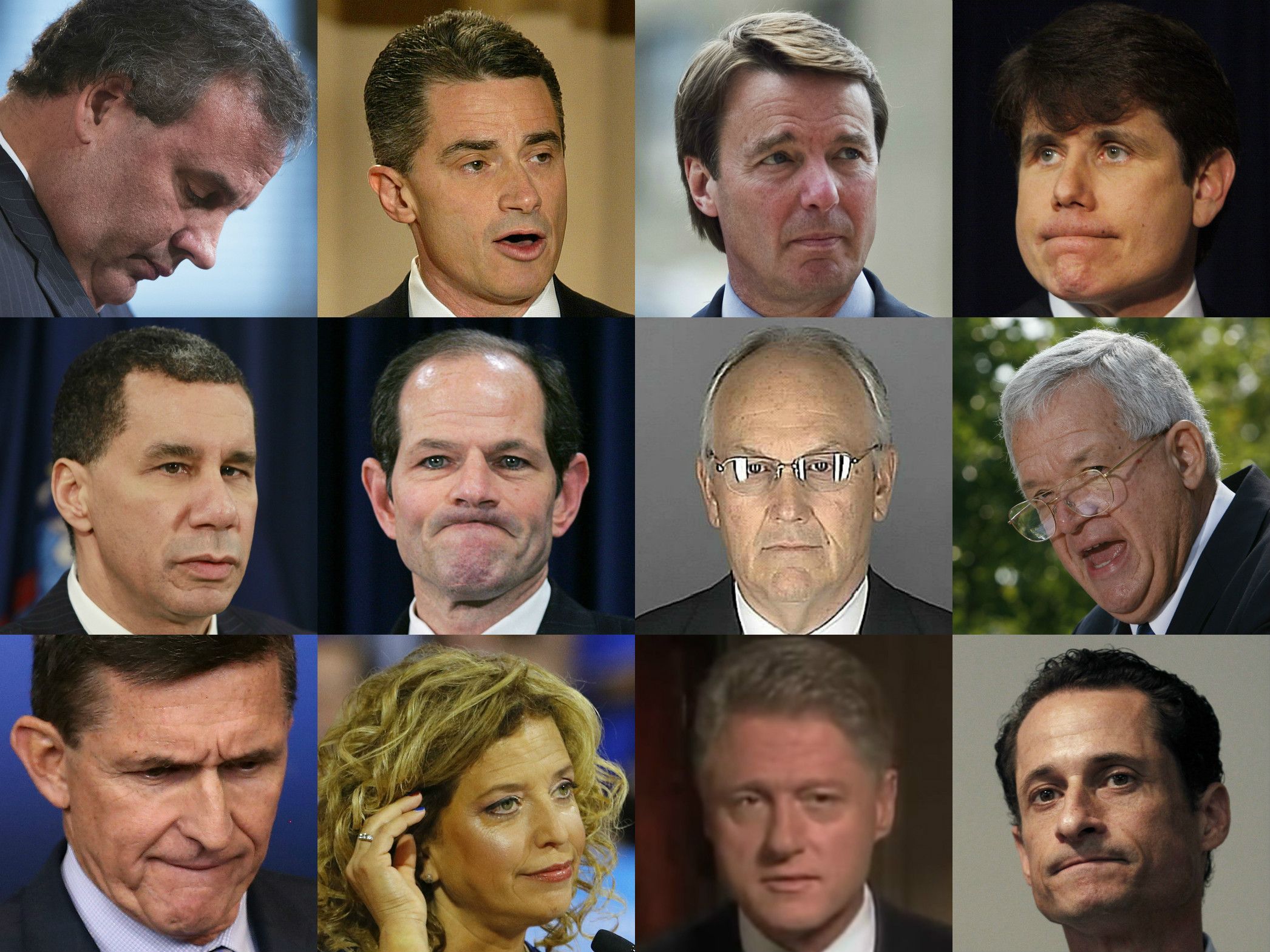 Robert Bentley proudly and publicly declared himself a man of God, and as governor of the Bible-thumping state of Alabama, he had to be. "Anybody here today who has not accepted Jesus Christ as their savior, I'm telling you, you're not my brother and you're not my sister, and I want to be your brother," Bentley said in 2011, shortly after he was inaugurated.
After he was elected in 2010, Bentley appointed Rebekah Caldwell Mason, a church acquaintance who had worked on his campaign as his communications director. He then made Mason's husband, Jon, his administration's Director of the Office of Faith-Based and Community Initiatives. When Bentley was running for re-election in 2013, Rebekah ran his campaign's communications, and the two began spending a lot of time together. Bentley's wife of 50 years became suspicious, so she left a recorder in her purse, which captured Bentley professing his love for Mason, with whom he had been having an affair.
The recording found its way onto the internet in 2016, but it wasn't until earlier this week that his maelstrom of lies, abuse of power and misuse of public funds to cover up the affair forced Bentley to resign. On Monday, he pled guilty to misdemeanor campaign finance charges in order to avoid felony charges, and then stepped down as governor. Get on your knees, Mr. Bentley. Time to repent.
Related: Alabama's Bentley resigns after pleading guilty to criminal charges
Bentley's rise and fall is hardly unique in American politics, where abuse of power, misuse of government funds and, of course, sex scandals are as common as flag pins on lapels. What the public may not know, however, is what disgraced politicians do after they've been pushed from office. Here, we've taken a look at what 19 of the most scandal-laden pols who are still alive and kicking in 2017 have gone on to do with themselves following their crash-landings. And judging by the list, there's still hope for you, Robert Bentley.
ROD BLAGOJEVICH
Rise: Democratic governor of Illinois from 2003 to 2009. Before that, he was a state representative and then a member of Congress representing Illinois's 5th District, a predominantly white section of Chicago.
Fall: Blagojevich was arrested in 2008 for corruption relating to the orchestration of several "pay to play" deals, most notably for an appointment to fill the Senate seat vacated by Barack Obama when he was elected president. Despite recordings on which he was heard expressing his fervent desire to get something in return for making certain appointments, Blagojevich claimed he was innocent. In 2009, he was impeached by a vote of 114-1, but continued to maintain his innocence, frequently on national television shows. Several publicity stunts followed, including an appearance on Celebrity Apprentice. In December 2011, he was sentenced to 14 years in prison.
Now: He's still behind bars.
CHRIS CHRISTIE
Rise: A brash Republican who was appointed to serve as the U.S. Attorney for New Jersey by President George W. Bush, Christie was later elected governor of that state in 2009. Quickly branded a rising star, he was one of the hottest candidates considering a run for president in 2012, but ultimately opted to keep his hat on, and out of the ring. He easily won re-election in 2013, after earning national praise and attention for his response to Hurricane Sandy.
Fall: The "Bridgegate" corruption scandal blew away Christie's credibility and approval rating in the state. Emails from 2014 revealed that his staff had ordered lane closures on the George Washington Bridge, causing days of gridlock in Fort Lee, New Jersey. The move was to allegedly punish the mayor of the town, a Democrat who had declined to endorse Christie for re-election. Two Christie aides were convicted for that mess and most likely will serve prison terms. Christie has repeatedly denied he knew about the lane-closure scheme, although a former aide has testified that the governor was aware of it. Prosecutors announced in January that the governor would not be charged.
Christie attempted to earn the Republican nomination for president in 2016, but his candidacy flamed out early, no doubt hurt by the ongoing Bridgegate fiasco. He, in turn, became the first major GOP figure to endorse Trump, but after the billionaire won the White House, Christie didn't get a payback spot in Trump's administration.
Now: He's the least popular governor in the country.
BILL CLINTON
Rise: After serving as the governor of Arkansas from 1979 to 1981 and again from 1983 to 1992, Clinton was elected president of the United States in 1992. He served two economically prosperous terms, and left office with the highest approval rating for a departing president since World War II.
Fall: In 1998, reports surfaced that in 1995 and 1996, Clinton had an inappropriate relationship with one of his interns, Monica Lewinsky. Clinton initially denied the allegations, but later admitted that he "misled people" and "gave a false impression." In December 1998, Congress voted to impeach Clinton for perjury and obstruction of justice, but was unable to get enough votes to remove him from office.
Now: He's the founder and on the board of the Clinton Foundation, and campaigned for his wife during her unsuccessful presidential runs in 2008 and 2016. On Sunday, he paid a visit to George H.W. Bush. The pair of former presidents discussed socks.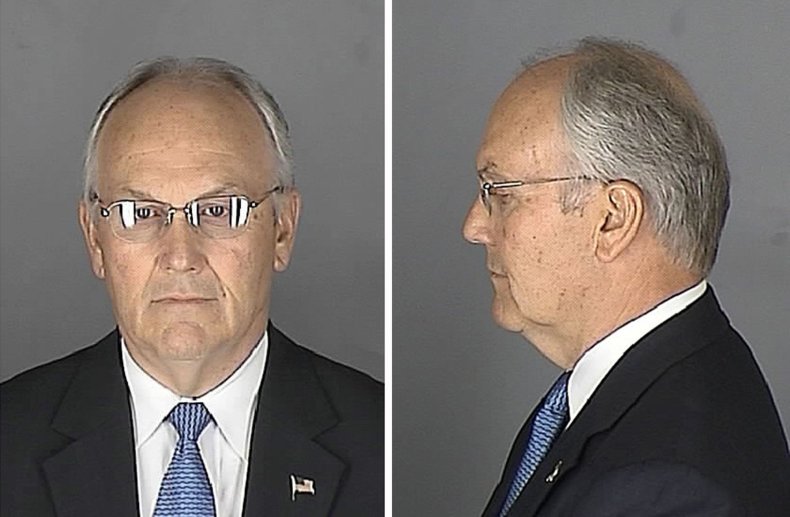 LARRY CRAIG
Rise: By 2007, Craig had served in Congress for more than a quarter century. A staunchly conservative Republican, he drew praise from right-wing groups for his hard-line stance against gay rights, including outlawing gay marriage and not protecting gay people under hate-crime laws.
Fall: A 2007 report in Washington, D.C.'s Roll Call revealed that Craig had pleaded guilty to a disorderly conduct charge after allegedly attempting to solicit sex from an undercover police officer in a Minneapolis airport men's room. The report alleged that Craig lingered by a stall, entered it and then touched his foot against the officer's foot in the adjoining stall before waving his hand beneath the divider. The officer apparently recognized this as a signal commonly used to solicit sex and arrested the senator.
A scandal ensued and Craig said that he regretted his guilty plea, insisting he was not gay. He held his seat for more than a year before retiring in 2009.
Now: He's a gas and oil lobbyist.
TOM DeLAY
Rise: DeLay spent more than a decade working in pesticides and extermination, a field in which he excelled, but found his true calling when he fought government regulation of his business and decided to run for a seat in the Texas House of Representatives. From there, he moved on to represent the state in Congress, and eventually served as majority whip and majority leader.
Fall: In 2005, money laundering and conspiracy charges were brought against DeLay for allegedly soliciting donations from corporate entities (including Enron) to try and redistrict Texas to favor the Republican Party. He was forced to resign from Congress after his indictment, which he claimed would be a "temporary" resignation. He spent the better part of the next decade fighting the charges, appealing his conviction, avoiding jail time and doing a brief stint on Dancing with the Stars. He got all his convictions overturned in 2013.
Now: He's still out there, encouraging Republicans to buck the system.
JOHN EDWARDS
Rise: A lawyer with excess charm, a nice haircut and no political experience, Edwards, a Democrat, won a Senate seat in North Carolina in 1998. Seen as a rising star, he was tapped as the running mate for Democratic presidential nominee John Kerry in 2004. He then tried for the Democratic nomination for president in 2008.
Fall: The National Enquirer revealed that Edwards had in 2008 engaged in an affair with campaign staffer Rielle Hunter. She had given birth to a child Edwards long denied he had fathered. He only fessed up after a paternity test revealed the truth.
Edwards later went through a long legal struggle over alleged campaign finance misdeeds. He beat that rap, but his political career never recovered.
Now: He's a lawyer again.
JOYCELYN ELDERS
Rise: President Bill Clinton named Elders the first African-American surgeon general of the United States in September 1993 and she served until December 1994. Before that, she was the director of Arkansas Department of Health, also under Clinton.
Fall: While speaking at the United Nations in 1994, Elders implied that masturbation should be promoted as a way to curb young people's appetite for sexual encounters that could lead to AIDS. Elders was asked by Clinton to resign in December.
Now: She is a professor emerita of pediatrics and a distinguished professor of health and policy management at the University of Arkansas for Medical Sciences.
MICHAEL FLYNN
Rise: Flynn entered the Army in the '80s and had a decorated, three-decade career as he rose to the rank of lieutenant general. In 2012, President Barack Obama appointed him to serve as director of the Defense Intelligence Agency. He was canned in 2014, amid reports of an abrasive leadership style and extremist views that many couldn't get on board with. Flynn, who has been slammed for anti-Muslim comments and conspiracy theories, jumped on the Trump Train early and was rewarded by the president with an appointment to serve as national security adviser.
Fall: After less than a month as national security adviser, Flynn was forced to resign in February following the revelation that he had misrepresented a preinauguration conversation he'd had with a Russia's ambassador to Vice President Mike Pence. Flynn apparently discussed sanctions against Russia with the ambassador, but told Pence that he had not. Those sanctions had been put into place by President Barack Obama after the intelligence community reported that Russia had meddled with the 2016 presidential election.
Now: He's aggressively seeking immunity to tell all he knows regarding possible ties between the Russians and the Trump campaign. So far, he's had no takers.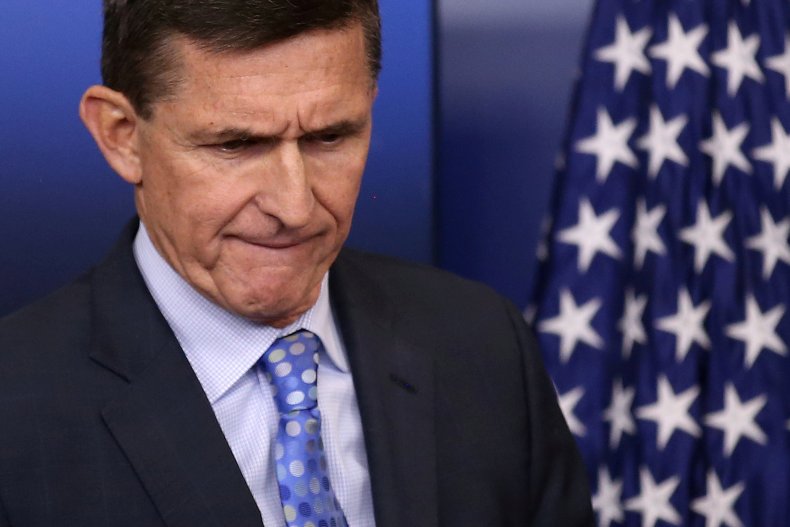 MARK FOLEY
Rise: He was the Republican congressman representing Florida's 16th District from 1995 to 2006. Before that, he served in the state's House of Representatives and as a state senator. He became known in Congress for his strong opposition to child pornography, and served as the chairman of the House Caucus on Missing and Exploited Children.
Fall: After reports surfaced that Foley had a history of sending sexually explicit messages to and requesting picture from teenage boys who had served as congressional pages, he was asked to resign by Speaker of the House Dennis Hastert. He did. More inappropriate conduct was later revealed, which led Foley to admit that he had a drinking problem, that he had been molested as a child by a Catholic priest and that he was gay. He resigned his congressional seat.
Now: He went into the real-estate business in Palm Beach, Florida. He recently helped build a baseball stadium there.
BARNEY FRANK
Rise: Frank, a Massachusetts Democrat, won a seat in the House of Representatives in 1980 after starting his political career in the late '60s as an aide to Boston Mayor Kevin White. Known for his quick and often acerbic wit, he won close elections in '82 and '84 to hold his seat. In 1987, he came out and became the first-ever openly gay member of Congress.
Fall: In 1989, it was revealed Frank had paid a prostitute for sex, then later hired the man, Steve Gobie, as an assistant and allowed him to live in his house. Gobie was accused of continuing to run a sex business out of the congressman's home and in 1990 the House formally reprimanded Frank. That didn't derail his career; he served 16 consecutive terms in the House.
Now: He's retired from politics.
DENNIS HASTERT
Rise: Hastert began his professional life as wrestling coach at a small-town high school, building the program into a powerhouse. His stature in town led local politicians to encourage him to run for the state legislature. After serving at the state level for three terms, Hastert was elected to the House of Representatives in 1986. The Republican lawmaker rose through the party ranks, serving first as House chief deputy whip and then speaker of the House from 1999 to 2007—the longest tenure for any GOP politician in that leadership role.
Fall: In 2007, Hastert announced that he intended to retire from Congress shortly after being criticized for not properly protecting congressional pages, who were subjected to sexual advances from former Republican Florida Representative Mark Foley. In 2015, an indictment surfaced that alleged Hastert paid $3.5 million in hush money to maintain the silence of an unknown individual regarding Hastert's own misconduct. He was charged with making cash withdrawals in such a way as to avoid detection by authorities (the IRS is alerted about withdrawals exceeding $10,000).
It later was revealed that the alleged misconduct was sexual abuse, and multiple men came forward alleging that Hastert had abused them during his tenure as a wrestling coach. While a judge called him "a serial child molester"—Hastert himself only admitted that he "mistreated" boys—the statute of limitations on the alleged abuse had passed, so he was not charged for those offenses. The former speaker was, however, sentenced last year to 15 months in federal prison for the bank fraud charges.
Now: He's a speaker in the big house (he's in prison).
ERIC MASSA
Rise: After a long career in the U.S. Navy, Massa was a Democratic congressman representing New York's 29th District from January 2009 to March 2010.
Fall: In 2010, Massa announced he would not seek re-election because of health concerns, although sexual harassment allegations—mostly regarding male members of his staff—had also been levied against him. Soon thereafter, the House Ethics Committee announced they were investigating Massa. He resigned the next day. It was later revealed that campaign finance money was used to pay his wife's salary and his legal fees. While returning to his home in Corning, New York, he reportedly tried to kill himself by running his car off the road.
Now: He has since faded from the public eye.
JIM McGREEVEY
Rise: Democratic governor of New Jersey from 2002 to 2004. Before that, he was the mayor of Woodbridge Township, New Jersey from 1992 to 2002, and a member of the New Jersey state Senate from 1994 to 1998.
Fall: After being elected governor, McGreevey hired Golan Cipel as his homeland security adviser, which many felt was an odd choice because of Cipel's lack of experience. Many speculated about the relationship between McGreevey and Cipel, who eventually stepped down from his position. When Cipel's lawyer threatened to sue McGreevey for sexual harassment, the governor held a press conference announcing that he was gay...and that he was resigning.
Now: He runs several prison re-entry programs around New Jersey.
OLIVER NORTH
Rise: A graduate of the U.S. Naval Academy, North began his military career in the Marine Corps. He served in Vietnam, earning a Silver Star, Bronze Star and two Purple Hearts. In 1981, North was appointed to serve on the National Security Council by President Ronald Reagan, and rose to the rank of lieutenant colonel in 1983.
Fall: North was a central figure in the 1986 Iran–Contra scandal that dealt a severe blow to Reagan's legacy. It was revealed Reagan had sold arms to Iran in violation of an embargo. Iranian terrorists, in turn, released three hostages—who were later replaced with three more—being held in Lebanon.
It was revealed that North had diverted millions of dollars from those arms sales to the Contras, rebels who were fighting Nicaragua's communist Sandinistas. He did so with the expressed permission of the national security adviser and the presumed permission of the president. North was fired from his national security position. Called before Congress to testify in hearings about the scandal, North was steadfast and unapologetic. He had been granted limited immunity, but was later convicted in 1989 of crimes related to the scandal, including abetting the obstruction of a congressional inquiry. The convictions were later dismissed.
Now: He's a talking head for Fox News.
DAVID PATERSON
Rise: Paterson started out in the Queens District Attorney's office, but leaped into politics when he campaigned for David Dinkins in his run for Manhattan borough president. That same year, he ran for and won a seat in the New York state Senate, which he kept for nearly two decades and capped off by becoming New York state Senate minority leader. Three years later, he was chosen as Governor Eliot Spitzer's right-hand man, and was named lieutenant governor of New York. After Spitzer was forced to resign (see below), he became the governor of New York—a role he served in for just two years.
Fall: Only one day after being sworn into office, Paterson revealed that both he and his wife had been involved in extramarital affairs. Though it perhaps diminished the public's trust in his governorship, it wasn't a career-killer. That came a little while later. He had a busy 2010. First, he manipulated a public bid for a contract at the Aqueduct racetrack in Queens (and, famously, had Jay Z and Floyd Flake bail on him after it was being investigated by the state inspector general), then he was dinged by the New York State Commission on Public Integrity after accepting five World Series tickets, and finally he was pushed to drop his run for re-election by President Obama. That was the end of Paterson's political career.
Now: He's a Wall Street broker.
AARON SCHOCK
Rise: Schock became the youngest member of the Illinois House of Representatives when he won a seat at age 23, and went on to become the youngest member of Congress when he won a seat in the House representing his home state.
Fall: Though he was no stranger to scandal—his 2012 re-election bid faced heavy scrutiny—Schock had successfully served six years in Congress before it was discovered that he had been spending government funds to redecorate his office to look like the set of Downton Abbey. A month after the revelations came to light, he resigned.
Now: He was indicted in 2016, and is still fighting the criminal charges.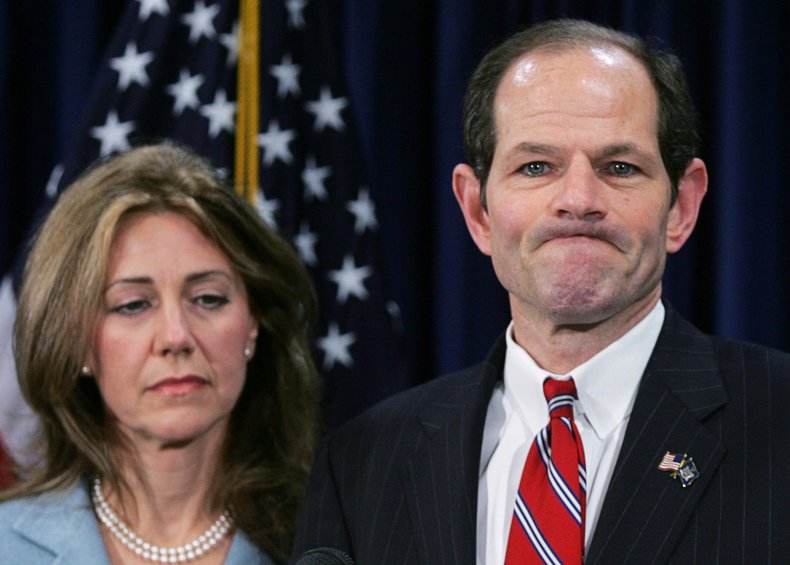 ELIOT SPITZER
Rise: Served as the Democratic governor of New York from January 2007 to March 2008. Before that, he was the state's attorney general from 1999 to 2006.
Fall: Federal authorities grew leery of Spitzer after his bank reported unorthodox money transfers from his account. A wiretap was put in place, and through that it was learned that Spitzer had a long-running penchant for high-priced prostitutes. He resigned barely a year after taking office.
Now: He's a real-estate developer.
DEBBIE WASSERMAN SCHULTZ
Rise: Wasserman Schultz, a Florida Democrat, began her tenure in the House in 2005. A visible leader of the party, she cochaired Hillary Clinton's 2008 presidential campaign and then headed up the Democratic National Committee (DNC) beginning in 2011.
Fall: During the bedlam of the 2016 election, hacked emails published by WikiLeaks appeared to show that DNC officials conspired to hamper the campaign of Bernie Sanders in favor of Clinton. One exchange seemed to suggest that top staffers paint Sanders as an atheist and question his Jewish faith. Amid the scandal and other longtime complaints among Democrats over her fund-raising and leadership, Wasserman Schultz resigned from the DNC in 2016.
Now: She's still in the House after easily winning re-election in November.
ANTHONY WEINER
Rise: Weiner was best known for serving as the congressman representing New York's 9th District from 1999 to 2011. Before that, he was a New York City councilman from 1992 to 1998. As a congressman, Weiner developed a high profile after delivering several impassioned speeches on the House floor. He was seen by many to be one of the ascending stars of the Democratic Party.
Fall: In 2011, Weiner accidentally posted to his Twitter account a sexually suggestive selfie intended for a woman other than his wife, Huma Abedin. As the controversy swelled, Weiner held a press conference in which he disclosed that he had carried on sexting relationships with six women over a three-year span. In June, he resigned from Congress.
Two years later, while Weiner was running for mayor of New York City, it was revealed that he was again sending sexually explicit images, this time under the name "Carlos Danger." He was trounced in the mayoral race, apparently ending his political career.
Now: Despite more revelations about his inappropriate contact with other women—including sending crotch shots to a women while his son was in bed with him—Weiner and Abedin are still trying to make their marriage work. He also appears to have injured his leg.