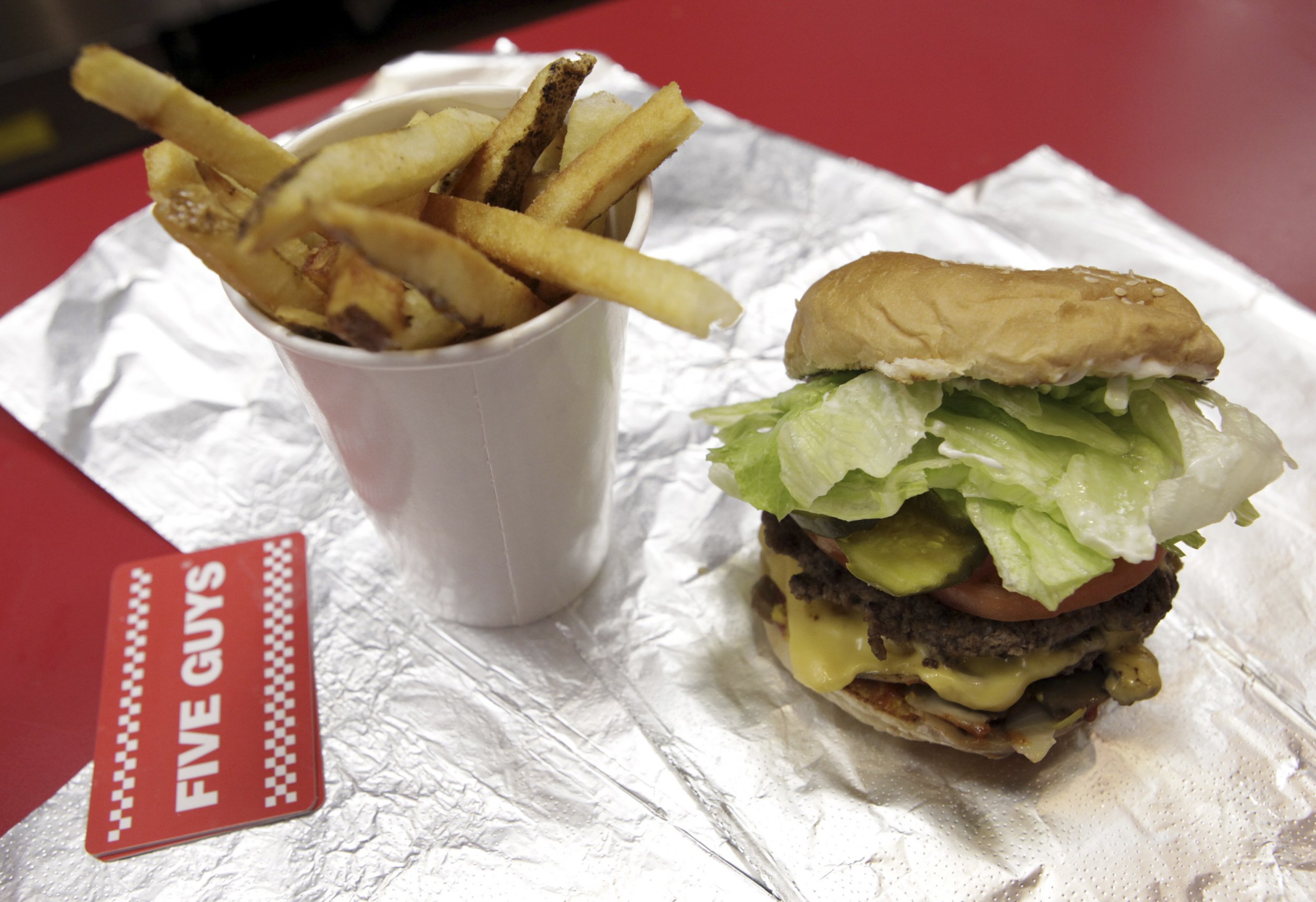 In the era of "better burgers," two chains have polled as offering the nation's best: Five Guys and In-N-Out. Both are regional restaurants that have in recent years expanded their presence across the country. In-N-Out, from California, features palm trees and crisp white uniforms on its employees, while Five Guys, from Virginia, has more of a blue collar feel, its locations famously stocked with boxes of peanuts (and its fries fried in their oil).
Burger lovers typically align themselves with one brand or the other, and in 2017, for the first time, more Americans have pledged their allegiance to Five Guys, according to the annual Harris Poll, which was released Tuesday morning. In-N-Out came in second, after topping the poll in both 2015 and 2016.
Related: Burger King's new Whopperito is as disgusting as it looks
The Harris Poll, which was conducted between December 30 and February 21, surveyed more than 100,000 U.S. consumers, ages 15 and over. Those who took the survey rated brands based on familiarity, quality and purchase consideration. So while McDonald's was rated first in familiarity, its quality and purchase consideration scores were lower, resulting in a seventh-place finish. Here are the top 10:
1. Five Guys
2. In-N-Out
3. Shake Shack
4. Wendy's
5. Culver's
6. Whataburger
7. McDonald's
8. Sonic America's Drive-In
9. Smashburger
10. Steak 'N Shake
"The burger brand category has become less fragmented, as regional brands expand and become available in more parts of the country," Joan Sinopoli, vice president of brand solutions at the Harris Poll, said in a statement. "This is certainly the case with Five Guys, who has shed its 'small regional player' designation as it expands its footprint and marketing budget along with its fandom, which is a tremendous contributor to brand equity."
Apparently, royalty-themed burgers are no longer en vogue. Burger King and White Castle both failed to make the list.