'America First' Caucus, Compared to KKK, Ended by Greene One Day After Proposal Shared Online
House Republicans' 'America First' caucus was ended by Georgia GOP Congresswoman Marjorie Taylor Greene on Saturday, just one day after its policy proposal was first shared online.
Greene, alongside Republican Representative Paul Gosar of Arizona, confirmed the co-creation of the America First Caucus on Friday. Later that day, a leaked America First caucus proposal shared by Punchbowl News drew widespread criticism and outrage.
The group's seven-page policy document calls for a "common respect for uniquely Anglo-Saxon political traditions" and an architectural style that "befits the progeny of European architecture."
In a statement to CNN on Saturday afternoon, Greene spokesperson Nick Dyer said that she isn't "launching anything."
"The Congresswoman wants to make clear that she is not launching anything. This was an early planning proposal and nothing was agreed to or approved," he said. "She didn't approve that language and has no plans to launch anything."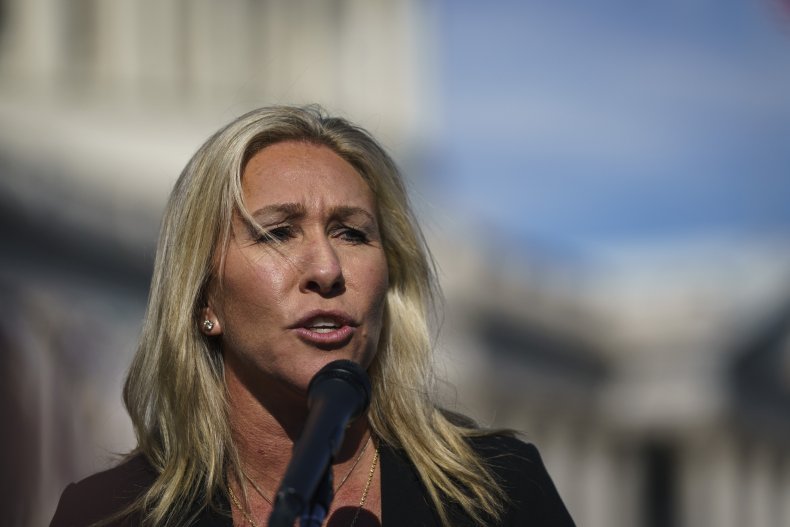 Dyer's remarks came one day after Greene's office announced that the caucus would be launched "soon."
"Be on the look out for the release of the America First Caucus platform when it's announced to the public very soon," Dyer said in a Friday statement.
Newsweek reached out to Greene's office for further comment.
Representative Matt Gaetz of Florida announced that he would join the caucus on Friday. In a tweet, the Republican said: "I'm proud to join @mtgreenee in the #AmericaFirst Caucus. We will end wars, stop illegal immigration & promote trade that is fair to American workers."
The "America First" caucus proposal was immediately met with criticism from lawmakers on both sides of the political aisle. Democratic Representative Raja Krishnamoorthi of Illinois said "it sounds like the Klu Klux Caucus to me" in an interview on MSNBC Saturday.
"I don't understand where we're going. Are we going to have the pro-hate caucus and the stormtrooper caucus?" he asked.
Democratic Congressman Ted Lieu of California mocked the caucus by posing a series of questions, including "Will non Aryans be allowed to join?," and "Can we have fried rice and nachos during the meetings?"
Republican Congressman Adam Kinzinger of Illinois called on party leaders to expel members of the caucus, referring to it as the "White Supremacy Caucus."
"I believe anyone that joins this caucus should have their committees stripped, and the Republican conference should expel them from conference participation," Kinzinger wrote in a Friday evening tweet. "While we can't prevent someone from calling themselves Republican, we can loudly say they don't belong to us."
On Saturday, amid growing backlash, Greene distanced herself from the new caucus by stating that Punchbowl News released "a staff level draft proposal from an outside group that I hadn't read."
"On Friday, sick and evil POS [piece of s****] in the media attacked me with phrases I never said or wrote," she said in a statement to Newsweek. "The scum and liars in the media are calling me a racist by taking something out of context."