Majority of Americans Disagree with Trump's 'America First' Message: Poll
President Donald Trump has made his "America First" platform the centerpiece of his administration's policy efforts and his campaign for reelection, but a new poll shows that the majority of Americans don't quite agree with the sentiment.
A new Pew poll found that 55 percent of Americans believe that "the U.S. should take into account the interests of its allies in foreign policy, even if it means making compromises with them." About 38 percent of respondents believed that the U.S. should follow its own national interests, "even when its allies strongly disagree."
The findings come as Trump has levied a series of tariffs against European allies and China.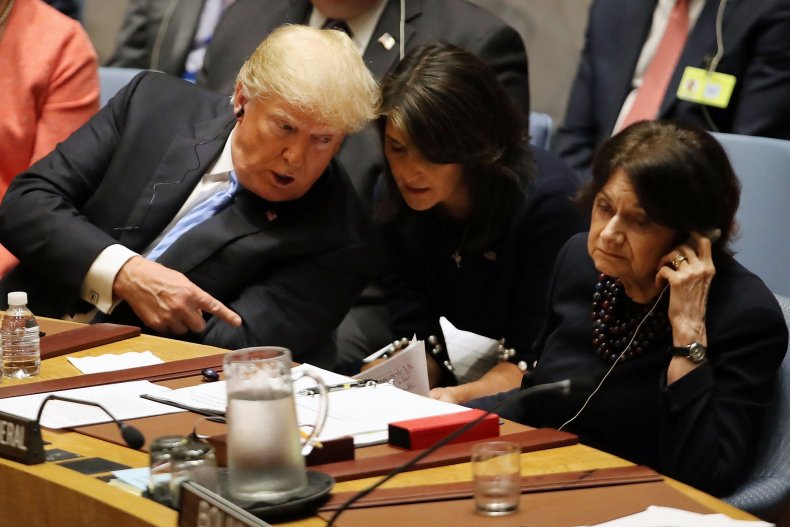 "We will never surrender American sovereignty to an unelected, unaccountable global bureaucracy. America is governed by Americans," Trump said during a United Nations speech last week. "We reject the ideology of globalism, and we embrace the doctrine of patriotism."
The president later added that "America will always choose independence and cooperation over global governance, control and domination."
China has retaliated by leveraging targeted tariffs on products important to the districts of key Republican politicians. China issued a 25 percent tariff on whisky, an industry that employs 18,000 people in Senate Majority Leader Mitch McConnell's state of Kentucky. Cranberries, soybeans and pork were also on the tariff list—all big moneymakers in House Speaker Paul Ryan's state of Wisconsin and Senator Charles Grassley's Iowa.
In Europe, leaders have been emboldened to speak out publicly against the president's policies. European Council President Donald Tusk accused Trump of "spreading fake news," after he called the European Union a "foe" of America's.
"America and the EU are best friends. Whoever says we are foes is spreading fake news," he tweeted in July. Later, he sent a strong warning to the U.S. "Appreciate your allies," Tusk said in a public statement. "After all, you don't have that many."
The Pew survey found that a slight majority of adults, 51 percent, in the U.S. do believe that other countries treat America unfairly while 42 percent say that "other countries treat the U.S. about as fairly as we treat them." But that number has shifted dramatically from where it was in the 1990s, when 70 percent of adults said they believed that other countries were taking advantage of the U.S.
"These changes are largely attributable to a shift in views among Democrats and Democratic leaners," said Pew. "In 1999, about two-thirds of Democrats (68 percent) said other countries often take unfair advantage of the U.S.; just 28 percent say that today."
The national survey was conducted by the Pew Research Center on September 18-24 among 1,754 adults, including 1,439 registered voters.