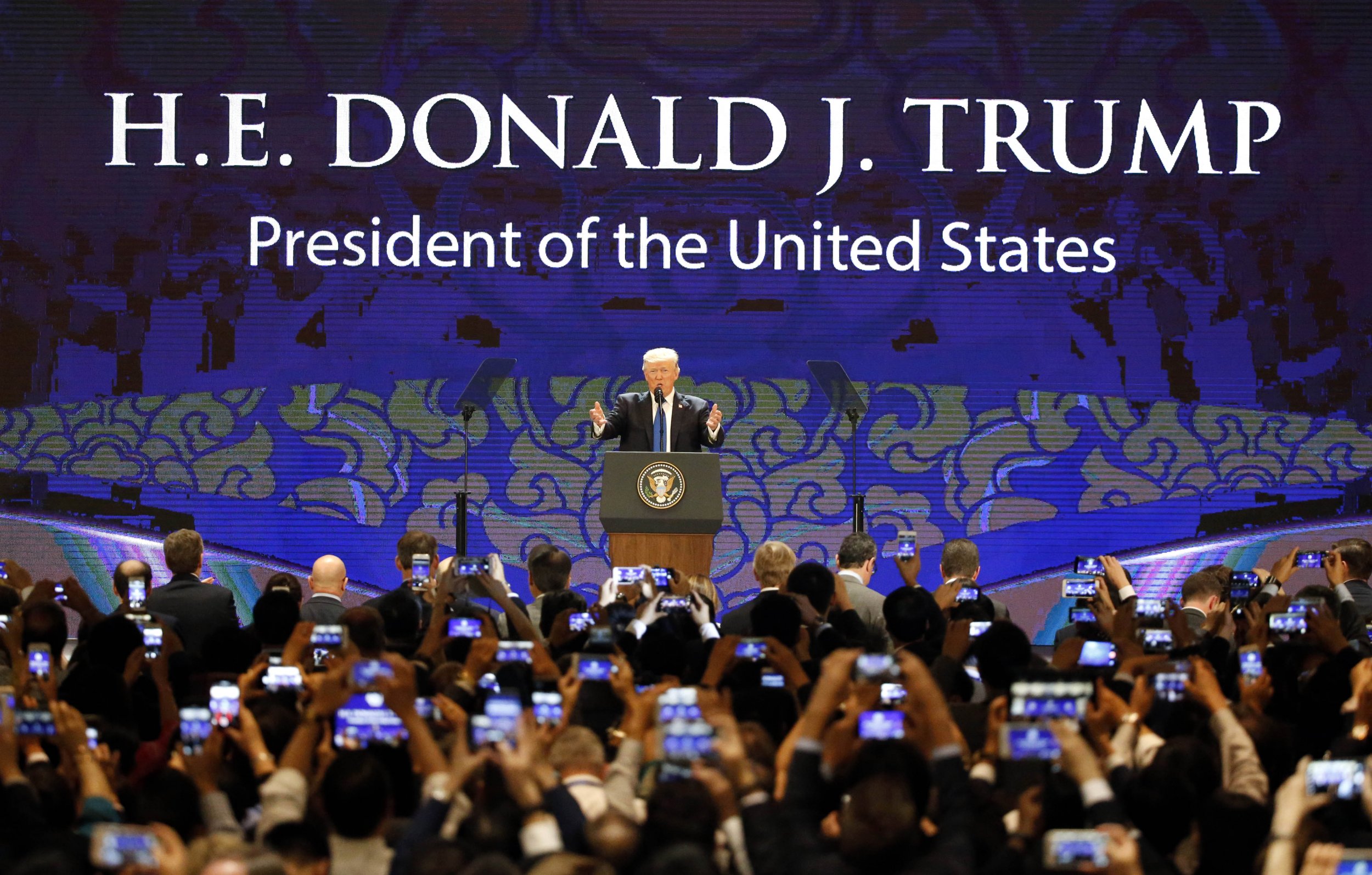 President Donald Trump spelled out his "America First" agenda in a speech at the Asia Pacific Economic Cooperation (APEC) Summit in Vietnam on Friday.
The combative speech portrayed Trump's vision of the world as being made up of countries looking after their own self-interest in the pursuit for the best possible trade deal, but also respectful of the rules.
Trump complained that the U.S. had been treated unfairly. "While we lowered market barriers, other countries did not open our markets to us," he said, before going off-script to address a members of the audience who could be heard reacting to his speech "Funny? They must have been one of the beneficiaries," he said, before pointing at the man and asking rhetorically "What country do you come from sir?"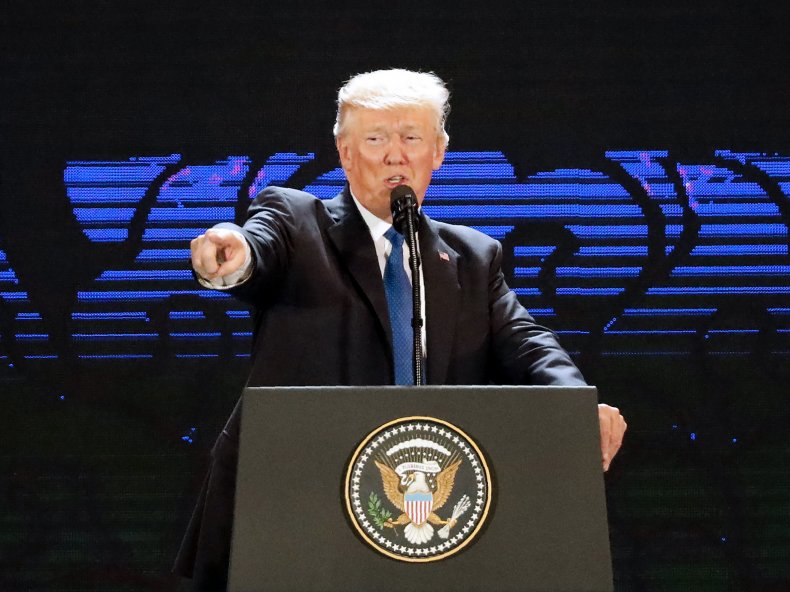 He then continued: "Simply put, we have not been treated fairly by the World Trade Organization. Organizations like the WTO can only function properly when all members follow the rules and respect the sovereign rights of every members."
Repeating one of the key points of his press conference in Beijing on Wednesday, Trump said he blames past U.S. administrations for the current trade deficit rather than China or any other country. "If they are taking advantage of the U.S. and their representatives get away with it, they are just doing their jobs," he said.
Trump warned that under his administration, the situation would be different. "We are not going to let the United States be taken advantage of anymore. I am always going to put America First the same way I expect all of you in this room to put your countries' first," he said.
"The United States will no longer turn a blind eye to violations, cheating or economic aggression. Those days are over. We will no longer tolerate the audacious theft of intellectual property," Trump added.
The president said he will be seeking out bilateral trade agreements rather than multilateral ones such as the Trans Pacific Partnership (TPP), championed by the previous administration as a way to counter Chinese economic influence in the region. Trump opposed and ultimately withdrew the U.S. from TPP as soon as he took office.
The future of the deal is now in jeopardy, with the leaders of the remaining 11 countries having to cancel a planned meeting on Friday amid disagreements as to how to proceed with the deal without the U.S., Reuters reported.
Stepping up to take the U.S. spot in championing multilateral trade and globalization is the People's Republic of China. "Openness brings progress, while self-seclusion leaves one behind," President Xi Jinping said in his speech, which came shortly after Trump's. "We should support the multilateral trading system and practice open regionalism, to allow developing members to benefit more from international trade and investment," he added.
Trump and Xi spent the past few days together when the Chinese president hosted the American delegation in Beijing to talk trade, market regulations and North Korea.
The president's visit, the third leg of his five-nation Asia tour, seems to have reaped some successes. Upon his departure, China announced increased openness towards foreign investors, dropping limits on foreign investment in local banks and asset management companies and allowing up to 51 percent foreign ownership in securities firms and insurers.
In return, according to the state news agency Xinhua, China also demanded lower trade barriers for Chinese high-tech exports and financial services as well as "prudent" trade remedy measures and "fair" treatment of Chinese investors.
As for North Korea, Trump has already changed his attitude towards China, saying Xi was being "helpful" and telling the APEC Summit the region "must not be held hostage to a dictator's twisted fantasies of violent conquest and nuclear blackmail."
According to the Chinese tabloid Global Times, China has played its part. "China has tried its utmost, even at the sacrifice of Sino-North Korean relations," read an editorial published Thursday, adding "Trump has gradually learned that Beijing is indeed making selfless contributions to promoting the denuclearization of the peninsula. He can't demand more."