With cases of COVID-19 in the U.S. once again on the rise, despite government officials finally declaring the end of the health emergency earlier this year, the Centers for Disease Control and Prevention (CDC) recommended on Tuesday that all Americans aged 6 months and older receive at least a booster shot of the latest COVID-19 vaccine.
A day before the announcement, the Food and Drug Administration approved a new formula for the Pfizer-BioNTech and Moderna vaccine that takes new variants into account.
Many governments around the world are recommending booster shots for the most vulnerable categories in their population. But American authorities are recommending it for just about everyone to protect them against serious illness.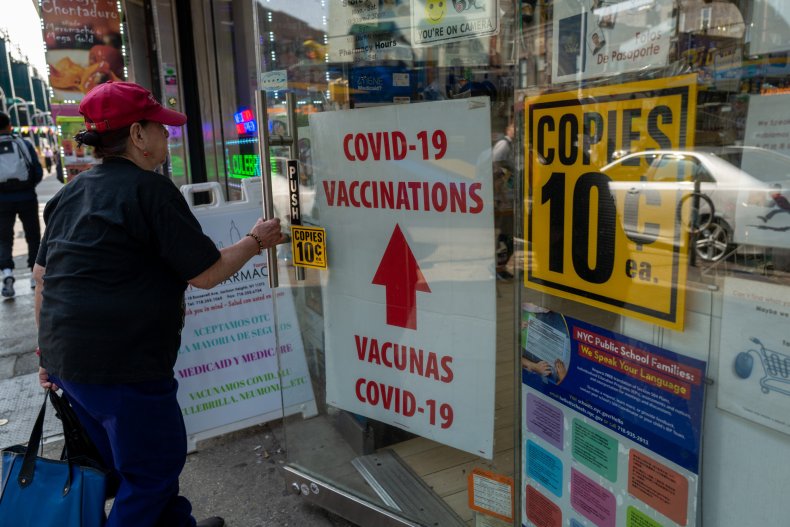 "Older adults and persons with weakened immune systems are at greatest risk for hospitalization and death," a statement from a CDC spokesperson to Newsweek says.
"In addition, healthy children and adults can still experience severe disease. The main reason to get vaccinated against COVID-19 is to protect yourself against severe illness, hospitalization, and even death."
But is America going too far—or are other countries not going far enough?
A Look at Other Countries
In Canada, according to an update to the country's guidance on the use of COVID-19 vaccines in the fall of 2023, published earlier this week, authorities recommend a dose of the booster vaccines for individuals aged 5 years old and over, as long as their last COVID-19 vaccination was done at least six months before.
A particular focus is put on those at increased risk of developing severe COVID-19, including those aged 65 and above, residents of care homes, pregnant people, indigenous people and members of "racialized communities."
In the U.K., those eligible for a booster dose of the COVID-19 vaccine are residents in care home for seniors, all adults aged 65 and over, primary health and social care workers regardless of their age, individuals aged 16 to 64 who are carers and those aged 12 to 64 who are household contacts of people with immunosuppression (weakened immune systems).
Individuals between the age of 12 and 64 in a clinical risk group, as defined by officials, are also recommended for the booster dose this fall.
Residents of care homes and those most at risk started receiving the booster on September 11, while others in the categories above will be invited to get the booster in priority order starting from September 18.
France's booster campaign for the fall, which is expected to start on October 17, is set to focus on high-risk groups, including those over 65, people with preexisting conditions like obesity or diabetes, pregnant and immunocompromised people, and health workers.
Anyone who has never received a COVID-19 vaccination will also be part of this first phase of France's booster campaign.
It is expected that those who want to be vaccinated despite not belonging to any of these categories will still be able to request a booster.
Germany's Standing Commission on Vaccination at the Robert Koch Institute, which advises the government and individual federal states, is also recommending the booster this fall for those categories most at risk, as described above.
It also recommends that babies, young children and teenagers without underlying conditions should not get a booster "on account of the now mostly mild courses of disease and very low rates of hospitalization," a government page on the virus reads.
Is the U.S. Justified in Recommending a Shot to Everyone?
The CDC has defended its decision by saying that its recommendation protects "the greatest number of people possible."
"Vaccination remains the safest and most dependable strategy to build immunity and protection against severe illness, hospitalization, and death caused by COVID-19," Dave Daigle, the CDC's associate director for communications, told Newsweek.
"Vaccination causes a safer and more predictable immune response than infection with the virus that causes COVID-19. COVID-19 burden is currently lower than at previous points in the pandemic, but there are still thousands of hospitalizations and hundreds of deaths each week," he added.
"Children and adults with no underlying conditions still experience severe COVID-19 illness. [The] CDC is making the recommendation to protect the greatest number of people possible in advance of any potential surges in virus circulation in the months ahead. The universal recommendation allows access to COVID-19 vaccines for all who want them."
Some prominent figures have criticized the recommendation. Florida Surgeon General Dr. Joseph Ladapo, in an online panel hosted by Gov. Ron DeSantis on Wednesday, attacked the FDA's approval of the new vaccine boosters and urged residents under 65 not to take them, in opposition to the CDC guidance.
"Once again, the federal government is failing Americans by refusing to be honest about the risks and not providing sufficient clinical evidence when it comes to these COVID-19 mRNA shots, especially with how widespread immunity is now," said Ladapo, one of the country's most prominent vaccine skeptics.
"I will not stand by and let the FDA and CDC use healthy Floridians as guinea pigs for new booster shots that have not been proven to be safe or effective," said DeSantis.
CDC Director Mandy Cohen described such claims as "dangerous and unfounded" and some foreign experts also agree with the wider CDC recommendation.
"The simple answer is that the CDC has got this call absolutely right, including the expansion through to infants," Daniel M. Altmann, an immunologist at the Faculty of Medicine at Imperial College in the U.K., told Newsweek.
"The factors to consider are that the emergent Omicron subvariants, including now BA.2.86, continue to inflict a large caseload around the world," he said.
"These are of varying severity, but we still face considerable excess deaths due to COVID-19, massive new burden of long COVID, [and] considerable winter pressure on health provision," he added.
"Importantly, we have come to think of this as a period of 'mild' variants, since the case fatality rate is low, even though prevalence in many countries remains high."
According to Altmann, "this view obscures all the vulnerable who remain at high risk and among these are the very young who have no immunity from the first wave and initial vaccine campaigns."
He added: "Different countries are taking divergent approaches, but this may be driven by differences in economics/health policy rather than science. The rather limited offer in the U.K. from the JCVI (Joint Committee on Vaccination and Immunisation) appears to originate in a rather constrained analysis of cost-benefit to the taxpayer, with a rider that those outside the scope of the NHS campaign will be able to buy vaccines privately."
British immunologist Sheena Cruickshank, a professor in biomedical sciences and public engagement at the University of Manchester, said that "growing evidence implicates children are able to spread the infection to others," on top of suffering from severe illness themselves.
According to Cruickshank, "children under the age of 4 and especially babies are amongst the most vulnerable to COVID-19 and consistently we have seen this age group in high-risk groups alongside the elderly and those with preexisting health conditions."
Babies up to 6 months are protected from COVID-19 if their mothers were vaccinated and they are breastfed. But they are not protected after the age of 6 months.
"We also know that children do get long COVID, and for those children it is devastating," Cruickshank told Newsweek.
"The assumption in the U.K. is that now hybrid immunity [coming from vaccination and those who were already infected] will hold up sufficiently," Cruickshank said. "However, the vaccines had low uptake—partially as it was offered as low priority, so few kids over the age of 5 have the so-called hybrid immunity."
The British immunologist assumes that the CDC's decision considered "the wider picture of long-term health risks and not just the very important risk of death and hospitalization"—unlike other countries such as the U.K.
Update 09/14/23, 7:45 a.m. ET: This article was updated with additional information.