America Helped 12,587 Syrian Refugees in 2016. In 2018 It Was Just 62. What Will 2019 Bring?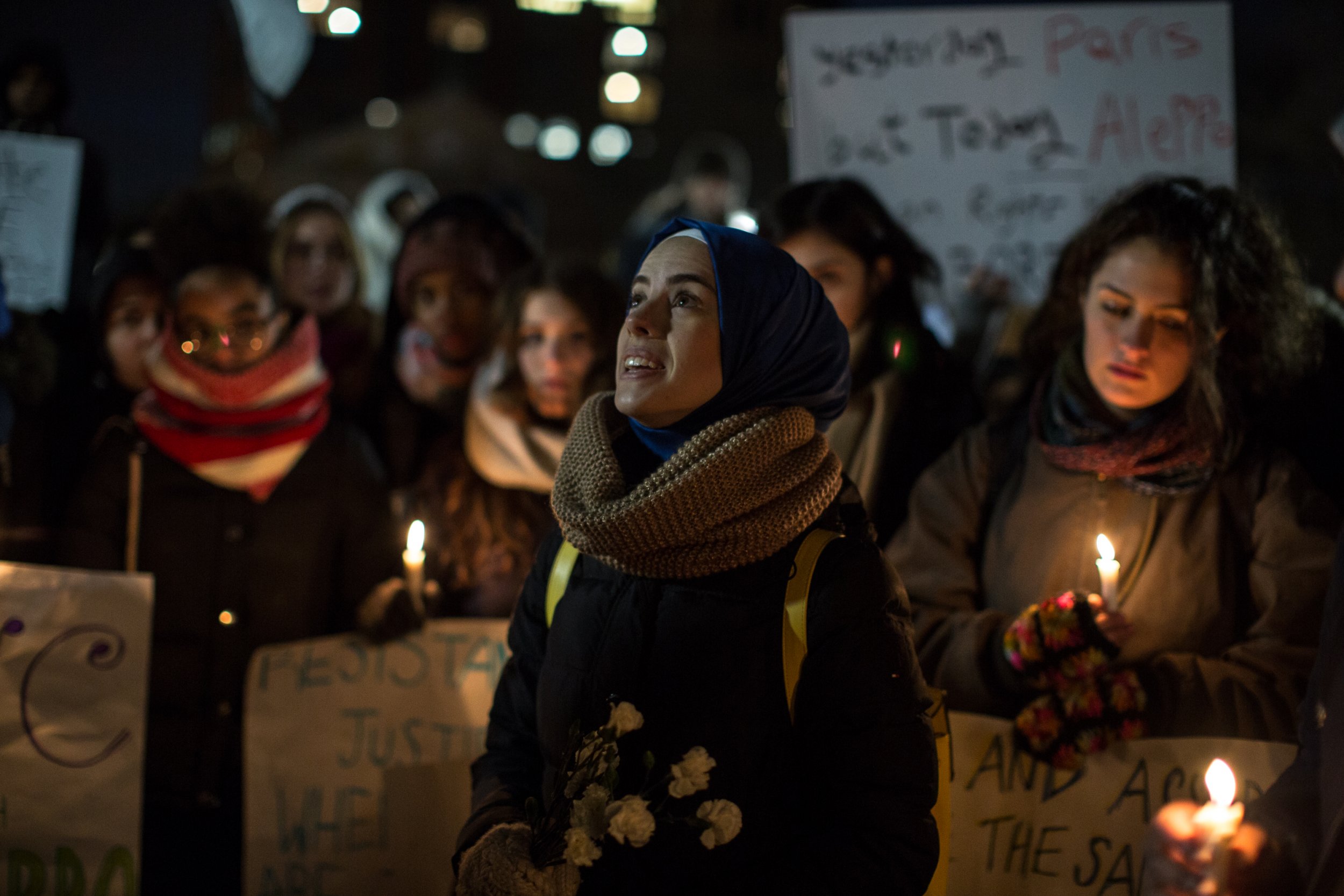 The Trump administration slashed the number of Syrian refugees allowed into the country from 12,587 in fiscal year 2016 to a meager 62 in 2018. Mustafa Khatieb, who fled Syria to join his family in neighboring Lebanon a year and a half ago, watched on from the country's capital.
"If I had the chance, I would love to go to the U.S.," Khatieb, 36, told Newsweek at Burj al-Barajneh, Beirut's most overcrowded refugee camp. However, under the Trump administration, Khatieb said he knows there is little chance of that possibility becoming a reality.
"It's the UNHCR who's in charge, not us," he said, referring to the United Nations refugee agency that identifies vulnerable cases to be considered for resettlement. However, Khatieb, a father of four, said he and his family have no plans to try to be considered because they feel it's not going to work.
That same sentiment is one shared by thousands of Syrians still searching for a place of refuge after being displaced by an eight-year civil war that has left thousands of people dead.
Their desire to find safety in the U.S. "is not dwindling," Nazanin Ash, vice president of policy and advocacy for the International Rescue Committee (IRC), told Newsweek. "I would say that it's their hope that is dwindling."
As their hope of finding refuge in countries like the U.S. are diminished, however, Syrian refugees' vulnerability has only increased, Ash said.
Syria 'Continues to Burn'
"What we saw in fiscal year 2018, the first full year of that policy change taking effect, was only 62 Syrians being allowed into the country that year—a dramatic drop from 12,500 to 62," Ash said. "But, what's worth noting is that nothing has changed about the Syrian refugee population. As we went from 2018 to 2019, the only thing that has changed is their vulnerability."
"It is mind-boggling to me," Ash said, "because if you think about all the things that have happened in Syria since August of 2016, it precedes Aleppo, it precedes some of the most egregious chemical gas attacks. August 2016 precedes the Assad regime takeover [in Aleppo], which resulted in one of the largest displacements that we saw in 2018. And that displacement is being eclipsed only by the displacements we're seeing now in 2019."
"Nothing has changed about the status of the conflict in Syria," Ash said. "It continues to burn."
"Civilians continue to be targeted, and the only thing that has changed for them is any opportunity to find safety," she said.
The U.S.'s decision to drastically roll back its refugee resettlement program has not only had a "tremendous impact on Syrians" hoping to find refuge in the U.S., but on the global community's ability to respond to their plight.
'Tremendous Pressures'
In recent years, not only has the U.S. all but sealed the door shut on Syrian refugees, Ash said, but other countries, including Syria's closest neighbors, have made it clear that they are unable to pick up the slack.
"You've got tremendous pressures on the Jordanians and the Lebanese," Ash said. "Something like one in four people is a refugee in Lebanon."
Meanwhile, King Abdullah II of Jordan "has been quoted publicly saying, 'We think we can't do anything. For the first time, we feel like the dam is going to burst. We feel like we're alone.'"
"Those countries are increasingly saying, If wealthy nations won't do more to help us, then why should we keep our borders open?" she said. And, as a result, "Lebanon and Jordan have both effectively closed their borders since 2016."
While the Trump administration has been vocal in requesting that Syria's neighboring countries, including Lebanon and Jordan, do not try to pressure Syrian refugees to return to their home country "prematurely," Ash said the U.S. government refuses to do anything to take the pressure off those nations.
"The U.S. and others are directly engaged in diplomacy to prevent the premature return of Syrians," Ash said. Yet the Trump administration refuses to play its part in preventing such an outcome, she said.
In Beirut, Khatieb told Newsweek that he hopes to see the day when he can return to his home country come soon, but now is not the time.
"I want to go back," he said. "But it is very dangerous...very destroyed."
What Lies Ahead
With fiscal year 2019 seven months in, the U.S. has already more than doubled the number of Syrian refugees allowed into the country, with 286 refugees being accepted so far, according to the IRC. Still, that is thousands less than the 12,587 people allowed into the country in 2016.
Further, the Trump administration has capped the number of refugees worldwide to be allowed into the country at 30,000 for the fiscal year, representing a drop from the 45,000 cap it set in 2018.
"We proposed resettling up to 30,000 refugees under the new refugee ceiling as well as processing more than 280,000 asylum seekers," Mike Pompeo said in an announcement at the State Department, asserting that "this year's proposed refugee ceiling must be considered in the context of the many other forms of protection and assistance offered by the United States."
While Pompeo called the U.S. "the most generous nation in the world when it comes to protection-based immigration," in his statement, refugee advocates were quick to condemn the lowered cap. Jennifer Quigley of Human Rights First branded it a "shameful abdication of our humanity in the face of the worst refugee crisis in history."
Ash said it was also important to remember that of the 30,000 included in the cap, Syrian refugees could only hope to comprise "some proportion of 9,000"—the designated cap for refugees coming from the Middle East region, dropped from 17,500 last year. The U.S. is highly unlikely to meet that number, she said, given that the Trump administration appears to have slowed its processing of refugee applications to a near standstill.
"So, even though we're more than halfway into the fiscal year, the Trump administration has really only filled 12 percent of that cap," Ash said.
Against 'U.S. Values'
"I find the Trump administration is making decisions that don't serve U.S. values or U.S. interests," Ash said.
"The success of [of the refugee resettlement program] and delivering on its humanitarian intention is clear," she continued. "The U.S. should be a place where people can find safety from violence and persecution. That's a founding belief for our country, and it is a persistent belief in the country."
"In polling, people consistently say they believe the U.S. should be a place where people can find safety. The refugee resettlement program delivers on that value," she said. "It's also delivered on national security and global security."
Ash said that while she could not speak to why the Trump administration would want to put American values and national security at risk, "we can only raise questions about what are those policies delivering on" and whether "that's good for America."