America is Hungry for Unions | Opinion
America's workers are recognizing something fundamental: there is promise and power in coming together. Gallup just reported that two in three Americans approve of labor unions, the highest mark since 1965. Among adults under 34 and people of color, that approval is even higher: three in four support unions. This report should come as no surprise—unions have always been the most effective way for workers to speak in a collective voice.
America is hungry for unions, and this Labor Day, the Senate must heed our call and pass policies that protect our rights on the job.
Shortly before Labor Day and shortly after legendary labor leader Richard Trumka's unexpected death, I was honored to be elected to the number-two position in the AFL-CIO—the labor federation of 12.5 million members and 56 unions, including mine, the United Steelworkers. Under the leadership of newly elected President Liz Shuler, the first woman ever to hold that office, and Executive Vice President Tefere Gebre, we make up the most diverse team of officers in AFL-CIO history. We are committed to building a modern labor movement that gives every working person access to a good-paying union job.
I know firsthand what an incredible difference that job can make. My parents, Curtis and Odessa Redmond, were born to sharecroppers in the Mississippi Delta and made the Great Migration to Chicago in 1958. They came with very few belongings but a very strong desire to build a better life. While we had little money, my parents were rich in love, hope, faith and an unbreakable work ethic.
My three brothers and I grew up poor. We lived on food stamps and my mother, a domestic worker who rode three buses every morning to clean folks' houses and cook their food, shopped for us at Goodwill.
My father took every kind of job he could find—pumping gas, working as a janitor and stocking supermarket shelves.
Neither one of them ever complained. I never heard either make a single excuse.
Then something big happened, something that changed everything: my dad got a union job at an aluminum mill outside of Chicago. Nearly overnight, we had more security, opportunity and prosperity. We stopped going to the free clinic. We got off of food stamps. We still went to our local Goodwill—only now it was to donate clothes.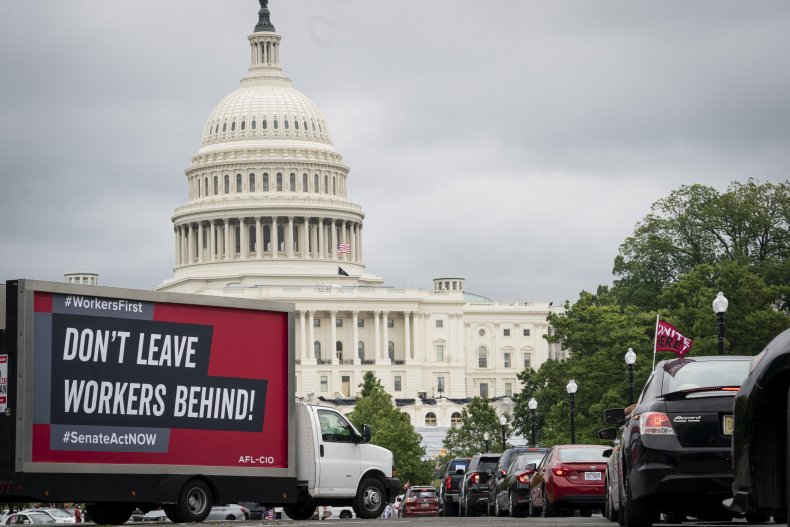 Today, too many families are still waiting for that kind of change. As a result, our democracy is suffering, as the very fabric of America verges on disintegration after decades of inequality, dismantled workers' rights, attacks on voting rights and neglected investment in our families and communities.
That's why the labor movement is fighting for the John Lewis Voting Rights Advancement Act and the For the People Act—so every American citizen is guaranteed the right to vote. It's why we are all in on President Joe Biden's Build Back Better agenda, which invests $1 trillion in our roads, bridges, transit, broadband and other infrastructure, and $3.5 trillion in education, paid leave, child care and clean energy, along with citizenship for immigrant workers, expanded health care access and real penalties for employers who interfere with our right to organize.
But to truly bring our democracy back from the brink and save our economy, we must give every worker in America the right to form a union.
Our early 20th-century private-sector labor laws are being used today to make it harder to organize. It is now far easier to bust a union than form one. And the attacks on public service workers—most recently by the U.S. Supreme Court—have been cruel and relentless. So we are pushing for the Public Service Freedom to Negotiate Act, which would give every public service worker the right to a voice on the job. And above all, we are mobilizing to pass the Protecting the Right to Organize (PRO) Act, which would for the first time impose real penalties on employers who interfere with our right to organize and make sure our labor laws work for workers in the 21st-century economy.
From Google to Amazon, from coffeehouses to digital newsrooms, workers are taking the first steps toward forming a union. Even though public support for unions are high, the odds facing those who want to form one are long. Far too often, they face a massive "union avoidance" industry designed to intimidate, harass and ultimately dissuade workers from forming a union. In about a quarter of all organizing campaigns, a worker gets fired for union activity. In many more of them, workers are forced to sit through meetings where the only topic on the agenda is bashing unions.
But just as our government is "of the people," unions are no outside force. Workers themselves are the union, and organizing is the way we best formalize our collective interests and negotiate with our employers for a fair piece of the pie. The PRO Act includes many important provisions, but at its core, it places the decision about whether to form a union back where it belongs: in workers' hands.
The PRO Act passed the House earlier this year on a bipartisan vote. Forty-seven Senate Democrats cosponsored it. President Biden has urged Congress to send it to his desk. And survey after survey shows the American people want the PRO Act to be signed into law. The eyes of working people are now on the Senate, where the Democratic majority we helped elect must clear the path for the PRO Act.
When unions succeed, the economy succeeds, democracy works better and families like the one I grew up in have a fighting chance. With union support the highest it's been in more than half a century, it's up to our elected leaders to protect the right to organize, not to further silence our voices.
Workers don't just want to be recognized on Labor Day for making the country run. Workers demand to be heard.
Fred Redmond is secretary-treasurer of the 12.5 million member, 56 union AFL-CIO, America's labor federation.
The views expressed in this article are the writer's own.