It started with an act of generosity. And a Facebook post. Tim Hennessy and his wife, Deb, were at an Austin H-E-B grocery store doing what Texans across the state were doing during one of the worst winter weeks in the state's history.
"Halfway through our shopping, the store's power went out," Hennessy wrote in his post. "We kept shopping as hundreds of other people were too. We were picking up some milk and other items for other family members too and wanted to be sure we got everything we went there for."
Nearly 15 minutes later, an employee let the Hennessys know they needed to head to the checkout area. "We got to a line with about 10 full carts in front of us, and there were many lines to both sides of us—probably several hundred people waiting to be checked out," Hennessy wrote. "We waited in line for about 15-20 minutes and barely moved up 1-2 slots. Then all of a sudden we started moving faster." There was a reason for the speed, as Hennessy explained:
In a few minutes, we were asked to move to the next checkout aisle that was open. We probably had a couple of hundred dollars' worth of groceries. The employees said: "Just go ahead and be safe driving home." Then we noticed the lines of people after the checkout stands proceeding with full carts of groceries all being directed out the store with many employees there to greet us on our way out. Deb began tearing up which always gets me teared up too—as we could not believe the generosity of H.E.B. and the kindness of that wonderful gesture. They could just as easily asked us all to leave the store as soon as the power went out and asked us to just leave the groceries in the carts. But instead, they allowed people to continue to shop for another 10-15 minutes after the power went out and then let everyone leave the store without so much as a single dollar being asked for from the hundreds of people leaving the store.
And then came the line that resonated with the millions of people who would come to learn of the Hennessys' story.
"This is the America that I know," Hennessy wrote. "Despite all the negative we hear/see being reported daily in the news. America and most Americans are still kind, thoughtful, generous, and caring."
Hennessy was on to something with what when he wrote about the media. Endless reporting has been done on the media's propensity to lean left. But an equally pernicious bias—especially a social media environment in which outrage yields clicks—is the relentless drumbeat of negative news: the murder, the rape, the fire, the train wreck. And increasingly, news that divides us as Americans.
In a Ted Talk in 2018 to promote his latest book, Enlightenment Now, author and cognitive scientist Steven Pinker talked about this very thing. "A tabulation of positive and negative emotion words in news stories has shown that during the decades in which humanity has grown healthier, wealthier, wiser and happier, The New York Times has become increasingly morose," he said. "The world's broadcasts, too, have gotten steadily glummer."
He then posted a headline from satirical website The Onion: "CNN Holds Morning Meeting to Decide What Viewers Should Panic About for the Rest of the Day." The audience members burst into laughter because they knew Pinker was on to something.
The fact is, the America I know is filled with good stories like Hennessy's. They're everywhere. Look around you. At your neighbors. Your co-workers, friends, classmates and fellow believers. Visit a mall or a local college or a downtown square, or walk down any city street and watch people from every conceivable walk of life living in relative harmony.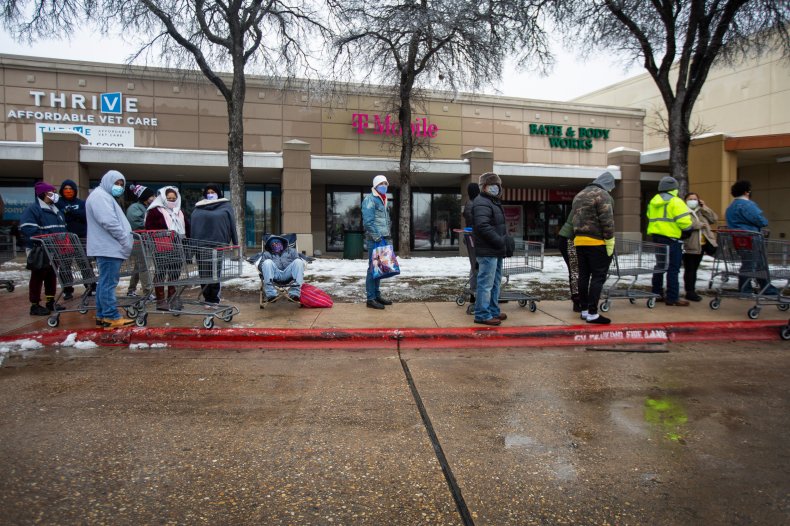 I am a New Jersey boy, part Lebanese and Italian. My wife is a Southern girl from Mississippi, part Irish, French, American Indian and Scandinavian. Which makes my 16- year-old daughter a walking United Nations. How we Americans eat, work, play, pray, live and love together in America is a thing to behold.
Hennessy was also on to something with the close of his Facebook post: "With Love Always and Grateful That America Is Still the Land I Love, Tim H." We do indeed have so much to be grateful for and love, we Americans. We enjoy rights and privileges few in world history have ever enjoyed: the right to say what we want about our elected leaders without reprisal is an inheritance we did nothing to earn. An inheritance that makes us all rich.
We have the right to worship or not as we please, the right to own property, including our ideas—our intellectual property. We have the right to enter into contracts freely and go to courts to enforce our rights. We get to choose who our leaders are, locally and nationally. And we don't fear our men and women in uniform. Because they work for us. Indeed, they are us. They are not conscripted or compelled to do their work: They volunteer to do it. Yes, there are a few bad apples, but the soldiers and cops who put on their uniforms every day do it not to do the dirty work of some dictator or regime but to serve and protect us.
I'm grateful I got to know my immigrant grandparents. They reminded me regularly about why they fled their countries, and what America meant to them. They loved this country, imperfect as it was. America adopted them, and they adopted America. They were grateful citizens, and that gratitude bled down to us.
In a beautiful new book, A Beginner's Guide to America, author and former refugee Roya Hakakian describes her journey from Iran to America as a teenager. From the beginning, things Americans take for granted were small miracles to her. She recalls stepping off the long flight to her new adopted home and moving through the airport security lines. With most of her earthly possessions in hand, she approached the TSA security guards and noticed their American flag pins and name tags, with names like McWilliams and Sanchez and Cho. "And by God, all of them Americans," she said.
That wealth of names was for her the most striking thing she'd seen in her life. "I had come from a country where...the people in the neighborhood...were primarily of the same race and ethnicity," she told NPR recently. "This human salad was quite mind-blowing to me and continues to be."
Hakakian talked about other small signs of democracy, signs we take for granted. "We return something we have bought at the store—you know, a sweater—after three weeks, and we think every place in the world you can just show up with your receipt and return something you've bought," she said. "Well, no, you can't."
She wasn't finished. "In most parts of the world, there are traffic laws, but no one respects them, because you simply don't believe in the laws in an undemocratic country. And these are all the small gifts of this gigantic democracy, which manifests itself in the way we live our day-to-day lives."
Hakakian talked about other small gifts of democracy, which were part of the larger gift of American citizenship. "I talk about the endless row of cereals in the supermarket aisle. And I think every immigrant's first reaction is: Do you really need all of them?" she noted. "But at the end of the day, the important takeaway is to think of choice as being the cornerstone of what makes this country, or this democracy, what it is."
Hakakian ended her NPR interview with thoughts about assimilation—and how that squared with her ethnic identity. Her answer reminded me of my grandparents' answers, which burn in my memory.
"We all realize that it's a beautiful thing to assume this American identity and feel that there is something bigger than what we came with individually," she said. "There's something greater than these small parts that we bring with each other. But part of the reason why that possibility happens in America is because America allows us to also be, in my case, Jewish, Iranian, Middle Eastern, Chinese and so many other possibilities. We ought to want to celebrate a singular American-ness. But that's possible because America doesn't fight our individualities. America doesn't fight our heritage. America doesn't require that we abandon who we are."
This is the America I know. It's not a nation filled with hate and white supremacists, but, to paraphrase Hakakian, a mind-blowing human salad. A big, bold experiment bound together by a Constitution that, to this day, is the world's oldest. And best.
It's an inheritance we didn't earn. An inheritance, as Tim Hennessy and Roya Hakakian remind us, for which we should all be grateful.