America Is Likely Undercounting Infections Amid COVID Surge That's Nearly Doubled Cases
The latest surge in coronavirus cases is likely higher than what's been reported, thanks to the popularity of at-home tests and some people not getting tested because they're struggling to get an appointment or avoiding long wait times.
America added more than 4 million cases in December, nearly double the cases reported in November, in a wave that experts believe is being fueled by the highly contagious Delta and Omicron variants. It's possible cases have risen even more than that because people don't usually report the results of their at-home test. Also, officials have advised some people to just assume they're positive if they have symptoms, amid testing bottlenecks.
The holiday surge in testing exposed massive failures in America's ability to test large quantities of people at one time. As Omicron, an even more infectious variant than Delta, spread across the country, people have struggled to make test appointments, with hours-long wait times and then delays in receiving the results. Difficulties with in-person testing have prompted spikes in at-home test demand, and with kits flying off the shelves, stores are putting up signs telling customers they're sold out.
However, unlike tests that are administered by health care providers, at-home tests rely on individuals to report their results to local health departments. Some kits may instruct people on how to report their results, but not all kits include that information on the box or in the instructions. So while some people have taken the extra step to contact their local or state health department, many others may be unaware of the ability to report their results or just forget to file a result.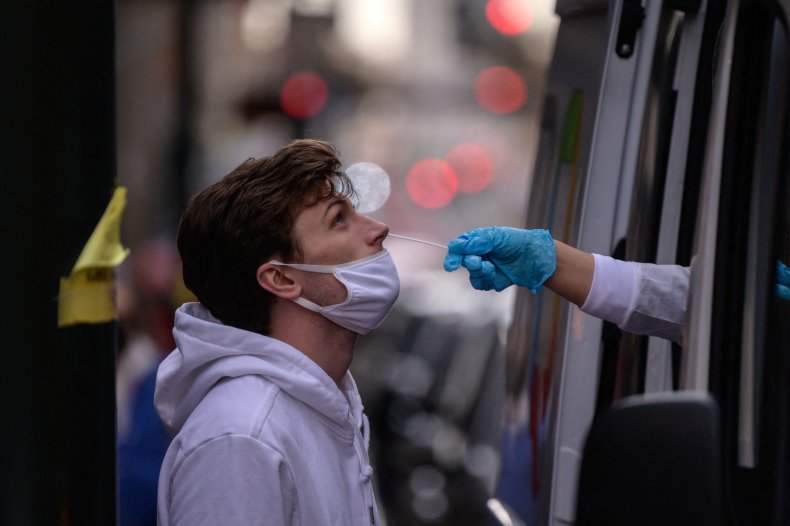 It's also possible some people are choosing to stay home and isolate themselves from others if they have symptoms, instead of waiting for hours to get a test. Without a reported test result, those people wouldn't be counted in the coronavirus case numbers.
At a Wednesday press conference, Chicago Department of Public Health Commissioner Allison Arwady said it's likely people have COVID-19 if they're experiencing cold or flu-like symptoms.
"We need you to stay home if you're not feeling well," she said.
Coronavirus cases have long been thought to be underreported because of false negatives and asymptomatic people who never got tested because they didn't have a reason to. But underreporting is likely to only get worse as people grow to rely on at-home tests.
The Biden administration has purchased 500 million kits and plans to begin mailing them at no cost to Americans in January. In an effort to expand America's testing efforts, Biden said Americans would be reimbursed for the at-home kits they purchase in stores.
Increased access to at-home test kits can be helpful in detecting the virus and slowing its spread, by giving people notice to quarantine. However, at-home tests have shown to be less effective at detecting Omicron, compared with other variants, and they could force officials to shift how they assess the state of the pandemic.
It's unclear at this point the impact underreporting of cases could have on America's response to the outbreak. Early during the pandemic, positive cases were used as a means of tracing potential cases in the hopes of breaking a chain of transmission. Health officials have also used testing as a way to measure the level at which the virus is circulating and to identify the impact the virus was having on various demographics.
Dr. Gregory Gray, a professor of internal medicine at the University of Texas Medical Branch, said that as at-home testing becomes increasingly popular, clinical- and hospital-gathered data about COVID-19 will become increasingly inaccurate as a measurement of the disease in the overall population.
Although experts won't be able to draw the same level of data from at-home tests that they can get from in-person testing, as long as scores of people are testing positive at clinics and health care providers, it's clear the virus is circulating at high levels. This method of thinking could become problematic, though, if cases detected by a PCR test start to dissipate.
If people increase their reliance on at-home tests, the virus could be circulating at higher levels than the data shows because cases are going unreported. As a result, officials will be given an inaccurate depiction of the outbreak.
Jasmine Reed, a public affairs specialist at the U.S. Centers for Disease Control and Prevention, told Newsweek the CDC is working with manufacturers of at-home tests to improve people's capability to report their results.
While many cases aren't counted in the CDC's official data, Reed said, the agency doesn't need to know exactly how many coronavirus cases there are to make judgments about the extent or spread of the outbreak.
However, Gray advocated for shifting to other metrics to better estimate coronavirus infection rates. He suggested officials may have to move to conducting cohort studies where infection rates are determined through antibody testing of groups over time.
Update 12/30/21, 12:55 p.m. ET: This story has been updated to include a comment from the Centers for Disease Control and Prevention.