The Camaro was born out of a volcano. We know this because 50 years ago, in the muscle car's very first TV commercial, it rose from a caldera amid fountains of fire and a molten lake of lava. Fans of the sporty Chevy still debate how many martinis Don Draper harmed while writing copy for that ad.
In the half-century since the American public first blew its stack over the Camaro, the love affair has gone from hot to cold to hashtag-friendly. There are no TV commercials for Camaros anymore. The Chevy marketing team finds its trucks and midsized vehicles like the Malibu do better in TV spots. Instead, the brand focuses marketing for Camaro on the car's social media presence. In 2013, Camaro's image-heavy Facebook page had the highest user engagement stats of any automotive brand. By 2015, scammers were taking full advantage of its likability, and sites like Hoax-Slayer and Snopes were debunking fake Camaro giveaway posts.
A Google search for " Camaro reddit " yields more than 633,000 results for the vehicle's popular online forums—perhaps due to the car's popularity in racing and custom body work. Camaros have even varoomed into a Venn diagram with the Kardashians—a year ago, selfie supermodel Kendall Jenner was filmed handing an alleged sandwich to an alleged homeless man from the driver's seat of a 1969 Camaro SS convertible. A YouTube video of the exchange has been viewed nearly 900,000 times. No wonder the 2017 Camaro features its own Wi-Fi network.
Chevy marketing execs say that of all their models' fans, Camaro enthusiasts are by far the most zealous. Still, the automaker is wary that its social media presence is stuck in a Camaro-ite "filter bubble"—its die-hard collector club base is aging, and new membership is often generational. Jenner inherited her Camaro bug from her father, Caitlyn Jenner. (They were seen '56 Corvette shopping in a recent episode of Jay Leno's car-collecting series, Jay's Garage .) Kids tend to fall in love with Camaros through video games (it's been in about 600 of them) and die-cast models (like the miniature blue '68 custom job that was one of the original Hot Wheels Sweet 16. This past fall, the U.K.-based graffiti design crew ilovedust was commissioned to create a 50th anniversary mural in the Camaro assembly plant near Detroit for an interactive video campaign. Perhaps this was Chevy's much-delayed response to Ford, which in 1932 enlisted Diego Rivera to paint his populist Detroit Industry frescoes in the courtyard at the Detroit Institute of Art.
Party in the Back
Without the Mustang, the Camaro might never have emerged from that volcano. At the 1964 New York World's Fair, Ford introduced the public to the "pony car," a new class of affordable sporty coupes. Named for a World War II fighter jet, Ford's maiden Mustang was a modified Falcon, with shrunken back seats and a less visible trunk. Later that year, its coolness factor was enhanced by a cameo in the James Bond film Goldfinger. Sales went through the (often retractable) roof—nearly 420,000 were bought in the first year, a new record for the brand.
The Mustang begged imitation. General Motors executive Pete Estes, a small-town Michigander, spearheaded the secret development of its response at the Chevrolet Design Studios in Detroit. In the summer of 1966, amid rumors of the launch of a model called the Panther, a company publicist wired 200 mysterious invitations to a press conference: "Hope you can be on hand to help scratch a cat. Details will follow."
Soon, a second telegram: "Society for the Eradication of Panthers from the Automotive World will hold first and last meeting on June 28." On that day "Panther Society" chapter meetings were held in 14 cities. Estes presided over the pressers onstage at the since demolished Statler-Hilton Hotel in Detroit. Microphones and amplifiers broadcast his remarks over the phone to the out-of-towners — the first interactive conference call ever. On the horn, Estes complained about all the Panther speculation and talked up the Chevrolet tradition of cars with a "C" name: Corvette, Corvair, Chevelle, Caprice…as five female models in short-shorts and high heels—each holding an outsized letter aloft—shimmied next to him. After a little reordering, they lined up to spell out "CAMARO."
Estes cited a 1955 French-English dictionary definition of camaro as meaning "comrade" or "playmate"—a "good friend," as a car should be to its owner. Not long afterward, Ford reps insisted that a camaro was actually a "shrimp -like creature." Then an alternate Spanish definition surfaced: "loose bowels." Estes retaliated by saying a Camaro was "a small, vicious animal that eats Mustangs."
The Mustang-Camaro feud rages still, much to the chagrin of the upstart Dodge Charger. Car and Driver still pits Mustangs against Camaros in its comparison reports, a tradition that dates to 1968. Camaro-Mustang memes have incorporated President-elect Donald Trump saying, "I'm going to build a wall, to keep everyone at car meets safe from Mustangs." In September, the Camaro knocked the Mustang from its perch at the top of the muscle car sales rankings for the first time in almost two years. (Mustang regained the lead in November.)
In 1967, its first model year, 220,906 Camaros were sold—less than half of the business Mustangs did. But the Camaro won a more prestigious race: It was chosen to pace the 1967 Indianapolis 500. The car was customizable in a wide range of colors and trims—most famously the special edition "Z28," developed as a contender for Trans-Am racing.
From the beginning, the Camaro has been marketed to both sexes. Like the Mustang of that unprogressive era, the '67 V6 Camaro was sometimes called a "secretary's car" because it was stylish yet modestly priced. One 1967 ad featured a blonde in shades driving a convertible dubbed the "Hugger" because it "hugs a road closer." The ad copy recommends that women "ask any Camaro owner, he'll tell you."
Chevy's first pony car may have reached the height of its countercultural cachet in 1969—the year of Woodstock and Charles Manson—when gonzo journalist Hunter S. Thompson surfaced at the Chicago Auto Show to take notes for Scanlan's Monthly on a panel of celebrities: the 1968 Heisman Trophy winner O.J. Simpson, iconoclastic Chevrolet executive John DeLorean and triple gold medalist Alpine skier Jean-Claude Killy of France. Though this might seem like the convoluted setup to a particularly moth-eaten joke, it's actually the punch line. The trio had blown into the Windy City to tout the Camaro's virtues. The Frenchman even had a special edition Camaro named after him—the Killy Z28.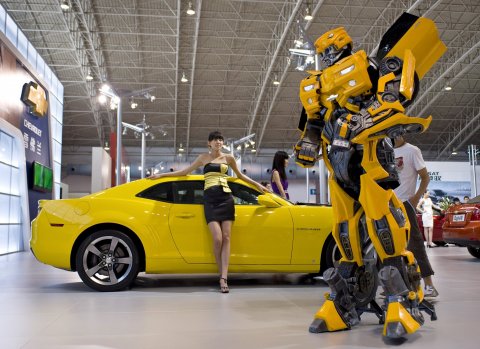 In 1977, Camaro sales surpassed Mustang's for the first time. Remember the crushed muscle car spray-painted "Die Ridgemont" and "Lincoln Rules" after Spicoli borrows it in Fast Times at Ridgemont High? That was a 1978 Camaro Z28. The '84 Berlinetta featured Starship Enterprise –like additions like a digital readout for speed and a very graphic electronic tachometer. Turn-signal levers were located on adjustable control pods, and the radio was mounted on a swivel pad that could be pointed at the driver or passenger. In the year of the '85 IROC-Z, Philadelphia punk rockers Dead Milkmen released "Bitchin Camaro," a talk-heavy tune. The phrase stuck. Debbie Harry's backing vocals on the 1987 Ramones track "Go Lil' Camaro Go" weren't quite as catchy. Around that time, the "party in the back, business in the front" mullet fad became known as the "Camaro cut." In 1992, Chevrolet's Van Nuys Assembly factory in California was shuttered, and production was moved to Canada.
In 2002, with sales lagging, the car was decommissioned.
Its comeback was sparked by Transformers, a 2007 sci-fi action film in which giant talking robots with names like Devastator and Optimus Prime wrestle and punch each other and, yes, turn into cars. Director Michael Bay worked with the design team at Chevrolet to create the Camaro-cum-alien robot Bumblebee. In the movie, hero Bumblebee's nemesis is a "bad cop" robot that can change into a modified Mustang. Even the previously bargain-basement 1974 Camaro suddenly exploded in value after Shia LaBeouf drove a vintage yellow in the film. Generation Five Camaros went into production in the fourth quarter of 2008.
No Ferris Bueller Spins
Those new Camaros beat Mustangs in their comeback sales year. Around the same time, alternative rock group Weezer sang "Yellow Camaro," and Atlanta rapper Young Jeezy did " Stop Playin Wit Me/My Camaro." A report from the National Insurance Crime Bureau named the fifth-gen Camaro as the most stolen "sporty" car from 2009 to 2012. Coincidence? In 2012, Hot Wheels partnered with Chevrolet to create a limited run of 2013 Hot Wheels special edition Camaros (actual Hot Wheels–inspired cars, not toys). In 2013, the United Arab Emirates became the first country in the Middle East to use Camaros in their law enforcement fleet. The Dubai police still patrol streets in the souped-up SS models. In 2015, the last Camaros were made in Canada.
Today's Camaros are assembled in Lansing, Michigan, at GM's Grand River plant, which just laid off 800 workers due to what execs call a seasonal sales slump. Camaro's lead engineer, Al Oppenheiser, also blames the election: "People tend to hold back on buying a new toy like a performance car when they're worried about the economy."
The new Camaro is equipped with enough 007 spying technology to make Q envious. The "Teen Driver Mode" allows parents to control their teenagers' speeds and their Bose audio system volume. They can also get wireless updates on pretty much everything except elapsed time on Lovers' Lane. The 2017 ZL 1LE Camaro PDR can even record your driving experience and play it back. "If you go to a nice restaurant and hand off your keys," says Oppenheiser, "you can make sure the valet doesn't use it to go for a Ferris Bueller spin."
The Krypton, a space slime-hued variant of the 1LE, is slated to hit showrooms next February. Asked why the car was named Krypton, Oppenheiser takes a page from Estes's old playbook and deadpans: "It makes Mustangs weak."