America Needs to Take a Firm Approach to Turkey | Opinion
American-Turkish relations have been in a steady decline for the better part of the last decade in large part because Turkish president Recep Tayyip Erdogan and his government have found new and creative ways to undercut the relationship. Without a major change in Turkish behavior, the relationship will only get rockier.
Ankara has not acted as is expected of a U.S. ally. Turkey, a NATO member, purchased, received and tested the Russian S-400 missile system. Erdogan supports Hamas terrorists, maintains an affinity for hostage diplomacy and helps Iran bust international sanctions. These provocations have prompted numerous Trump administration officials to say the right things, but definitive action has too often been slow to follow.
Continuing on the current path is a mistake. Definitive action against Turkey is proven to work. The Trump administration used economic pressure to win the 2018 release of pastor Andrew Brunson. Likewise, Moscow used sanctions in its dealings with Ankara after the Turks shot down a Russian fighter jet.
The White House, under the Countering America's Adversaries Through Sanctions Act (CAATSA), on December 14 issued largely expected sanctions designations of Turkey's primary defense procurement entity and its senior leadership. The symbolic weight of sanctioning a NATO member for the first time should not be understated. Initial financial estimates show that over $2 billion in contracts could be affected, accounting for 5 percent of U.S.-Turkish trade, but the chilling effect and over-compliance could have a wider impact, as we've seen in other sanctions cases.
Whether Turkey changes course is yet to be seen, but we can be sure that Congress will continue to push for a much tougher line on Ankara. The past four years have seen a bipartisan effort to force a tougher stance against Turkey's malign activities. Unsatisfied with statements alone, Congress pushed the administration to implement CAATSA sanctions and ensure that Turkey be expelled from the F-35 Joint Strike Fighter program. Congress has also implemented a de facto arms embargo on Ankara, which will only be bolstered by the recent designations.
In addition, Turkish aggression towards U.S. allies including Greece, Cyprus and Israel has been met with legislation which encourages cooperation between this emerging quartet. Most recently, Congress passed the National Defense Authorization Act, under threat of a presidential veto, with provisions forcing the administration to choose five out of 12 potential CAATSA sanctions against Turkey.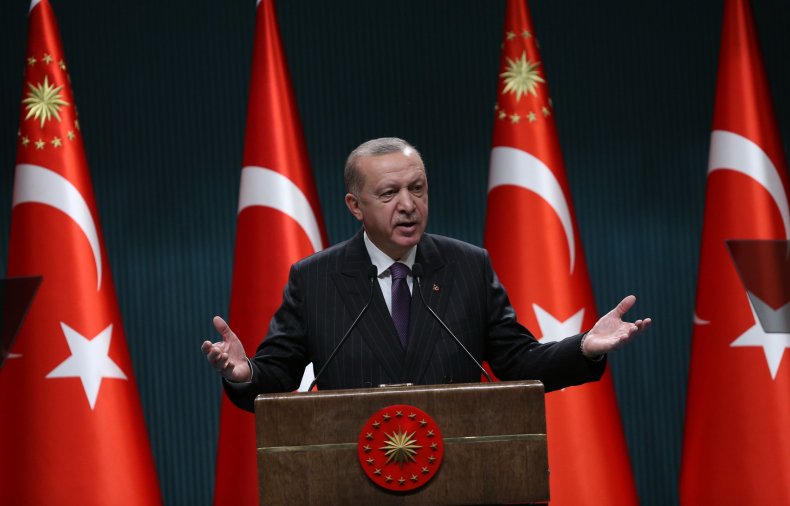 The incoming Biden administration has the opportunity to send a clear message to Erdogan that, regardless of party, Americans are in lockstep opposition to Turkey's actions.
In 2018 Jake Sullivan, now Biden's national security adviser designate, coauthored an op-ed which laid out what should be a consensus position between the incoming administration and Congress. He argues in favor of a "firm approach with high-level engagement aimed at finding a better path forward."
We have had plenty of "high-level engagement" in the past decade, but we have yet to take an approach firm enough to show Erdogan the United States is serious. To do so, the U.S. should implement additional long-term restraints on arms sales to Ankara and engage in a larger shift away from Turkey both economically and strategically. This includes rolling back America's large military presence, including strategic weapons, inside Turkey.
Our allies in the Eastern Mediterranean have proven to be an effective counterweight to Turkey and have consistently demonstrated an approach that mirrors our priorities. Efforts to expand America's military presence in Greece, for example, should be accelerated under the next administration. Similarly, more assets from Turkey should be redeployed to friendlier and more secure regional partners.
It should also be made clear to Erdogan that Turkey can no longer harbor and support Hamas terrorists. If it continues—and the brazen nature of Turkish support indicates it will—discussions over Turkey's potential designation as a state sponsor of terrorism will only escalate. Such a designation's economic impact would pale in comparison to anything we've yet seen.
Turkey's economy continues to falter, and like other dictators, Erdogan consistently blames everything except his own policies for his people's plight. Here, too, the incoming administration has great latitude in determining the type of assistance Ankara receives, and whether it decides to target more Turkish entities for illicit activities.
Tepid American policy towards Turkey only emboldens an autocratic Islamist ruler in Ankara. There are plenty of economic tools in the box, but if president-elect Biden believes Turkey is not beyond repair, he must display the resolve to use them.
Boris Zilberman is Director of Public Policy and Strategy at CUFI Action Fund
The views expressed in this article are the writer's own.