For nearly 15,000 years, the Chumash people have called coastal California home. Before contact with European settlers, the tribe occupied 7,000 square miles of exceptionally fertile land near what is today Santa Barbara. The conquest and settlement of California, first by Spain and then by the United States, hemmed in the Chumash, making them secondary citizens on a land they thought had been granted to them by the gods. In 1901, the tribe was confined to 127 acres on the Santa Ynez Reservation. For most of the 20th century, that reservation, like most others across the nation, was a nearly invisible ghetto where Native Americans languished without any serious prospects for economic uplift or cultural recognition.
Richard Gomez was born into this world. Today a tribal elder of the Chumash, he remembers the long days of fieldwork on his grandparents' farm and waiting for a truck to arrive with government handouts of food and clothes. Prospects began to improve for the tribe in the early 1990s, when the Chumash opened a casino; in 2000, California made casino gambling exclusive to Native American tribes, effectively granting them a monopoly. The casino continued to grow so that, by 2004, the Los Angeles Times reported that "each of the 153 members of the Santa Ynez band has received more than $1 million in casino income."
In 1994, Gomez's daughter Tara was heading off to college. Family trips through California's wine country put her on a path unusual for Native Americans: She wanted to study winemaking. Although many tribes frown on alcohol as a ravaging force introduced by whites, the Chumash paid for Gomez to attend Fresno State University, which has a well-regarded oenology program. Gomez later studied in Spain, as well as in the increasingly well-regarded wine country of California, at vineyards like J. Lohr and Fess Parker.
Some two decades later, Gomez has the distinction of being the only certified female Native American winemaker in the United States. The wine business has historically been dominated by men, and vintners who self-identify as Native American are nearly nonexistent. Gomez's background isn't incidental to her craft: The winery she runs with the help of a single full-time employee is called Kitá, which translates into "our valley oak" in the Chumash language of Samala. And though she grows traditional European grapes that she presses into equally European wines, those grapes come from a vineyard that sits on what became, in 2010, Chumash land once again after more than a century of dispossession.
Gomez may be an outlier among her peers, yet the Chumash are not the only tribe to turn to winemaking. Gaming has provided some (though by no means all) Native American tribes with money to invest in other enterprises. Eager to diversify their communal operations beyond poker and blackjack, they've sought to tap into a growing eagerness from the American consumer to drink and eat locally and ethically, with some of the sophistication of our Continental counterparts. Though still nascent, the trend has been noted approvingly by Wine Spectator, the authoritative trade magazine.
Some remain uneasy about any forays into winemaking since alcoholism plagues many Native American communities. Yet others see a natural evolution of how Native Americans fit into the nation's cultural landscape. Winemaking, after all, is predicated on the notion of "terroir," an understanding of the land in all its subtleties. And who has a more intimate understanding of that land than those who have lived on it for thousands of years?
European 'Firewater'
It is commonly believed that white colonists from Europe introduced Native Americans to alcohol. This happens to be untrue.
Dr. Patrick J. Abbott has written about the "surprising number of accounts" of native tribes using alcohol. Most consumption took place in the Southwest, where tribes like the Pima and the Tohono O'odham made wine from the saguaro cactus. Alcohol was rarer in other parts of the continent but by no means nonexistent: fruit wine made by the Cherokee in what is today North Carolina, the manzanita cider made by tribes in California.
Abbott warns, though, against assuming that Native Americans drank for the same reasons as Europeans. "Aboriginal use generally did not involve excessive drunkenness," he concludes, "but controlled and supervised use often in highly ritualized occasions," a relationship that others have compared to the incorporation of wine into many Jewish rituals.
Popular history is right in one respect: The introduction of European alcohols, as well as an unrestrained European drinking culture, proved disastrous to Native Americans. The much stronger alcohols of the colonists came to be known as "firewater," a word most likely of Ojibwa origin. The alcohol also had a strategic purpose, weakening the resistance to colonization. The Europeans "carry off our wives and daughters," complained one member of the Blackfoot tribe in the 19th century. "They give us firewater, and under its maddening influence we have murdered scores of our own people."
There quickly followed the notion that Native Americans were genetically incapable of metabolizing alcohol, leading to the pernicious "drunken Indian" stereotype that persists. The truth has far more to do with culture than biology. "The tribes had little time to develop social, legal, or moral guidelines to regulate alcohol use," the scholar Fred Beauvais has written. A recent study by the University of Arizona determined that Native Americans do not engage in alcohol abuse more frequently than whites—and are, in fact, more likely to abstain from alcohol altogether. Nor do they have a genetic predisposition to alcoholism, as had been previously thought.
Still, cultural wariness about drinking remains strong. "We'll do a big dinner, and we can't sell alcohol," laments Loretta Barrett Oden, a chef and food historian of Potawatomi descent who has worked tirelessly to reintroduce native foods to native people—and to pair them with wine. As we sipped a spicy, muscular blended Tuluk'a red, sold under the Séka Hills brand by the Yocha Dehe Wintun Nation of Northern California, Oden recalled her grandfather, back home in Oklahoma, making dandelion wine. She understands the reluctance of some Native Americans to drink—let alone make—fermented grapes.
David Patterson, a professor at Washington University, has studied the effects of alcohol on Native American communities. Patterson, who is of Cherokee heritage and whose tribal name translates to "Silver Wolf," has few illusions about how profound the problem of addiction can be in Native America. At the same time, he told me that the issue of whether Native Americans should make wine can easily fall into a paternalistic formulation: "These poor little Indians do not know what's best and need to be protected against themselves."
As a matter of economic improvement, Patterson believes wine has a place in contemporary native culture. "We have an honorable history of caring for the earth and all other things," he says. "A community that values these things is capable of developing a business model that is valuable in the marketplace."
'Alcohol is Taboo'
Earlier this year, Darlene Gabbard wanted to hold a fundraiser for breast-cancer awareness and donate the proceeds to the American Indian Cancer Foundation. She was told, however, that the cancer charity does not accept donations from alcohol companies.
The alcohol company Gabbard has run for nearly two decades stands out for being the nation's first Native American winery. Founded in 1998 in the Yadkin Valley wine region of North Carolina, Native Vines was a pioneer at a time when Americans had not yet widely developed sophisticated tastes for wine.
Gabbard belongs to the Lumbee tribe, which is native to North Carolina. She has no formal winemaking experience. "I think all the training in the world can't create a good palate," she says. Having started making wine in the 1990s as a hobby, she decided to open a commercial winery at the urging of family and friends. She started researching how other native wineries went about marketing their wares only to discover there weren't any. "The Native American community has been supportive," Gabbard told me, "but with limitations. They're proud of me as an Indian and a woman, but alcohol is taboo." She says that while she is sometimes allowed to have a booth at a powwow, she is forbidden from pouring samples.
Like most Native American winemakers today, she uses the vinifera grape varietals from Europe, not the muscadine grapes endemic to North America, which tend to produce sweeter, lower-quality wines. But the wines Gabbard makes include apple and plum varietals. These may be a deviation from what's in fashion today but a decent approximation of what some Native American tribes may have been drinking before contact with Europeans.
'Original farm-to-fork movement'
Casino gambling is sometimes called "the new buffalo," a reference to that animal's economic importance to native people in premodern times. The latest numbers suggest a total annual revenue of $29.9 billion for native-owned casinos. That is almost twice the gross domestic product of Iceland. But in recent years, tribes have started to diversify.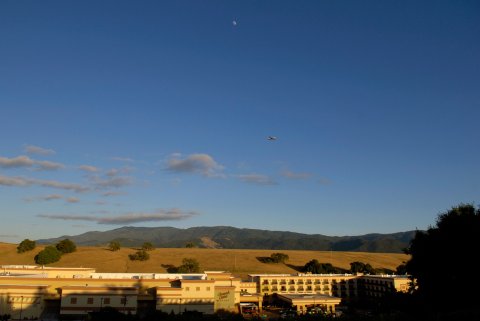 That has been the impetus behind Séka Hills, whose vineyard is in the Capay Valley of California. It is owned by the Yocha Dehe Wintun Nation, based in these hills northeast of San Francisco. As in the case of Kitá, gaming allowed the tribe to expand beyond…gaming.
For the Yocha Dehe, gaming means the Cache Creek Casino, one of the largest in California. Tribal Secretary James Kinter told me that the Yocha Dehe wanted to "diversify out of gaming" in part because some expressed fear that the rise of internet gambling could vitiate casino profits. Agriculture seemed like a natural progression for the Yocha Dehe—or, rather, a return. "We're from here," Kinter told me. "We've been here since time immemorial—four thousand years."
The Séka Hills wines were tasty but unpretentious, classic California offerings. However, even better than the Séka Hills wine is the brand's elderberry balsamic vinegar, maybe the best I've ever tasted. If I could chug the stuff, I would, so perfectly is the tart sting of the vinegar swaddled by the berry's thicker sweetness. The olive oil and honey from Séka Hills are very good too. In fact, Kinter says that the tribe's olive oil is the most profitable of the Séka Hills products. The tribe has opened a tasting room and hopes to eventually press 200,000 gallons of olive oil per year.
By reaching beyond wine, Séka Hills is pursuing a clever strategy, aligning native interests with the artisanal movement. Native Americans can lay claim to "the original farm-to-fork" movement, says Oden, the chef and culinary activist.
For decades, the popular imagination held that Native American cuisine consisted of fry bread, a product of poverty and necessity. That's starting to change, with native chefs starting to reassert traditional preparation of fish, game and vegetables. One of these is Sean Sherman, a member of the Oglala Lakota tribe who is opening a restaurant called Sioux Chef in Minneapolis.
On the America's Test Kitchen podcast, Sherman recalled how, a few years ago, during a sojourn in Mexico, he watched indigenous people making the same food they'd been eating for centuries. This was an epiphany for him: "I should be doing the food of my ancestors," Sherman thought. He also told America's Test Kitchen that "more and more tribes are really getting back to some of their old ways."
Not every tribe, of course, has land in California, where 85 percent of American wine is produced (it also leads in olive oil production). Take the Twisted Cedar wines, made with grapes from Lodi and Clarksburg, in the fertile region south of Sacramento. The tribe for which the wine is named, however, the Cedar Band of Paiutes, is based in Utah—perhaps some of the least hospitable country for growing wine in the world.
The wines are reasonably priced and easy on the tongue. The 2011 zinfandel I ordered online was unapologetic about its pungent notes of fertile earth. According to a 2014 article about Twisted Cedar in The Salt Lake Tribune, the wine is distributed in several hundred Native American casinos across the country. Overall, the wine seems geared for the mid-market consumer in terms of both taste and price.
Story Worth Telling
Wine is a drink, but it is also a story. The story of California pinots, for example, is of a New World underdog besting its French rivals; the story of Yellow Tail belongs in fraternity basements and East Village apartment shares. You are never just drinking; you are also listening.
Story may be where Native American wine has an advantage over virtually all of its competitors. The few sentences of backstory on a wine label rarely say anything interesting or original. But the circuitous journey of Native Americans back to the land, back to cultural relevance—that is a story that demands far more than bland oenological copy.
I shared this observation with Tara Gomez as we drove in a golf cart through her vineyard, situated near the Santa Ynez Reservation and its Chumash Casino. That casino has been so profitable that the tribe plans to construct homes for its members on land adjoining the vineyard.
Gomez grows mostly Rhône and Burgundy grapes, and her wines are the best-regarded in the Native American category—and also the most expensive. Wine Enthusiast praised her 2013 grenache blanc for "ever-evolving in the glass without going overripe," awarding it 92 points. That wine also received high praise from my father-in-law, who has been drinking California wine for four decades but has a Continental palate. Her cabernets and syrahs routinely score in the 90s on Terroirist, the popular wine blog.
Gomez took me to a rise where, standing beneath an oak, we could see the bowl of the valley and the mountains that rose at its borders. "I feel like I'm in my element here in the vineyard," she said. "It's an honor to be representing the Chumash Nation."