America Recycles Day 2019: Deals From Staples, Apple Store, Best Buy and More
Today is America Recycles Day (November 15), a day that encourages people across the country to produce less waste and recycle or reuse items they might normally discard.
America Recycles Day (ARD) is a Keep America Beautiful national initiative. According to its website, it is the only nationally recognized day dedicated to promoting and celebrating recycling in the U.S. Each year, on the day and in the weeks leading up to it, thousands of communities participate by promoting environmental citizenship and taking action to increase and improve recycling.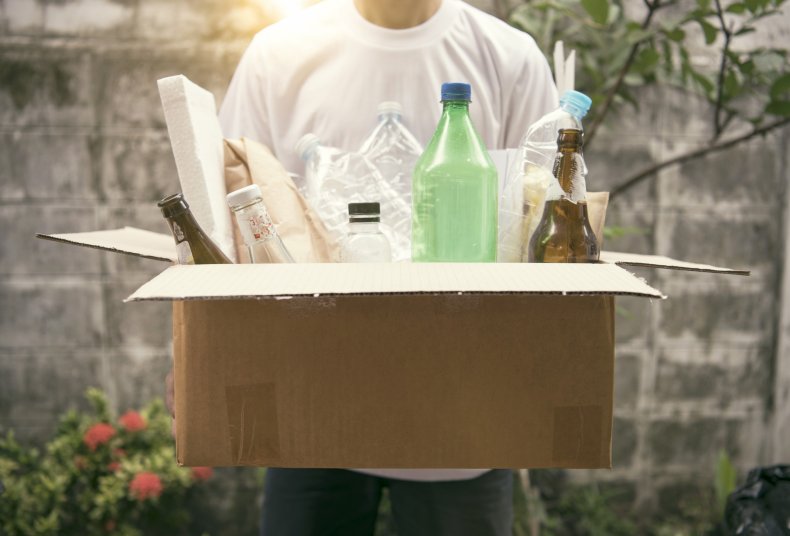 The Environmental Protection Agency (EPA) found that for every 10,000 tons of recycled materials, 16 jobs and $760,000 in wages are created.
Office supplies retailer Staples is offering rewards to customers on America Recycles Day through incentives. People can get double rewards on ink and toner cartridge recycling, can make the most of free shredding and get money off purchases when recycling old items.
Reward Members get $10 off the next purchase of $30 or more when recycling electronics in store until November 16, 2019
Get up to five pounds of shredding for free
Earn up to an extra $50 when trading in an old printer
For customers wanting to make the most of these offers, this is what Staples recycles:
PCs & Printers
All–in–ones
Desktops
Laptops
Monitors
Copiers
Fax machines
Printers
Scanners
Multifunction printers and copiers
Tablets & Mobile Tech
Camcorders
Digital cameras
eReaders
External hard drives
Gaming systems
GPS devices
iPod/MP3 players
Mobile phones
Tablets
Other Electronics
Cable/satellite receivers
Calculators
CD/DVD/Blu-ray players
Coffee Brewers (less than 40 lb.)
Computer speakers
Cordless phones
Digital projectors
Email servers
Keyboards and mice
Modems and routers
Shredders
Stereo receivers
UPS/battery backups
Video streaming devices
Staples are unable to accept the following things for recycling:
Floor speakers
Floor model copiers & printers
Kitchen electronics
Lamps and bulbs
Large servers
TVs and appliances
Apple Store: Donate your Apple-branded item to any store and receive a gift card for the item's fair market value.
Best Buy: The store offers different trade-in deals for technology, allowing customers to get a gift card.
Kiehl's: Bring full-size empty bottles back to receive a stamp toward a free travel-size product worth $11. Each customer can redeem one reward per month, which equates to 10 empty full-sized containers
Cotton Incorporated: The company is urging its social followers to "snap their stack" through its denim recycling program, Blue Jeans Go Green. Participants can "stack up" their old denim shirts, jackets, pants and shorts, by taking a photo and sharing it on Instagram with the tag and hashtag @DiscoverCotton and #DenimStackChallenge. They are then encouraged to tag three friends in the post and invite them to join the challenge, the company told Newsweek. Some Blue Jeans Go Green participating retailers offer a discount on new denim for customers who drop off an old pair of jeans at their locations, so it's well worth taking part.
MAC Cosmetics: The makeup brand is giving away a free lipstick of the customer's choice if they return six primary packaging containers.
The North Face: Drop off clothing or footwear at any North Face Retail and Outlets stores to receive a $10 reward toward a future purchase of $100 or more.
Office Depot/Max: Get $2 back in rewards per recycled ink cartridge when you make a $10 qualifying purchase during the same month.
Lush: The company is famous for its Black Pot Program; customers can take back five empty Lush pots to get a free fresh face mask worth between $10 to $14.
Worldkind: The eco-friendly apparel brand is giving customers 10 percent off for America Recycles Day on its website.
Find further information on where to recycle products here, including recycling centers and local community initiatives. The below graphic, provided by Statista, gives an insight into exactly what materials Americans recycle the most.