America Takes the Knee | Opinion
When a U.S. president visits the United Kingdom, it is always a big deal. When Donald Trump came here in 2018, there were large-scale street protests from the "woke" student population. Before that, in 2016, there was a different kind of outrage when President Barack Obama dramatically intervened in the Brexit referendum debate to tell Britons they should vote to remain in the EU or else the U.K. would find itself at the "back of the queue" in any future U.S. trade deal. The British public was well aware that the American president was in town on both occasions. By contrast, Joe Biden's first overseas trip as U.S. president in recent days was barely noticed. In fact, I would bet that many people didn't even know he had arrived on our shores.
While it was an honor for the U.K. to host this month's G7 meeting (invitations were also extended to other significant world leaders) the atmosphere in Cornwall bore a closer resemblance to a New Age gathering. Everyone agreed that global warming and continuing caution over the pandemic were the priorities. The language that was used was astonishing. The worst culprit was the host, Prime Minister Boris Johnson, who said at one point that he wanted to build a "more gender-neutral" and "feminine" world. Truthfully, I could have done with an interpreter. I still have no idea what this means or how it is to be achieved.
The other world leaders looked delighted, of course. Biden gave his usual broad grin, but it was accompanied by yet another middle-distance stare that suggested he didn't really know what was going on. Indeed, among the 78-year-old's many verbal stumbles was a remarkable moment when he urged Johnson not to forget to introduce at a meeting the South African president, Cyril Ramaphosa, seemingly unaware that Johnson had mentioned him just seconds before. The other world leaders laughed, more in embarrassment than in humor. Throughout his stay Biden said nothing of note, had little influence on the agenda and was dominated by the French and Germans.
This is not what we should expect from the leader of the free world. When he did try to influence events, it was—quite rightly—to question China or, more accurately, the Chinese Communist Party. A lasting legacy of the Trump years is that Biden needs to be relatively tough on China. Yet a strongly worded resolution in which Biden suggested condemning China for its abuses against the Uighur population was significantly watered down by EU leaders such as German chancellor Angela Merkel, who now views China as a partner.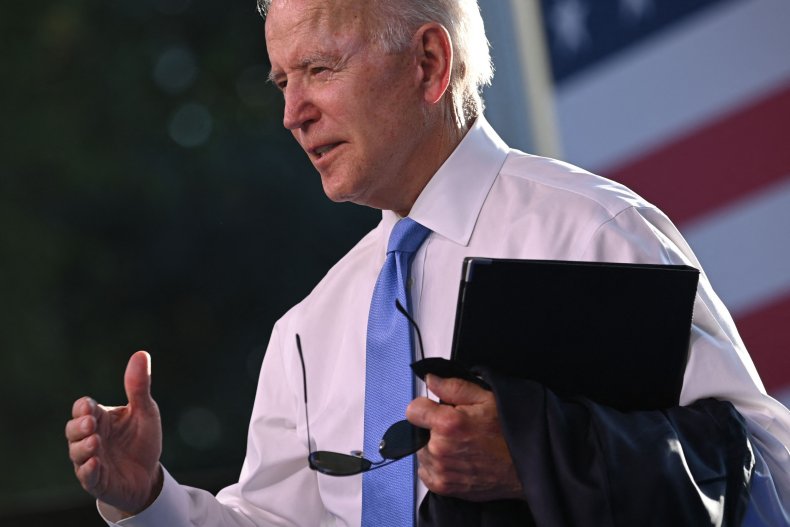 Trump would have challenged the German point of view and caused a row—and the liberal mainstream media would no doubt have condemned his stance. But he would have made his position crystal clear. Biden simply caved in. Even the announcement by U.S. treasury secretary Janet Yellen prior to the meeting to propose a minimum 15 percent global corporation tax was a bit of a con. This idea had already been advocated by the European Commission. To that end, it was astonishing to see at the G7 that the two unelected EU bureaucrats in attendance now appear to have more global influence than the most powerful man in the United States of America.
By the same token, Biden's claim that "America is back," frankly, rang hollow. Under the current administration, America now cravenly supports globalism, backs a big welfare state and is hyper-enthusiastic about green politics. Worryingly, Biden put on an even weaker display when he visited the NATO headquarters in Brussels this week. When Trump was in power, he quite rightly criticized other NATO members for not spending their agreed-upon share to support the defense alliance, as the rules of the club insist. This left the U.S. to pick up the bill. When Trump spoke out about this, he was portrayed as an evil man who wanted to break up NATO. In fact, all he was doing was trying to secure a better deal for his own taxpayers.
In the end, many NATO members did spend more money as a result of Trump's words, though not as much as was needed. While Biden made a welcome defense of the principles of NATO—particularly Article Five, which relates to "collective defense"—it is disappointing that he used most of his speech after the gathering to attack populism for being allegedly anti-democratic. I'm sure the globalists in the room were pleased that Biden went off on this tangent, because at no point did he ask other members to pay their fair share. As a result, American taxpayers will go on subsidizing mutual defense to an extraordinary degree. America is being taken for a ride, as Biden bends the knee to other NATO members who breach the rules year in, and year out.
The final act of the presidential tour was a Geneva meeting with President Vladimir Putin of Russia. In 2018, Trump tried to make an ally of Russia with the geopolitical goal of isolating China. This backfired, with the media ending up convinced that Russia had "stolen" the 2016 U.S. election for Trump. Back then, the Russia hoax was in full cry. Putin described his talks with Biden as "constructive" but nothing concrete came from the summit. Putin seemed the more relaxed of the two, however. At one point, Biden lost his cool with a CNN journalist who asked if he was confident Putin would change his behavior. He clearly felt badly about being so snappy and apologized later on.
For all the condemnation Trump received during his term in the White House, he was a major figure on the world stage and his foreign policy had clearly defined objectives. Under his successor, the USA appears happy just to fall into line with the rest of the Western world, and its influence is difficult to detect. With a significantly weaker America, I can't help but feel the world is not as safe as it should be.
Nigel Farage is senior editor-at-large of Newsweek's "The Debate" platform.
The views expressed in this article are the writer's own.