An America Without a Pandemic May Have Helped Trump's Re-Election Bid
A pandemic and a presidential election collided for the first time in 50 years on November 3, with former Vice President Joe Biden projected to win. But, had the new coronavirus outbreak never happened, it's possible Biden returning to the White House might not have happened, either.
Going into the last 10 months before the election, President Donald Trump was basking in low unemployment numbers and, at least on a national level, a booming economy. But Trump's reelection bid was quickly upended by the pandemic, which became the second biggest issue on voters' minds behind the economy, according to polls.In a campaign cycle that's usually focused on individual policies, the 2020 presidential election was one in which all issues lead back to the pandemic.
"It underlined existing faults in Trump in leadership like the Iranian hostage crisis did with [President Jimmy] Carter in 1980, with the bottom line being he's not getting the job done," Thomas Whalen, Boston University political historian and author, told Newsweek. "When people go into the ballot boxes with the questions, 'Why isn't it better? Why hasn't this been solved?' you're doomed if it's asked about you as a candidate."
Without the ability to play out an alternate reality, it's impossible to know for sure what would have happened on November 3 if America wasn't eight months into a pandemic. However, Steve Ansolabehere, a Frank G. Thompson professor of government at Harvard University, thinks there would have been a distinctly different result in which Republicans held all three branches of government.
Back in January, Ansolabehere met with colleagues and put 2:1 odds on a "solid Trump victory." At that time, Trump's impeachment had "fizzled out." It wasn't a message that was getting traction with voters, who were "very happy with the economy." Given that the economy is among the best predictor of an incumbent president winning reelection, Ansolabehere reasoned that the pandemic tanking it and raising questions about government management "turned the election in Democrats' favor."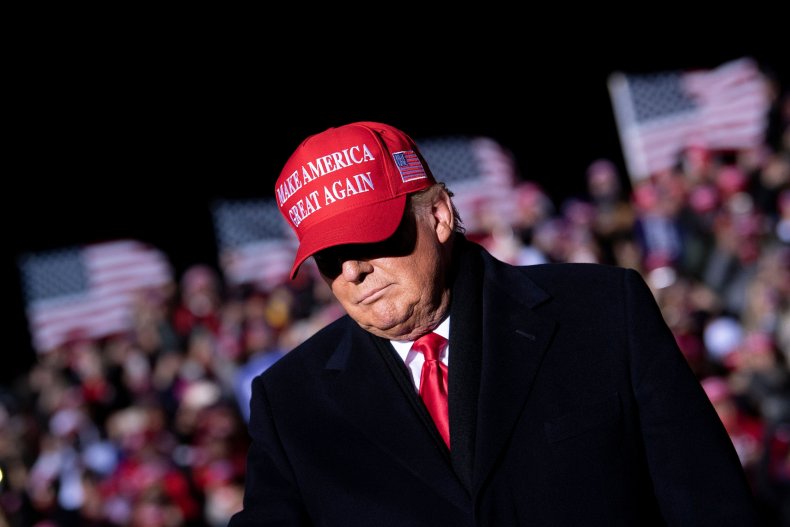 Sam Chen, a Republican strategist, was also looking toward a Trump reelection from the president's inauguration until about April or May of this year. At the time, Democrats hadn't honed in on the proper way to shape their messaging against Trump, Chen said, but come May, Americans' approval of how Trump handled the pandemic dropped to 39 percent, down from 60 percent in March. At that point, Chen foresaw a difficult reelection bid for Trump that required him to close out the campaign stronger than he did.
"We don't vote on national issues, we vote on issues that impact us, our families and our livelihoods. That's why the economy always ranks so high because it matters to people if they can put food on the table, if they have health insurance, if they can take care of their sick parents or children, and COVID-19 impacted all of that," Chen said.
To curb the spread of the virus, businesses shuttered their doors, raising unemployment to highs not seen since the Great Depression. The rise in unemployment offered a stark contrast from the low Americans saw in the months leading up to the outbreak. Without the pandemic, Trump could have had a good economy to hang his hat on.
In that case, Andrew Feldman, a Democratic strategist, said Democrats would have had to make a clear argument that the president was taking credit for a strong economy that he inherited from former President Barack Obama and that Trump's economy benefited the top one percent.
For some voters, the strong economy would have been enough to overlook Trump's personality, one of his biggest flaws as a candidate in the minds of voters who are outside his core base, Lonna Atkeson, director of the Institute for Social Research at the University of New Mexico, said. It's not uncommon for voters to view the economy through a partisan lens, though, so Atkeson noted that it still might not have been enough to give Trump a second term.
"It would have been a very different election in February," Atkeson said. "The economy was going really good. Would people have wanted that to continue or would people say we're complacent so we can try something new?"
Democrats and the Biden campaign hit Trump hard for his response to the outbreak, an angle that Atkeson considered their best one, but it meant little discussion about the issues outside the context of the pandemic. A 2020 without the pandemic would have put the spotlight on individual policies, and while health care could have been an issue to swing voters in favor of Biden, as it was a Democratic strength in the 2018 midterms. But, Chen didn't see messages about Trump's dismantling of the Affordable Care Act being as compelling as "he failed to lead during a pandemic."
The last time Americans cast ballots for president during a pandemic was in 1968 when the H3N2 outbreak was underway. The outbreak began in the U.S. just two months before the election but would eventually cause the deaths of 100,000 Americans, according to the Centers for Disease Control and Prevention (CDC), less than half the death toll caused by the new coronavirus. As was the case in 2020, the challenger, then-Republican nominee Richard Nixon, defeated the incumbent party to become president. However, without shutdowns, it's possible the 1968 pandemic had far less of an impact on the election than the current pandemic has had.
"Whereas in '68, it was actually possible to ignore the news and not be affected by either Vietnam or the race riots, depending on where you lived. Here, the pandemic has touched every American in one way or another," Jeremy Mayer, a George Mason University political science professor, told The Washington Post.
In an election cycle not plagued by a pandemic, the issue of fracking could have helped Trump's case. The president's campaign tried to hit Biden and his running mate, California Senator Kamala Harris, for their stance on fracking, sparking memories of 2016 when Trump targeted Democratic candidate Hillary Clinton for being bad for blue-collar workers in the coal industry. However, unlike in 2016, the play wasn't all that effective against Biden, in part, because the pandemic dominated the campaign cycle.
"There would have been media coverage on these policies. There would have been a second debate. The American people were really deprived of a real issue-oriented election outside a pandemic overshadowing everything," Atkeson said.
An America sans a pandemic would have made for a "tough race," Feldman said, and the health crisis was the "nail in the coffin for Trump." It wasn't just his response that proved a challenge for his reelection, Whalen said, but that it exposed problems in his administration.
"The pandemic illustrated in big letters what was wrong with the Trump administration and how callous it was toward normal Americans and their needs," Whalen said. "I think that really hit home to a lot of people sitting on the fence."
Had the pandemic not happened, Whalen said the "blue wall might have been a few bricks shy of a victory for Biden." However, close elections aren't uncommon in modern U.S. history, so experts said it was likely to come down to the wire regardless.
Trump still would have had to overcome his alienation of white, suburban women who helped propel him to victory in 2016 and David Barker, the director of the Center for Congressional and Professional Studies at American University, said he thinks Biden would still be president pandemic or no pandemic. With so few true independents and a society where a D or a R next to a politician's name "influences everything we believe," Barker considered the election decided the day after people cast ballots for Trump or Clinton in 2016.
"No matter what, this was always going to be this extremely tight race with whoever the Democratic nominee was winning because, frankly, there are ever so slightly more Democrats and people who hate Trump in the electorate than Republicans and people who love Trump and it's as simple as that," Barker said.
With the Associated Press calling Pennsylvania for Biden on Saturday, the Democratic candidate became the projected winner of the 2020 race. Democrats kept control of the House despite losing five seats to Republicans, while control of the U.S. Senate remains a tossup as two elections in Georgia are slated for run-offs in January. Should Democrats win both Georgia senate seats, Harris, a Democrat, would become the tie-breaking vote in the upper chamber. That result is a "completely different" outcome from the "big Republican year" that Ansolabehere foresaw back in January.
"If there was an emotion behind 2008, it was hope. In 2016, it was fear, and this was an anxiety election. People were really anxious going into the election and it's up to Democrats since they have the White House to calm things down and take control of the pandemic," he said.