Mother of Family Forced Off American Airlines Flight Because Son With Autism Was Upset, Says She'll 'Never Fly Again'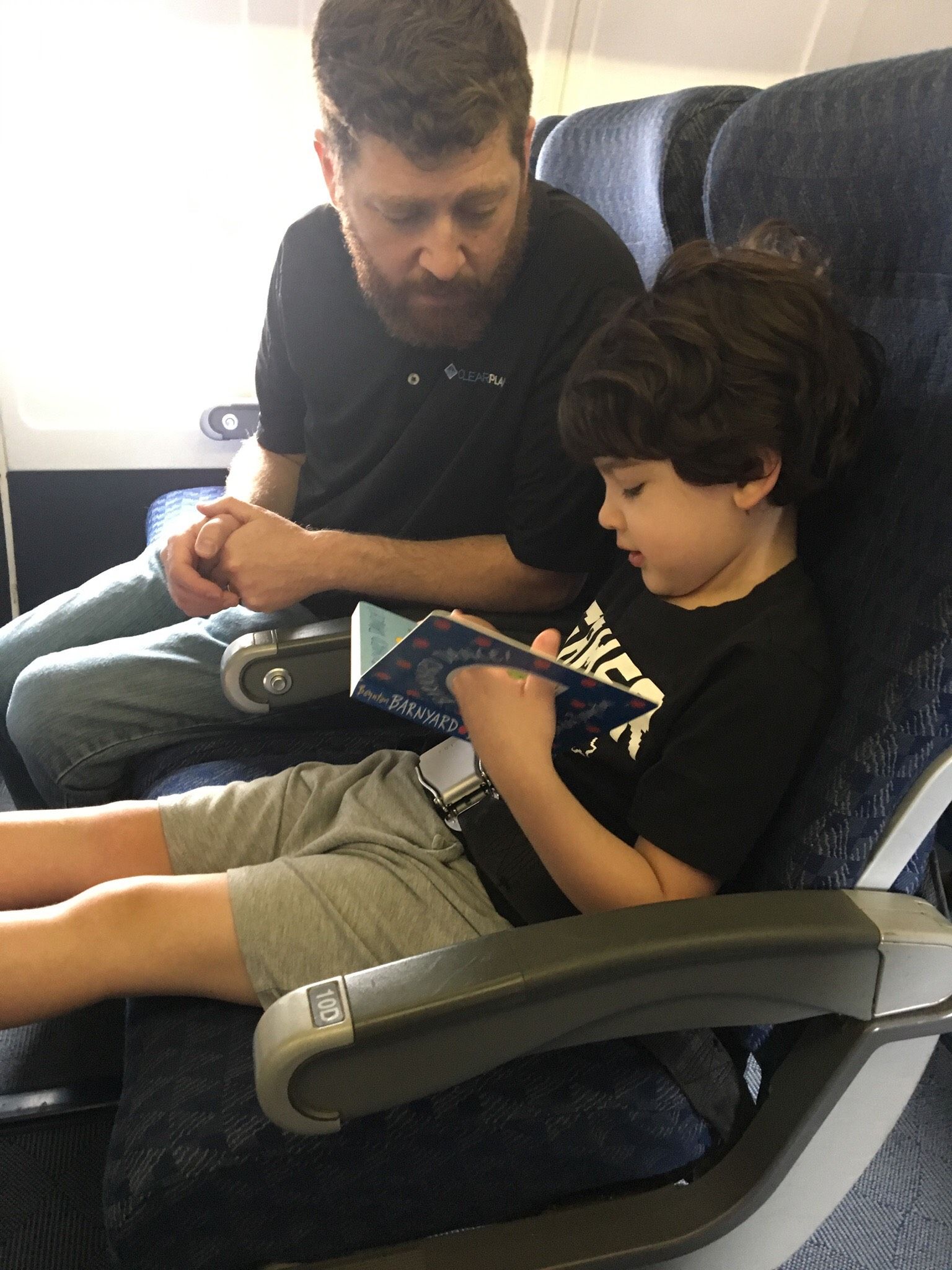 It was supposed to be the Halkuff family's first airplane trip.
Adam and Heather Halkuff knew well in advance that traveling with five boys -- the oldest (JoJo) being 16 and youngest Ollie (who's 2) for the one-hour flight on Oct. 4 from Dallas to Kansas City wasn't going to be easy.
It wasn't.
As they boarded, their 5-year-old son Milo (who has autism) went into a panic on the jet bridge when he spotted the Boeing 737's detached plane door.
"Milo sees the door and all of a sudden he put on the brakes," Heather told Newsweek, recounting the moment her child froze and started crying.
To soothe Milo, the 39-year-old mother set his head on her lap; the two of them remained lying on the jet bridge floor as passersby offered words of support like "You got this, mom."
"I'm petting him and reassuring him he's fine and he's touching my face and the wall," she said.
Minutes passed and when Milo was ready to board, Heather said it was too late.
She said her husband and the rest of her sons were removed from the plane.
The episode was so scarring to the boys and the parents that the mother said she won't attempt to get on an airplane again.
"I am traumatized by this," she said. "I will never ever fly again. I will never put those boys in a situation again where someone is going to discriminate against them."
The family is now looking for an apology that they say they haven't received.
"I just want American Airlines to say how this isn't on us," she said. "I want them to apologize and say that we did everything we were supposed to do."
She also called out the company's claim of being an autism advocate without promising to make a commitment to "train their employees better."
A spokesman for American Airlines told Newsweek that the company has apologized "for the experience they had" more than once for the incident in person and over lengthy phone conversations.
The airline rep also stated that it offered the family options to fly again and refunded the miles Adam Halkuff used to purchase the trip.
"We offered additional assistance," a spokesman said. "We are upset Milo wasn't able to take this trip."
They prepared.
In fact, the family took advantage of a program offered by American Airlines called "Cool to Fly AA" which gives kids with autism a chance to participate in a dry run of a future flight so they can "grow accustomed to the experience of flight," according to a description of the volunteer-led program.
Newsweek reviewed photos and emails verifying that they participated in the program almost a month before embarking on the Kansas City flight.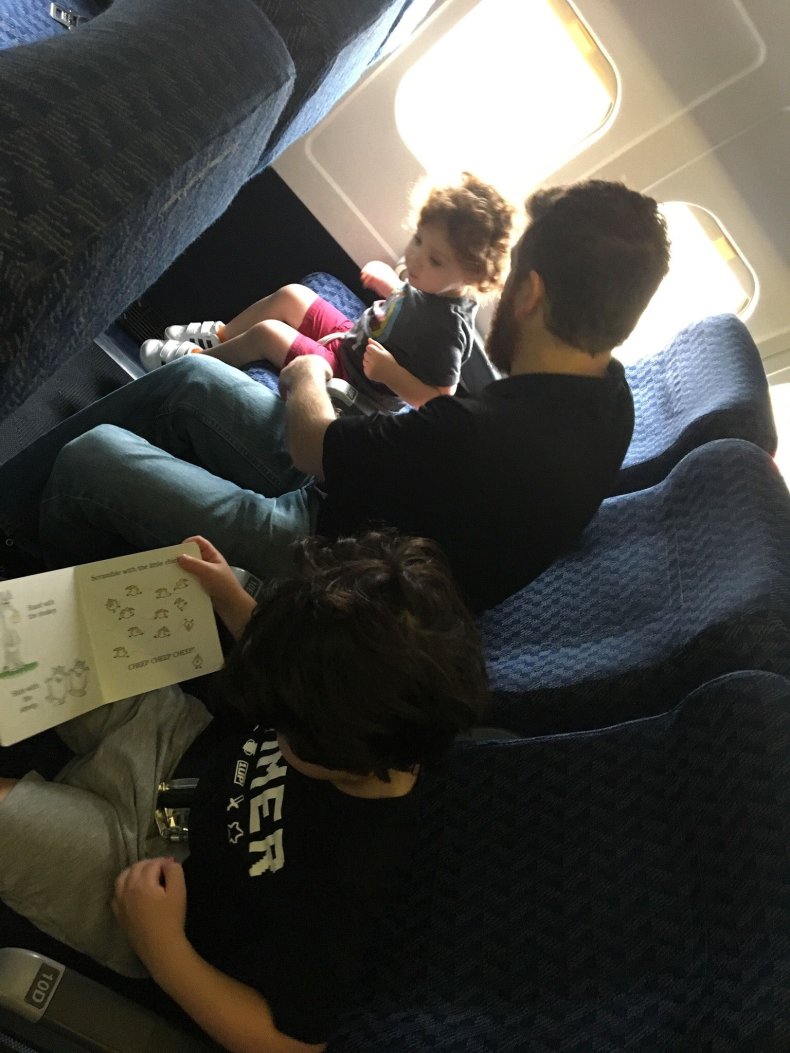 The program helped instill confidence for both of the family's youngest son's Ollie and Milo to grow courage for their future Oct. 4 flight.
The preparation didn't take into account variables like a leaky sink that morning and also gridlock on the roads.
The family's flight was originally scheduled to depart at around 9 a.m. but Halkuffs arrived at around 8:20 a.m. and missed it.
An American Airlines liaison helped the family rebook to a 12:55 p.m. flight and also shepherded them through security.
"She left us after she gave us the new tickets," Heather said. "We were waiting for four hours and happy."
The mom said Milo made the most of the wait time, enjoying a ride on the sky tram and reading books, snacking on cookies, and playing with his toys in his car seat they lugged with them.
When it came time to get seated, the family was given the benefit of pre-boarding.
Adam and his four sons manage to board without issue.
The American Airlines spokesman confirmed the family's boarding passes were scanned at 12:29 p.m.
As Milo and Heather turn the corner on the jet bridge, he breaks down into a panic.
As Heather pets Milo and waits for Adam to return to help her onto the plane, one particular ticketing agent started to lost patience with Heather and her son.
"He puts his hand up and points to my son and he said, 'He's not getting on this flight,'" she said the employee announced.
Now, Heather is crying and trying to appeal to let her on the plane.
The parents decide to leave Milo and Ollie with Heather and Adam would travel on to Kansas City with their three older sons.
After Adam retrieved the car seat and Ollie to be reunited with their mother and Milo, the rest of their children allegedly were told to deplane as well.
"I see all four of my boys on the plank with all of our luggage," Heather said. And informed her that they were told that their parents wanted them to get off the plane.
Heather noted that when she attempted to alert other staffers about what was happening -- she was ignored.
"Nobody would talk to me," Heather said.
With the car seat and stroller returned to them, the mother said she kept trying to find out why the entire family had to be escorted off.
The incident caused the plane to take off five minutes late, an airline rep confirmed. "We had to dispatch that aircraft," he said. "That aircraft was returning back to Dallas with connections back; we couldn't hold the plane indefinitely."
Part of the decision making, the spokesman explained, involved considering the "well-being of our passengers."
That's when she claims the male American Airlines employee insulted her and her kids when he argued with her that they were never told to leave the plane because they were being ordered to do so by their parents.
"I told him 'You took them off for no reason!' and then I asked him, 'Are you calling my boys liars?' and he said to me, 'Your kids are a little (and he does the finger circling next to his head)" signaling the crazy sign."
Heather said that it wasn't until when more staff arrived to the gate that the employee backpedaled.
"He throws his hands up in the air and tells us 'I didn't know he was autistic.'"
That's when Heather said she refused to speak to him any longer and the family retreated back to their home.
The American Airlines spokesman told Newsweek that it was "aware of these specific allegations" and that leadership in the company is investigating.
If any of them are confirmed to be true "that would be a concern for us," the spokesman said.
The mother said that she and her husband are in touch with an attorney and "exploring our legal options."
Meanwhile, the consequences are being felt hard at home.
After the ditched trip, Heather told the brothers that "this wasn't Milo's fault."
That didn't settle things.
In fact, since the airplane trip letdown, the mother said Milo has "been testing us" and has started crying when he needs to go to the bathroom, refuses to clean up after himself, spills water on purpose, and even made an escape attempt by unlocking the front door of the home.
All of it, Heather believes, is evidence of Milo regressing from months of therapy.
The airline maintains that it went "above and beyond" for the Halkuffs and that they hope for some way to make good on the incident.
"We've offered additional assistance," the spokesman said. "We would continue to work with them."