American Airlines Blacklists Man Wearing Trump Mask For Not Wearing Mask on Previous Flight
American Airlines blacklisted a customer from future flights after he resisted its mandatory face mask requirement during a previous journey. The customer, who claimed he did not learn of the ban until attempting to board another flight, recorded his recent interaction with an American Airlines agent in a video shared online Wednesday.
"So, I'm here at American Airlines, where my ticket still shows active in the app. I tried to check in, it wouldn't let me check in. So, I called American Airlines and they said that I'd have to check in at the gate," says the customer, who wears a pro-Trump face mask in the video.
"Here I am at the gate for American Airlines, and the guy behind the counter that you just heard says that my ticket was voided," he continues.
Airline agents go on to explain his ticket was voided as a result of "issues" related to face mask compliance during a past American flight. The man claims he was not notified about the blacklisting.
An American Airlines representative confirmed to Newsweek on Thursday that passengers who do not abide by its face mask mandates are banned from future flights. They said the man who recorded Wednesday's video was notified after his refusal to comply during an earlier flight.
"Customers are notified," the representative said. "And this customer has been notified that he was not permitted to fly on American."
The representative added: "If a customer refuses to wear a face covering, they will only be permitted to fly American once face coverings are no longer required."
American Airlines issued an original mandate requiring passengers to wear face coverings while on board its aircrafts in early May, citing recommendations from the Centers of Disease Control and Prevention (CDC) about reducing risks of COVID-19 transmission. It was one of several major U.S. airlines, including Southwest, United and Delta, to do so.
As ongoing virus outbreaks fueled persisting concerns about air travel, American expanded its protocols. In June, the company announced it may "deny future travel" to customers who fail to comply with its face mask order. At the time, the airline conducted mask checks at its gates and did not permit passengers to board flights without face coverings, unless they were exempt due to age or an existing medical condition.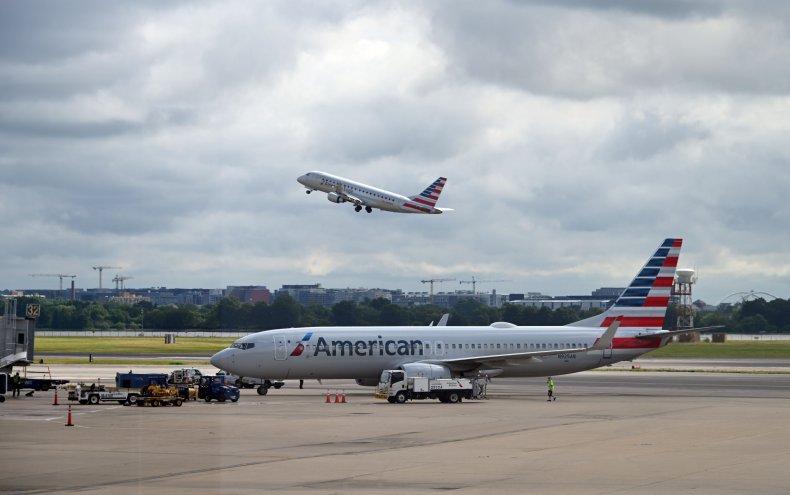 The airline broadened its policies further one month later, requiring customers to wear face masks upon entering their departure airports in order to board beginning July 29. The updated mandate applied to all passengers over 2 years old and remains in effect.
"Customers and team members have been clear that they feel more safe when everyone is wearing a face covering," said Alison Taylor, American Airlines' chief customer officer, in a statement included in the company's July announcement. "In light of this important feedback, we are expanding and enhancing our requirements onboard and at airports."