American Airlines Will Cancel 140 Flights Every Day Until It Brings Back the Boeing 737 Max Months From Now
Beginning January 16, American Airlines will resume passenger flights using Boeing 737 MAX airplanes.
The airline ceased flying the plane on federal orders to ground all 737 MAX aircraft after the model was involved in two crashes—Lion Air Flight 610 in October 2018 and Ethiopian Air Flight 302 in March—that left 346 people dead. The Federal Aviation Authority also ordered United Airlines and Southwest Airlines to ground their 737 MAX aircraft following the crashes.
American Airlines will be the last domestic airline to resume flying the 737 MAX, with United scheduled to begin December 19 and Southwest bringing the planes back into rotation on January 5, 2020.
In a statement, American Airlines informed customers, "American Airlines anticipates that the impending software updates to the 737 MAX will lead to recertification of the aircraft later this year and resumption of commercial service in January 2020. We are in continuous contact the Federal Aviation Administration and Department of Transportation."
As of August, Southwest and American Airlines had two of the world's largest 737 MAX fleets. With orders in for 448 more 737 MAXs between them, American, Southwest and United seem confident the FAA will re-certify the planes and that the flying public will put their trust back in Boeing.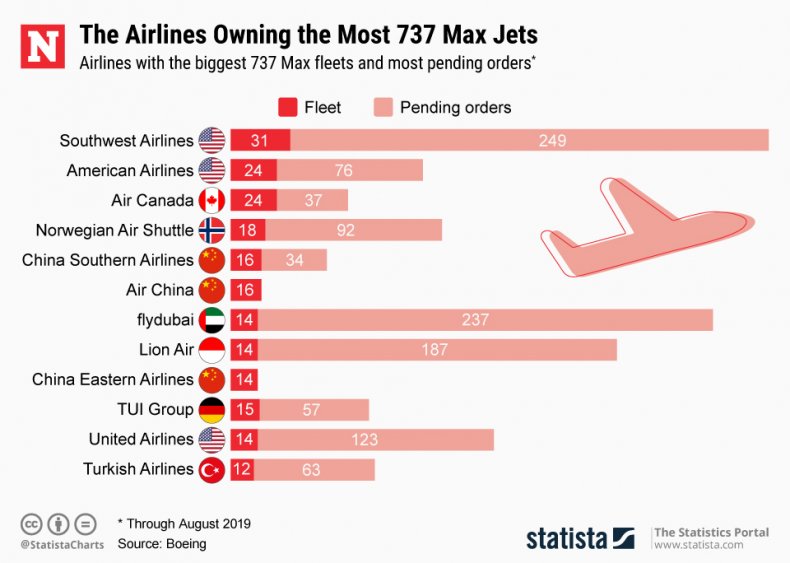 At a meeting in September, FAA administrators met with safety regulators and experts to ensure that updates made to the 737 MAX would meet safety standards.
FAA administrator Steve Dickson said in a statement, "[W]e welcome feedback from our fellow civil aviation authorities, the aviation industry and the important independent reviews of the MAX and the FAA's Certification process." He also stated "Travelers demand the same high level of safety no matter where they fly. It is up to us as aviation regulators to deliver on this shared responsibility."
While U.S. airlines prepare to put their aircraft back to work, Boeing and the FAA have continued working on software with these safety concerns in mind. FAA Communications Manager Lynn Lunsford told Newsweek, "The FAA is following a thorough process, not a prescribed timeline, for returning the Boeing 737 MAX to passenger service. The FAA will lift the aircraft's prohibition order when it is deemed safe to do so. The FAA is continuing to evaluate Boeing's software modification and is still developing necessary training requirements."
For those who still fear flying despite the updates, Martin Seif, an anxiety treatment specialist with expertise in flight anxiety, tells patients not to fight it. "Now, I suggest they avoid the plane for several years, until a safety record is built up. Once you know something, you can't erase it from your mind—like asking the jury to ignore hard evidence improperly obtained." For those who can't wait that long, Seif advises patients to get some reassurance by asking how much additional training the pilot has received on the 737 MAX's updated system.
American Airlines had originally planned to reintroduce 737 MAX planes into rotation as of December 3, but pushed the deadline to January 2020 schedule as Boeing prepares to submit their final certification package to the FAA later this year. FAA approval will dictate when 737 MAX airplanes return to service. A spokesperson for American Airlines tells Newsweek, "Our decision stems from a commitment to operate our schedule with reliability and dependability as our cornerstone."
Unfortunately, the grounding will continue to affect some customers with flights scheduled with American Airlines into the new year. The company anticipates about 140 flights per day—roughly 13,000 flights in total— to be canceled before January 16. American does plan on adjusting schedules as best they can, their spokesperson tells Newsweek, "Our goal is to proactively adjust schedules well in advance of any impacted period in order to better assist our customers and team members with their future travel plans."