American Airlines Flight Diverted after Passenger Runs to Cockpit Door Yelling 'God Is Real'
A plane had to be diverted after an unruly passenger screamed and ran towards the cockpit door to try to open it, according to reports.
American Airlines flight 2796 had taken off from Miami on Thursday morning bound for Chicago, when the dramatic incident unfolded, NBC Chicago reported.
"He ran toward the cockpit yelling 'God is real,' or something close to that." Passenger Gabriel Hernandz told the news channel. "The way he was charging, he was nervous or on something."
Fellow passenger Ruth Schobel, who was among the group that managed to restrain the man, said, "He clearly had mental issues and was possibly under the influence of drugs."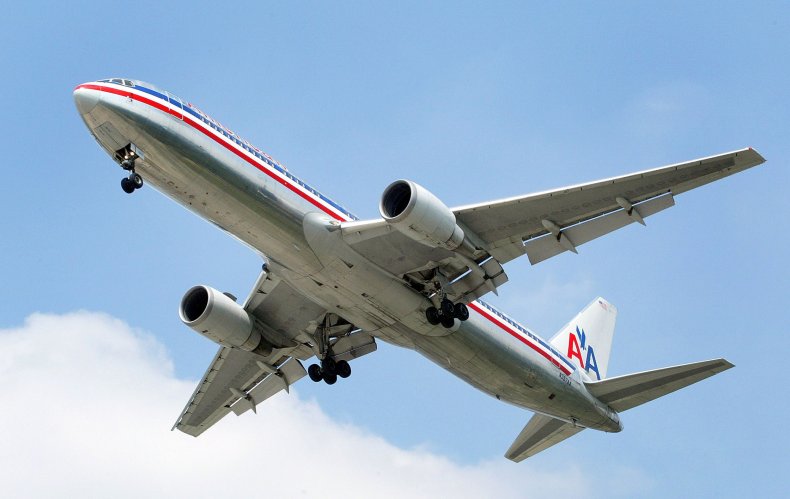 After flight attendants and an off-duty pilot subdued him, the unnamed man managed to break free.
The plane was diverted to Jacksonville International Airport about 12:30 p.m. where the man was arrested and he tried to fight off police officers.
"I think everyone got freaked out when we landed in Jacksonville and the captain announced the FBI would be arriving," passenger Dara Tarkowski told NBC.
The flight departed again for its final destination shortly before 4 p.m. No other flights from the airport were affected.
American Airlines said in a statement that the flight had to be grounded for a short time "due to the medical needs of a passenger," adding that "law enforcement met the aircraft at arrival," News4Jax reported.
An FBI spokesperson said the unnamed passenger was taken to hospital and the agency is investigating the incident.
"At this time, the FBI's review of the incident is ongoing, and we are working with the U.S. Attorney's Office to determine if charges will be filed," the spokesperson said.
Assaulting or intimidating flight crew members is a federal offence, according to the Department of Justice and in addition to criminal charges, the alleged perpetrator could face in a lifetime ban from the airline as well as fines.
Newsweek has contacted American Airlines for further comment.
Earlier this month, a passenger aboard a United Express flight from Washington DC's Dulles International Airport to Newark ran towards the cockpit door just before touchdown, attacking a flight attendant who tried to stop him.
Matthew Dingley, 28, then tried to resist arrest after the plane had landed and one officer was injured after falling down the plane's stairs.
A number of other officers were injured in the altercation. Dingley faces a number of charges including aggravated assault and resisting arrest, NBC New York reported.
American Airlines Flight Diverted after Passenger Runs to Cockpit Door Yelling 'God Is Real' | U.S.