American Airlines, Delta and United Airlines Instructed Staff Not to Enforce Face Coverings Policy on Flights
Three major U.S. airlines⁠—Delta Air Lines, American Airlines and United Airlines⁠—are not requiring passengers on flights to maintain the face covering policy, according to employee policies reviewed by Reuters.
All three carriers recently announced policies that would require both employees and passengers to wear face masks onboard its planes. "We encourage customers to bring their own face coverings, but our customer service agents will be able to provide them if you don't have one when you board our aircraft," United Airlines's coronavirus policy reads.
American Airlines announced its face covering policy for passengers, which officially went into effect Monday, in an April statement. "We ask customers to bring their own masks or face coverings they're comfortable with when they travel. American is working to procure face masks and hand sanitizer as a supplement," said Senior Vice President of Customer Experience Kurt Stache.
However, ensuring that passengers keep their masks on once inside the plane could be a different matter. Flight attendants are reportedly not required to enforce the policy onboard flights but are asked to encourage passengers to follow the directive.
"Once on board and off the gate, the face covering policy becomes more lenient," the American Airlines message to employees read. "The flight attendant's role is information, not enforcement, with respect to the face covering policy."
American Airlines also informed its pilots that any passenger who was not wearing a face mask but was well-behaved in other aspects did not represent a threat to the flight.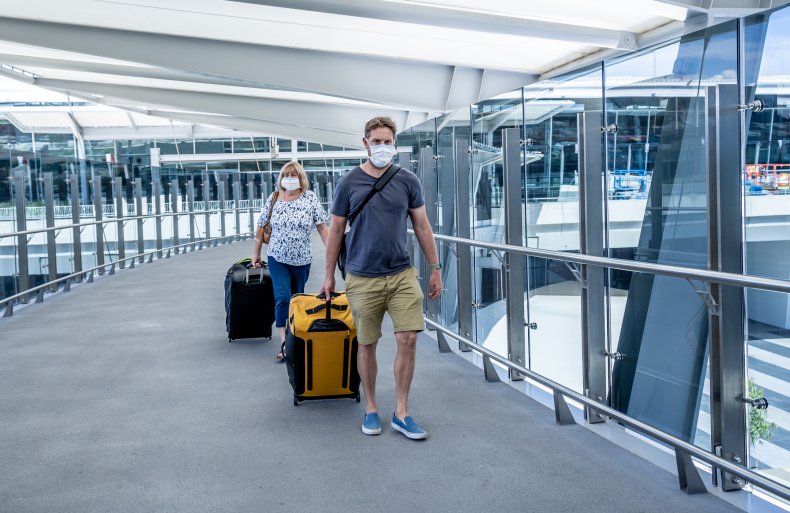 In a statement sent to Newsweek on Tuesday, American Airlines said the "safety and well-being of our customers and team members is our highest priority."
We require "customers to wear a face covering while on board, and this requirement is enforced at the gate while boarding. We also remind customers with announcements both during boarding and at departure," the airline added. "Some passengers are exempt, such as young children and those with a medical reason why they cannot wear a mask."
United Airlines told Newsweek on Tuesday that "while our mask policy is 'enforced' at the gate, flight attendants inform and remind customers of the policy during flight in ways that are similar to our other safety policies like putting up a tray table for landing and fastening a seatbelt during rough air."
United also said that customers will be expected to wear a mask with the exception of children and individuals who cannot wear one due to medical reasons.
Flight attendants will also be informed if there are passengers who cannot wear a face mask "because the safety of our passengers and employees is our top priority, there could be an isolated situation where a customer may be denied boarding as a last resort, but this would be handled on a case by case basis," the airline said.
Delta told Newsweek the usage of face coverings is required in the airport and during flights except when meals are served. "Their use is also strongly encouraged in high-traffic areas including security lines and restrooms," Delta's policy reads. People who cannot physically wear masks, including children, are exempt.
While the Centers for Disease Control (CDC) has not mandated face coverings for airline travelers, it has warned that it is possible to contract the virus from other passengers that may be infected.
"Because of how air circulates and is filtered on airplanes," reads the CDC website, "most viruses and other germs do not spread easily on flights. However, there may be a risk for getting COVID-19 on crowded flights if there are other travelers on board with COVID-19."