Passengers Clap as Woman Kicked off Flight for Refusing to Wear Face Mask
A recent video posted on Twitter on Tuesday shows a plane full of people clapping as a woman is asked to leave an American Airlines flight due to not having the appropriate face covering.
In the footage, the woman is seen removing her bags from the overhead bins as passengers are seated and ready to depart. All passengers and crew in the cabin appear to have face coverings, apart from the one woman asked to leave the plane.
"Start the clap," a person in the video is heard saying as the woman collected her belongings and prepared to disembark the flight. The plane erupted into applause as the woman left the aircraft.
"You can clap all you want," the woman is heard saying on the video.
"Just leave," said one passenger in response, "we have flights to get."
One Twitter user wrote in response to the incident; "Why the hell would someone pay for a flight and then forfeit their seat because they're too stubborn to wear a mask? Why bother buying a ticket?"
"Bye Karen," wrote another Twitter user.
If passengers refuse to obey cabin crew instructions, American is entitled to remove them from the flight, as outlined in the 'conditions of carriage' for every ticket.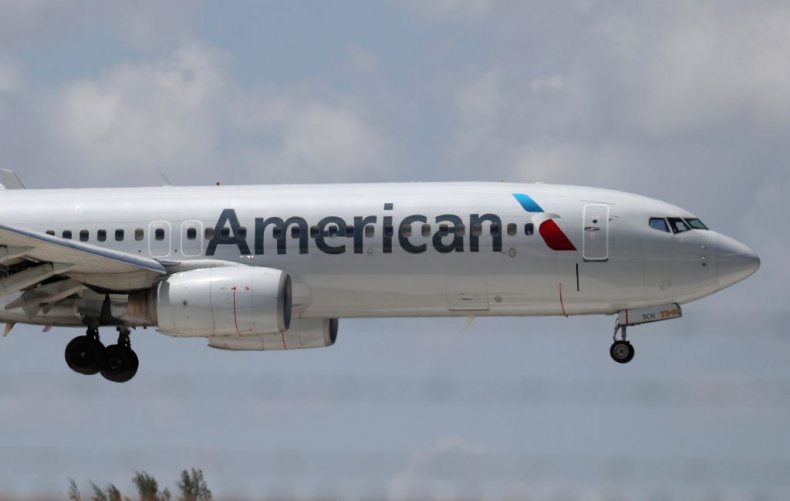 American Airlines "requires customers to wear a face covering while on board aircraft," wrote the company in an official statement. The company "will deny boarding to customers who don't comply. American now may also deny future travel for customers who refuse to wear a face covering. American made this change after working in conjunction with Airlines for America on an industrywide response.
We believe the face covering requirement is important, so customers will notice more reminders of our policy as they travel with us, both at the airport and in flight."
The company does exempt some people from this policy if they can demonstrate a medical need to remain without a face covering. Young children are not required to wear face coverings and the face mask policy on board does not apply when passengers are eating and drinking.
The U.S. Centers for Disease Control and Prevention (CDC) calls for Americans to wear face coverings to prevent the spread of coronavirus.
"We are not defenseless against COVID-19," said CDC Director Dr. Robert R. Redfield. "Cloth face coverings are one of the most powerful weapons we have to slow and stop the spread of the virus – particularly when used universally within a community setting. All Americans have a responsibility to protect themselves, their families, and their communities."
Newsweek has contacted American Airlines for further comment.