American Airlines is facing a backlash over allowing its workers to wear pins supporting the Black Lives Matter movement, with some opponents planning to boycott the airline.
In a company-wide announcement on Sunday, American Airlines said: "Clearly we live in a time where it is so important to have a dialogue about this important issue of racism in our society and try to find common ground. American is truly committed to having an inclusive culture that is welcoming to all and a reflection of our country and world.
"This is why American is so committed to creating a more tolerant and diverse team. Through our partnership with American's Office of Diversity, Equity, and Inclusion, we are continuing to work through an overall plan for addressing these issues in our workplace."
The airline said it would introduce a uniform pin designed by AA's Black Professional Network as a symbol of support and until this pin is ready, the company will allow its workers to wear pins in support of the Black Lives Matter movement, "to recognize the significance of this moment in history."
But the decision has faced criticism from both American Airlines workers who are related to police officers, as well as customers who are against the Black Lives Matter movement, who view it as "anti-cop," "racist" and "Marxist."
As reported by the New York Post, some workers have said that they will wear pins supporting police officers instead, and some customers are responding by saying they will not fly with American Airlines anymore.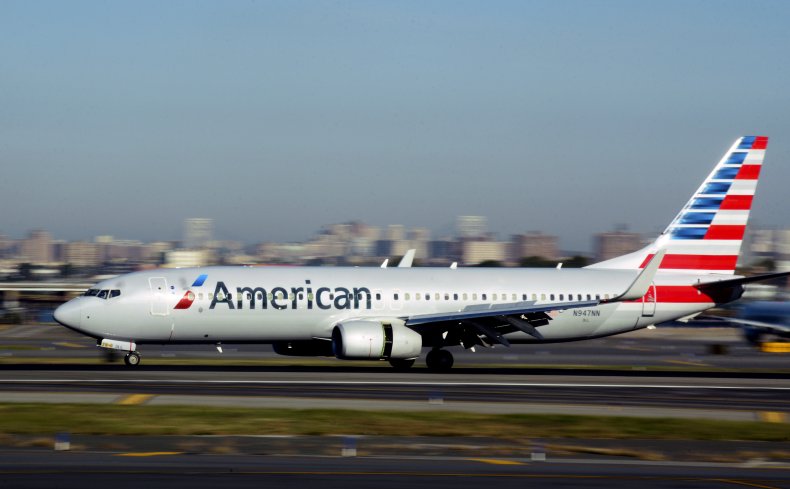 Wayne Allyn Root said: "BOYCOTT American Airlines. You'll never get another dollar of my money. Racist, Marxist, anti-American b*******. End of line. Bye bye"
Ned Griffin said: "Congratulations to @AmericanAir on naively letting its employees wear pins supporting a dangerous, anti-American Marxists organization, Black Lives Matter. This makes employees with spouses in law enforcement so happy. Were I to fly it would not be on AA."
However, the calls to boycott have been welcomed by supporters of the Black Lives Matter movement, who believe that the boycott will mean that they will not have to share their flight with racists.
One Twitter user said: "American Airlines requiring masks AND allowing BLM support? My upcoming flights just got sooo much better I hope all the snowflakes that are outraged cancel their bookings!"
Others are pointing out the hypocrisy of the calls to boycott American Airlines coming from the kind of people who would typically criticize cancel culture, but are now trying to "cancel" the airline, as one Twitter user said: "So many idiots who hate cancel culture racing to cancel yet another company, American Airlines, because they're allowing folks to wear BLM pins.
"You weren't flying anywhere anyway, so now there's more room up there without you racists."
In a statement to Newsweek, American Airlines confirmed that Black team members asked if they could wear a Black Lives Matter pin after seeing other airlines allowing their employees to do so, and American Airlines decided to allow them.
American Airlines said in the statement: "Fundamentally, we believe Black Lives Matter is an expression of equality, not a political statement. It doesn't mean other lives don't matter, rather that in our society Black lives should matter and be valued the same as others.
"We are showing our support for our Black colleagues and customers who have experienced discrimination and injustice, not any particular organization. This decision underscores our belief that all people, regardless of race, gender or ethnicity, deserve to be treated with equality and respect."