American Airlines Flight Delayed by Eight Hours After Passenger Jokes About Having Coronavirus
A flight from Dallas to Nashville was delayed by more than eight hours on Saturday after a passenger allegedly falsely claimed he had the coronavirus.
The American Airlines flight had been due to take off from Dallas-Fort Worth Airport in Texas at 6.30 p.m. and land at Nashville International Airport just over two hours later. But the incident meant the flight didn't arrive at its destination until 4.40 a.m. on Sunday, WKRN reported.
A spokesperson for the airline confirmed to Newsweek that the "disruptive" passenger was arrested on Saturday evening for making a false claim, but did not elaborate further.
A Dallas-Fort Worth Airport police report said the passenger, identified as George Gjergi, was arrested after officers determined he has "knowingly initiated, communicated and circulated a report of a present emergency that was false."
A flight attendant told police that Gjergi had refused to lift his tray table four times before takeoff, claiming that he was still eating. He then told the attendant "but I have the coronavirus" twice, the report said.
Police officers and a hazmat crew boarded the plane at around 9.30 p.m., according to the police report provided to Newsweek. The man was removed after medics determined he was showing no signs of having COVID-19.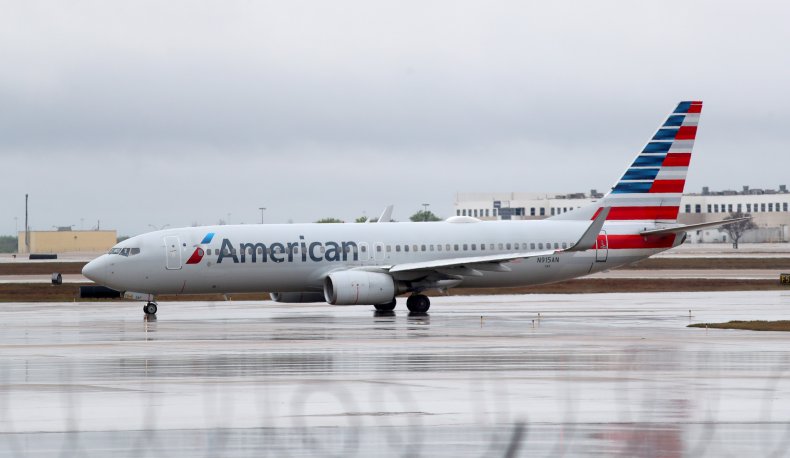 The police report stated that Gjergi, who "could not communicate well" with police due to a language barrier, said he was sorry for making the statements but claimed repeatedly that he had done so because he needed his medication from his checked bag.
He was placed under arrest for making a false report and transported to jail on Saturday. However he was transported to Baylor Grapevine Hospital on Sunday evening after he showed symptoms including coughing, sore throat, tightness of chest and a slight fever, police said.
The police report said charges against Gjergi were dropped pending further investigation.
According to WKRN, and the incident on Saturday night sparked panic among the passengers on the plane.
"People were freaked out because nobody knew what was going on," Brandon Kenney, who was a passenger on the flight, told the station. "People didn't know if he was actually sick or if he really didn't have coronavirus or not."
After the passenger was removed, police explained to those on board that the man had been "joking" and that he "wasn't all there," WKRN reported.
"Right after he was escorted off the plane, one of the cops came back and kind of explained the situation to the people that were sitting near him and kind of spelled it out for us and told us not to worry about it and really was just talking about how he was joking about having the coronavirus," Kenney added.
The flight was delayed further when some members of the cabin crew decided they didn't want to fly after the incident.
Dallas-Fort Worth Airport is one of 13 airports that Americans returning from Europe are being funneled through so they can undergo coronavirus screenings before entering the country.
Last week, President Donald Trump announced a ban on travel from 26 European nations to the U.S. The United Kingdom has since been added to the list.
Over the weekend, long lines formed at the 13 airports accepting flights from Europe as Americans waited hours to be screened before they could leave.
On Sunday, Trump urged those stuck inside airports to be patient, tweeting: "We are doing very precise Medical Screenings at our airports. Pardon the interruptions and delays, we are moving as quickly as possible, but it is very important that we be vigilant and careful. We must get it right. Safety first!"
There have been almost 170,000 confirmed cases of the COVID-19 outbreak, with more than 6,500 deaths, according to figures from Johns Hopkins University. More than 77,000 have recovered from the disease globally. The death toll in the U.S. climbed to 69, while the number of cases has surpassed 3,700.
This article has been updated to include information from Dallas-Fort Worth Airport Police.
World Health Organization advice for avoiding spread of COVID-19
Hygiene advice
Clean hands frequently with soap and water, or alcohol-based hand rub.
Wash hands after coughing or sneezing;
When caring for the sick; before; during and after food preparation; before eating; after using the toilet; when hands are visibly dirty; and after handling animals or waste.
Maintain at least 1 meter (3 feet) distance from anyone who is coughing or sneezing.
Avoid touching your hands, nose and mouth. Do not spit in public.
Cover your mouth and nose with a tissue or bent elbow when coughing or sneezing. Discard the tissue immediately and clean your hands.
Medical advice
If you feel unwell seek medical care early and call local health authorities in advance.
Stay up to date on COVID-19 developments issued by health authorities, follow guidance.
Mask usage
Healthy individuals only need to wear a mask if taking care of a sick person.
Wear a mask if you are coughing or sneezing.
Masks are effective when used in combination with frequent hand cleaning.
Do not touch the mask while wearing it. Clean hands if you touch the mask.
Learn how to properly put on, remove and dispose of masks.
Clean hands after disposing of mask, do not reuse single-use masks.