American Airlines Flight Diverted to Albuquerque Due to Passenger Disturbance
An American Airlines flight was diverted to New Mexico after a passenger disturbance, the airline has told Newsweek.
Flight 482 departed Charlotte Douglas International Airport in North Carolina for Los Angeles shortly after 8 p.m. local time on Monday.
However, the flight was diverted to Albuquerque after a passenger made a threatening comment, according to reports on social media.
"American Airlines flight 482 from Charlotte (CLT) to Los Angeles (LAX) diverted to Albuquerque (ABQ) following a passenger disruption," an airline spokeswoman told Newsweek.
Law enforcement met the flight when it landed in Albuquerque.
"The aircraft landed safely at ABQ at 10:25 p.m. local time and has since re-departed for LAX," the spokeswoman added. "We thank our crew for their professionalism and apologize to our customers for any inconvenience this caused to their travel plans."
The spokeswoman did not provide further details about the disturbance.
But some media users reported that a verbal threat made by a passenger was what prompted the diversion.
"#aa482 diverted to ABQ. Family taken off the plane, apparently some kind of verbal threat was made," Robby Saady wrote in a tweet. "All is fine, except the schedule."
A spokesperson for the Federal Aviation Administration (FAA) told Newsweek that the agency is aware of the incident. "We investigate all unruly passenger reports made by airlines," the spokesperson added.
The Albuquerque Police Department has been contacted for comment.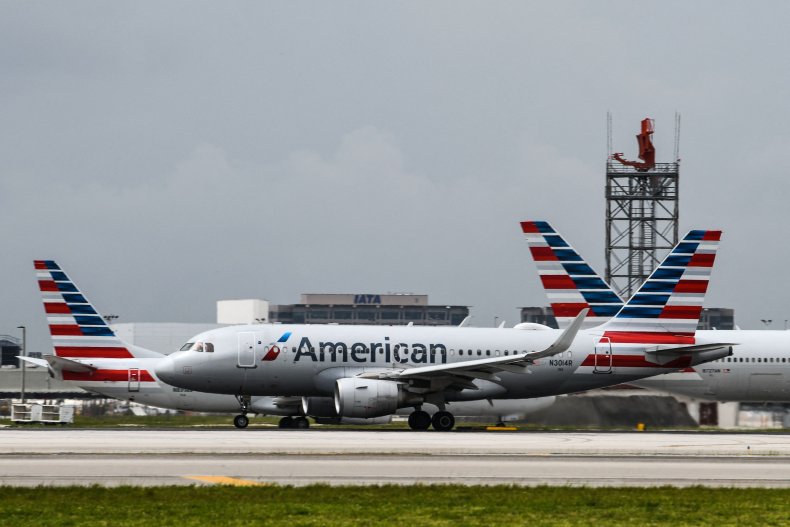 Airlines have seen a spike in incidents where passengers have disrupted flights with threatening or violent behavior since the start of the pandemic, according to the FAA.
The agency has received reports of 323 incidents involving unruly passengers in 2022, as of February 1, with 205 of those incidents related to mask-wearing. Some 73 investigations have been initiated as a result, and 26 enforcement action cases have been launched.
Passengers who engage in unruly behavior can be fined by the FAA or prosecuted with criminal charges.
Last month, an American Airlines flight to London returned to Miami about an hour after departure because of a passenger who refused to wear a mask.
The airline said 129 passengers and 14 crew members were aboard the Boeing 777 that was forced to return to Miami on January 19. Passengers disembarked on its return to Miami and the flight was canceled.
Miami-Dade police officers met the passenger, a woman in her 40s, at the airport but she was not arrested. However, she was placed on the airline's internal no-fly list pending the completion of an investigation into the incident.
Update 2/8/22, 8:30 a.m. ET: This article has been updated with a comment from the Federal Aviation Administration.