American Airlines Passenger Tries to Jump Counter, Attack Employee After Being Told She Can't Board Flight Barefoot
Police officers in Miami arrested a woman after she tried to jump an American Airlines (AA) ticket counter when an employee told her she couldn't board her flight barefoot.
Brittney Mohammadi, 23, became upset after the AA gate agent at the Miami International Airport refused to let her get on Flight 1061 to Los Angeles Sunday night. A bystander captured the altercation on video, which begins with Mohammadi shouting at the employee, telling them: "We're not leaving."
She then launches herself up and over the ticket counter, getting one leg over before her partner, Maunel Arteaga, pulls her back. Arteaga, 26, attempts to further restrain Mohammadi as she continues yelling at the employee, helping her walk away from the gate.
In additional footage captured by bystanders, Arteaga is heard accusing the AA employees of taking Mohammadi's clothing and shoes, and yelling and cursing at them repeatedly, TV station WPLG reported.
AA called authorities—who later told WPLG that the couple was intoxicated—to confront the couple, warning them that they could be arrested if they didn't calm down. AA thanked the Miami-Dade Police Department for its "quick action to ensure the safety of our customers and team members," according to a statement sent to Newsweek.
"On Sunday, September 27, two customers were denied boarding on flight 1061 with service from Miami (MIA) to Los Angeles (LAX) after attempting to board the aircraft without shoes," the statement read. "After being informed of our policy, the customers became irate and one attempted to strike an American team member at the gate."
The airline's "rules for safety" state that every passenger must "dress appropriately; bare feet or offensive clothing aren't allowed," and that "violent or inappropriate actions may result in the denial of boarding, removal from the terminal or legal prosecution."
"Violence of any kind is not tolerated by American Airlines," its statement to Newsweek read.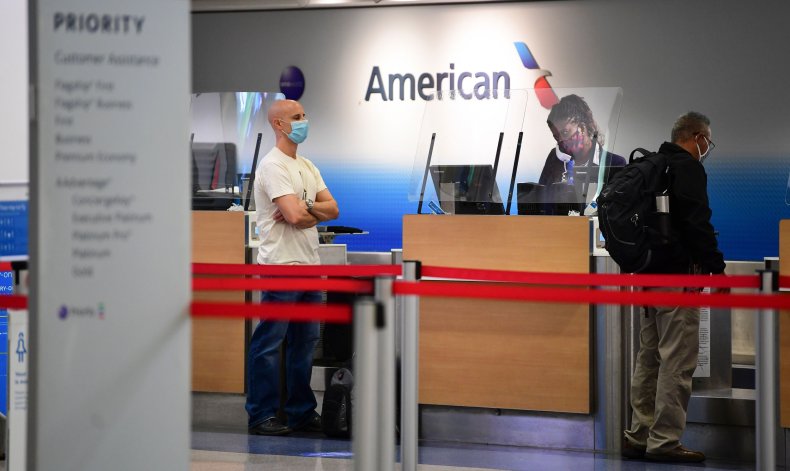 Authorities escorted Mohammadi and Arteaga out of the airport, where their eventual arrest was also caught on camera. Four police officers are seen trying to subdue the couple, who resisted arrest.
As officers tried to pull them apart, Arteaga grabbed Mohammadi by the neck while Mohammadi kicked an officer in the knee, causing him to fall to the ground, police told WPLG. That officer went to the hospital to be treated for injuries to his hand and knee, but is expected to recover, WPLG reported. Arteaga also attempted to escape, but the officers were able to place them both under arrest, authorities said.
Mohammadi is heard screaming in the footage and seen on the ground at one point. The couple claimed their were bruised and treated roughly during the arrest, TV station WSVN reported. Newsweek contacted the Miami-Dade Police Department for comment, but did not hear back in time for publication.
The couple gave their side of the story Tuesday night to WSVN. "We went through [airport security], we had everything checked out, they didn't realize she didn't have her shoes," Arteaga said.
Mohammadi told WSVN that she became angry after the AA gate agent told her she couldn't board her plane shoeless, but that she takes "100 percent responsibility" for attempting to jump over the ticket counter.
Both Mohammadi and Arteaga were booked at Miami-Dade County Jail on a number of charges, including disorderly conduct, resisting arrest, and battery of an officer, WPLG reported.