Airlines Tell Trump Administration Not To Place Separated Immigrant Children on Flights
Both American and United Airlines said they want nothing to do with the federal government's "zero tolerance" policy that puts immigrant children separated from their families on commercial flights.
American Airlines issued a statement Wednesday asking the United States government to "immediately refrain" from transporting migrant children who were separated from their families at the border on the company's aircraft. United Airlines CEO Oscar Munoz told Bloombergthe company also told federal immigration enforcement officials not to use their flights. A Wednesday Houston Chronicle report showed a "major U.S. airline" flight attendant being lied to by ICE agents trying to place a "soccer team" of separated children on a flight to a "relocation" site away from their parents.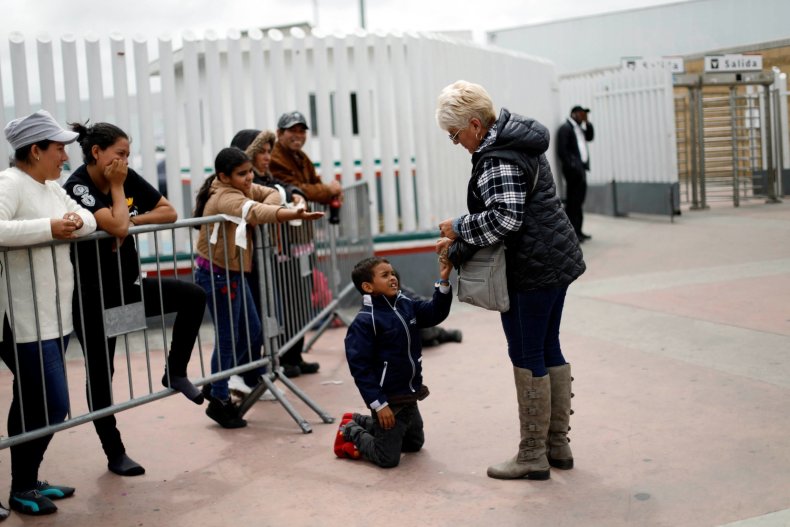 "Based on our serious concerns about this policy and how it's in deep conflict with our company's values, we have contacted federal officials to inform them that they should not transport immigrant children on United aircraft who have been separated from their parents," United Chief Executive Officer Oscar Munoz told Bloomberg in an emailed statement. American also told the feds, "We have no desire to be associated with separating families, or worse, to profit from it."
Neither airline said they had knowledge of any federal contract having placed immigrant children separated from their families aboard their flights. However, airline representatives said they wouldn't be notified if the government had placed separated children onboard their aircraft. The statements came in response to reports that dozens of migrant children were seen on various domestic U.S. flights over the past week.
"American, like all U.S. airlines, provides travel to the federal government through our Government Services Agreements; however the government does not disclose information about the nature of the flights it takes or the passengers who are traveling," reads the Wednesday statement from American Airlines. "While we have carried refugees for non-profits and the government, many of whom are being reunited with family or friends, we have no knowledge that the federal government has used American to transport children who have been separated from their parents due to the recent immigration policy, but would be extremely disappointed to learn that is the case."
The two U.S.-based airlines made the statement on the same day President Donald Trump said he would sign an executive order ceasing the separation of children from their families amid heavy worldwide and domestic criticism.
Newsweek reached out to Delta and Southwest Airlines to discuss their policy but had not yet heard back at the time of publication.