American Allegedly Involved in Hizbullah Smuggling Plot Arrested in Paraguay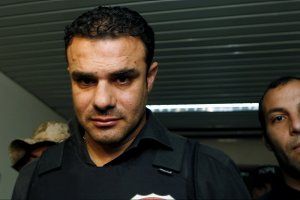 For years, counterterrorism officials have expressed concern that a lawless corner of Paraguay, known as the Tri-Border Area, was becoming a haven for Islamic terrorist groups. The Lebanese-based, Iranian-supported Hizbullah movement was alleged to have established a strong presence in the area, which borders Argentina and Brazil. Only days after 9/11, Pentagon hardliners suggested in a secret memo that the U.S. should consider attacking targets in Paraguay, in the hope that ripple effects would disrupt terror plots elsewhere in the world. While cooler heads prevailed and such an operation was never launched, new evidence of a possible terrorist presence in South America emerged this week: Paraguayan authorities in the Tri-Border Area arrested a defendant in a major U.S. prosecution of alleged Hizbullah supporters.
A news report from the region said that Moussa Ali Hamdan had been arrested on Tuesday in Ciudad del Este by agents of the Paraguayan affiliate of Interpol, following a request from the American government. The arrest was confirmed by a U.S. Justice Department official, who asked for anonymity when discussing an ongoing investigation. A second Justice official described Hamdan as a naturalized U.S. citizen. The French news agency AFP quoted Interpol's representative in Paraguay, Jose Chena, as saying that local authorities will likely decide in a few weeks if they will extradite Hamdan to the United States.
Court files and a Justice Department press release allege that Hamdan was one of four individuals indicted by federal officials in Philadelphia last November for conspiring to provide material support to Hizbullah. (Six others were charged in the same indictment with related crimes, including transporting stolen goods, trafficking in counterfeit goods, and making false statements to federal authorities.) The indictment specifically alleged that Hamdan played a key role in schemes to help provide financial support to the militant Shiite movement by trafficking in bogus passports, counterfeit money, and fake brand-name goods, including counterfeit Nike shoes and Mitchell & Ness sports jerseys.
The indictment, which can be read in full here, alleges that in 2008 Hamdan bought purportedly stolen goods from an unnamed "cooperating witness." The purchased items included 1,500 cell phones, 100 Sony PlayStations, and 50 laptop computers. The indictment also alleges that Hamdan caused the cooperating witness to export purportedly stolen goods overseas, including Honda CR-V SUVs to Beirut. Other defendants in the case—but not Hamdan—were accused by prosecutors of conspiring to provide Hizbullah with 1,200 Colt M-4 machine guns.
A spokeswoman for the U.S. Attorney's office in Philadelphia said that several of the defendants in the case had been arrested and pleaded guilty. However, until his reported detention in Paraguay this week, Hamdan had not been arrested in the case and thus had never entered a plea, two Justice Department officials said.
U.S. officials have been concerned for years that Islamic militants might use the Tri-Border Area as a base for activities that could threaten the U.S. In particular, officials have been worried that it could be used as a staging point from which personnel or goods could be smuggled overland via Mexico into the United States. However, there has been little if any proof that any such smuggling, particularly of suspected terrorists, has occurred. Earlier this year federal prosecutors in Miami indicted seven men on charges involving the alleged illegal export of consumer-electronics goods to what authorities described as a "designated terrorist entity" in Ciudad del Este. The arrest there of Hamdan suggests that some movement of people between the U.S. and the Tri-Border region has been occurring.