Man in Ohio Linked to Threat Made to Canadian Police Amid Protests
A threat aimed at the police headquarters in Ottawa amid the ongoing Canadian anti-COVID mandate protests has been linked back to an unnamed person from Ohio.
The Putnam County, Ohio Sheriff's Office told Newsweek that the man had mistakenly called their office thinking Ottawa, Ohio was Ottawa, Canada.
"He made two separate calls reporting a potential serious incident, then admitted to making up the allegations to cause an unnecessary disturbance," Putnam County Sheriff's Office Captain Brad Brubaker said. "Both reports were immediately forwarded to Ottawa Police in Canada."
During a special meeting on Monday, Ottawa's Deputy Police Chief Steve Bell mistakenly said the man had been apprehended by local authorities but Brubaker confirmed that no arrest has been made.
Bell told the Ottawa City Council, "A threat to the [Ottawa Police Service] physical building at 474 Elgin today, that has resulted in co-operation with American authorities and ultimately ended with the arrest of a person who initiated those threats from Putnam County, Ohio."
"No one has been arrested by our agency. The incident in question is under review by our Prosecutor," Brubaker said, adding that the caller told authorities he disagreed with the mask mandate up north.
The incident from Ohio is among a string of new developments being pursued by Canadian authorities who are questioning the Freedom Convoy protest's ties to the U.S.—specifically whether American donations are driving the motivation of the demonstrators, as the protests enter their 12th day in Ottawa.
On Monday, Bill Blair, Canada's emergency preparedness minister, said, "I think when [Canadians] understand the source of some of this funding, it helps them understand the motivation of this protest—who is actually behind it—and I think it also reveals some of the false nature of claims being made and the positions being put forward."
Police have made at least 20 arrests since Friday and issued more than 550 tickets over the weekend in connection to the protests.
During the Monday meeting, Ottawa Police Chief Peter Sloly requested 1,800 additional personnel on top of its 2,100 members due to the immense strain that has been put on the department over the last week and a half.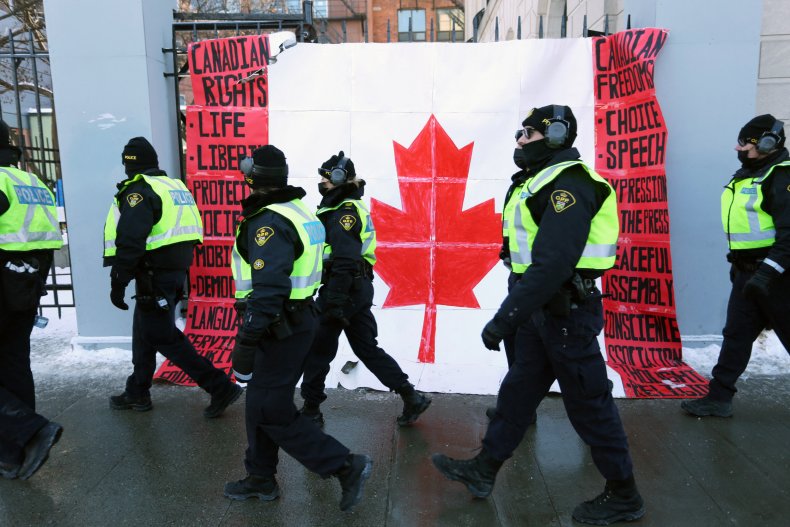 Sloly said the force is not only having to deal with protesters in the downtown core but with threats outside the city, including those from the U.S.
"We have people phoning in false messages, swatting messages, to our police operations center for active explosive [improvised explosive device] events, gun events, that are drawing our resources away," Sloly said. "We now have an active investigation south of the border to identify that."
Swatting involves lying to police about life-threatening events to send emergency resources to a location under false pretenses, which can cause traumatic and deadly encounters between police and innocent civilians.
On Monday, the city council said it wanted to increase fines to $1,000 for violations like noise, blocking roads, open fires and idling vehicles, but such a move would need approval from the Ontario Court of Justice.
Earlier in the day, a judge granted a 10-day injunction, banning the horn honking and air horn blowing that has disrupted the area since protesters arrived on January 28.
Ottawa Mayor Jim Watson, who declared a state of emergency on Sunday, has called the noise "tantamount to psychological torture."
In a $9.8-million Canadian dollar class-action lawsuit filed by local residents, Ontario Superior Court Justice Hugh McLean ruled that the ongoing noise violations interfered with "citizens' right to quiet" and that, "Tooting a horn is not an expression of any great thought I'm aware of."
"The only purpose of this [noise] is to bring attention to this protest," McLean said. "There's no need for that anymore. The public is fully aware of what's going on."
The judge added that taking away demonstrators' horns would not rob them of their right to protest. However, it remains unclear how the injunction will be enforced.
Correction 2/9/22, 3:25 p.m. ET: An earlier version of this story featured an inaccurate report from Bell that a person from Putnam County, Ohio, had been arrested in connection with threats to the Ottawa police. Putnam County Sheriff's Office Captain Brad Brubaker told Newsweek on Wednesday that no arrest has been made.