American Ballet Theatre's New 'Sleeping Beauty' Pays Homage to Ballet's History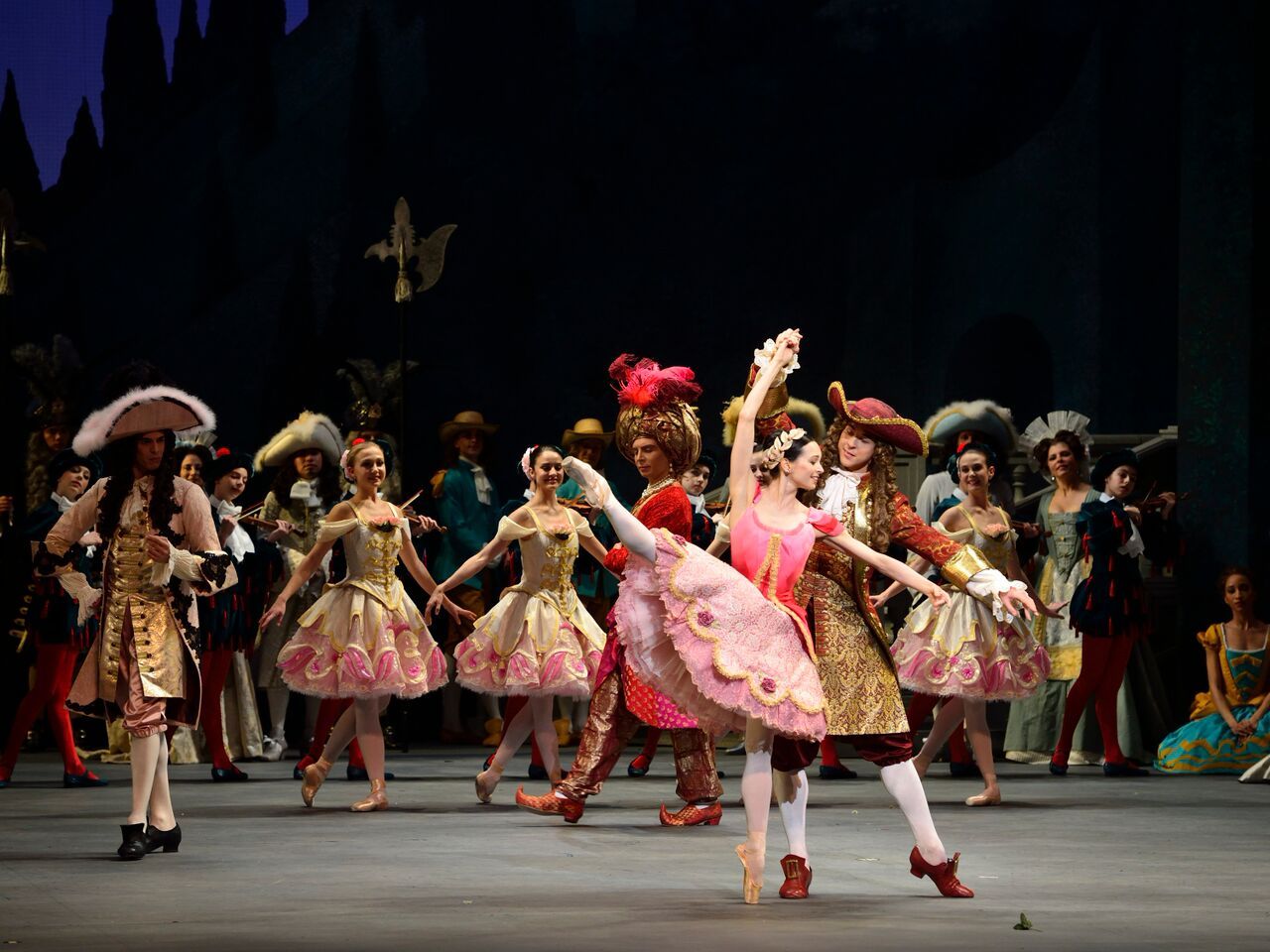 The plot of Sleeping Beauty isn't hard to follow, even when it's performed as a ballet, without any words: A princess is born, and an evil fairy soon puts a curse on her—Aurora will prick her finger with a spindle and die. A kind fairy softens the curse, declaring that the princess will simply fall into a century-long slumber along with her entire kingdom. On her 16th birthday, Aurora dances with four royal suitors seeking her hand in marriage before she finds the destined spindle and falls asleep. A hundred years later, the kind Lilac Fairy shows a restless prince a vision of Aurora in the forest. He falls in love and bestows upon Aurora the kiss that awakens the kingdom. The fairy tale ends with the couple's festive wedding.
After the ballet's premiere in St. Petersburg in 1890, one critic complained thus about the bare story line: "They dance, they fall asleep, they dance again."
Nevertheless, it has been staged and restaged a seemingly endless number of times all over the world, sometimes even multiple times by the same company. And though the fairy tale is simple, producing the ballet is not. Some versions have been docked or dismissed by critics for falling short of the original collaboration between ballet master Marius Petipa, the renowned composer Pyotr Ilyich Tchaikovsky and Imperial Theatres director Ivan Vsevolozhsky. Others have been praised for capturing the spirit of the iconic work, which looms large in ballet history.
American Ballet Theatre alone has had four productions since the company was founded in 1940, according to its program notes. Its third full version premiered at the Metropolitan Opera House in New York City on June 1, 2007, and it was staged after Petipa by ABT's artistic director Kevin McKenzie along with Gelsey Kirkland and Michael Chernov.
"How does a ballerina solve a problem like Aurora?" wrote Gia Kourlas in The New York Times in her review dated June 12, 2007. "It's no easy task, especially when she is held captive by a production as muddled as American Ballet Theater's busy, dramaturge-heavy version of The Sleeping Beauty."
Alastair Macaulay, who had stepped into the post of chief dance critic at the Times earlier that year, called it "Disneyesque," "scarcely a production for purists," and one that "isn't hidebound by custom." He described the pastiche of a Sleeping Beauty "as seen through the lens of various movies," from Lord of the Rings and Harry Potter to The Court Jester and The Wizard of Oz. He faulted the production for the way it treated Tchaikovsky's score and for relying on Petipa's choreography in bits and pieces without understanding the overall architecture that ties it all together.
A fourth version recently replaced that "misbegotten 2007–2013 production," as Macaulay dubbed it, and this one did all it could to pay homage to the ballet's roots. Alexei Ratmansky's new production—which premiered in Costa Mesa, California, in March and began its New York run on May 28—is vastly different from the transformation he bestowed upon The Nutcracker in 2010. His Nutcracker was reimagined, but his Beauty is "reawakened."
Ratmansky and designer Richard Hudson focused on two important productions in the quest to peel back the trappings of later versions and return to the essence of Beauty. The choreographer learned to read Stepanov notation—used to record ballets like a musical score—and studied records of Petipa's choreography. Nikolai Sergeev brought these notations from Russia to the West after the revolution, where they eventually became part of the Harvard Theatre Collection.
Meanwhile, Hudson looked to Léon Bakst for inspiration. Bakst designed costumes and sets for the production by Sergei Diaghilev's Ballets Russes, which premiered at London's Alhambra Theatre in 1921. Social and dance historian Caroline Hamilton was hired to do research for Ratmansky and Hudson, tracking down the original designs and costumes from the 1921 Beauty, which planted the ballet in the foundation of British tradition and which in turn helped make the ballet a favorite across the pond.
So the ballet was originally choreographed by a French expatriate ballet master living in St. Petersburg to music by a renowned Russian composer at the end of the 19th century. Three decades later, a Russian impresario, having left his home country after the revolution, put up an iconic version of the same ballet in London. Now, more than a hundred years after it first appeared onstage, its latest iteration is staged by a Russian choreographer working as artist in residence for a company that boasts "American" in its title.
If The Sleeping Beauty's creation and evolution sound layered, that's because they are, and intrinsically so. The ballet represents the shifting center of the art form from France to Russia and the arrival of the classical era after the romantic. In the 20th century, it was part of the birth of ballet traditions in England and the U.S. that simultaneously embraced a classical history and invented a new contemporary. And just as importantly, it marks a leap in the quality of music used for ballet. This one work, in other words, is a window into much of ballet's history.
"It is doubtful that any other art work, ever, has influenced its own field so heavily," wrote Joan Acocella this month in The New Yorker.
The ballet has often been evaluated, then, by its relationship to earlier productions, especially that of 1890. ABT's first full-length staging, which featured Natalia Makarova and Mikhail Baryshnikov as Aurora and the prince, premiered on June 15, 1976. Then-Times critic Clive Barnes wrote:
This production is one of the most ambitious and risky things ever undertaken in American ballet. Some people will question the wisdom of trying to reproduce an 1890 ballet as near as humanly possible to the original. But this authenticity is the particular value of the classics, and the ballet emerges triumphantly in a manner it never musters in later recensions. For Tchaikovsky and this ballet, Petipa knew best.
Most recently, Macaulay called Ratmansky's Beauty "a fascinating, important staging— often revelatory.… Its dances are an amazingly conscientious demonstration of Petipa's original intentions."
Choreographers, too, have set their sights on recreating that original opus. In staging ABT's second version—which premiered on February 11, 1987 in Chicago—Sir Kenneth MacMillian said, "I want to pass on my knowledge of Sergeyev's production of Petipa, for I think it was truly magical."
Ratmansky also reveled in Petipa's work. "It's constant amazement," he told the Times as he was preparing for the Costa Mesa premiere. "I've learned more about Petipa in these last three months than I learned in my whole life—his phenomenal mastery of the craft, finding the threads he follows from the beginning to the end."
But Sleeping Beauty is not only rich in history. It's also an easy entry point for those less familiar and mildly intimidated by ballet. People are "drawn to story ballets as a first time to go," says Hamilton. And like the other late 19th century works that have survived and become household names—The Nutcracker and Swan Lake—it's also set to music by Tchaikovsky that is familiar far beyond devoted dance circles.
"The key to the ballet's enduring appeal," writes Jennifer Homans in her 2010 book Apollo's Angels: A History of Ballet, "was Tchaikovsky. It is a point worth emphasizing: Tchaikovsky was the first composer of real stature to see ballet as a substantial art, and his music lifted dance onto a new plane." Previously, composers like Adolphe Adam (Giselle) and Ludwig Minkus (Don Quixote), produced "lovely and serviceable ballet scores," Homans writes, but "these composers tended to follow rather than lead, and their music enhanced and illustrated but rarely challenged." Sleeping Beauty's score, however, has "a powerful symphonic score that stood on its own merits."
At a recent Saturday matinee, hours after the first performance transpired on the Metropolitan Opera House stage, the prologue and three acts unfolded once again. Seated in the velvet seats of the Met were some of the most important voices in dance: veteran critics and dance writers. But the 2 p.m. show also brought little girls in frilly dresses whispering to the adults seated beside them and twirling in the aisles between acts.
"Children delight in its story, general audiences know its reputation for grandeur as a special theatrical evening and balletomanes cherish the pure classicism Petipa developed out of ballet's academic idiom. As a ballet score, its music is widely regarded as unsurpassed," wrote Anna Kisselgoff, former chief dance critic for The New York Times, when ABT performed its second version of the ballet in 1987. "The Sleeping Beauty has remained one of the great touchstones of classical ballet."