Roborock robot vacuums and mops use cutting edge technology to map and clean your home. The robot vacuums map your home using LiDAR, the same technology that self-driving cars use. Roborock vacuums are smart enough to know where to mop, where to vacuum, and where not to go once you set up no-go zones.
With easy schedules and voice control through Google Assistant and Alexa, the robot vacuums from Roborock keep your home clean automatically, and you can summon them when a mess pops up. Once you couple this with the ability to cross most thresholds, smart suction that changes based on the surface, and enough suction to pick up a AA battery, you'll understand why Roborock is an industry leader.
American Beer Day 2019: Craft Beers from American Breweries Gift Guide
National American Beer Day is today, October 27. Craft breweries are booming across the U.S., with independent beer companies and craft beer bars popping up all over the country. From California to New York and everywhere in between, there is a craft brewery near you selling unique and innovative beers.
Below is a round-up of some of the best craft breweries across the U.S. and some suggested beers to buy. This craft beer gift guide is perfect for the beer lover in your life, and it's a great idea to begin shopping around now as the holidays approach. Try these beers at a Halloween party, with a Thanksgiving dinner or on Christmas Day.
Unknown Brewing
Unknown Brewing, based in Charlotte, North Carolina, says: "We want to push the limits of what can be done and also do it with a smirk on our face. Our beer is one thing we take serious, everything else in life we don't." Try seasonal beers like Ginger Wheat, Tele Porter, Hospitali Tea, and Brown Ryed Girl. Unknown Brewing is available to buy in North Carolina, South Carolina, and Georgia.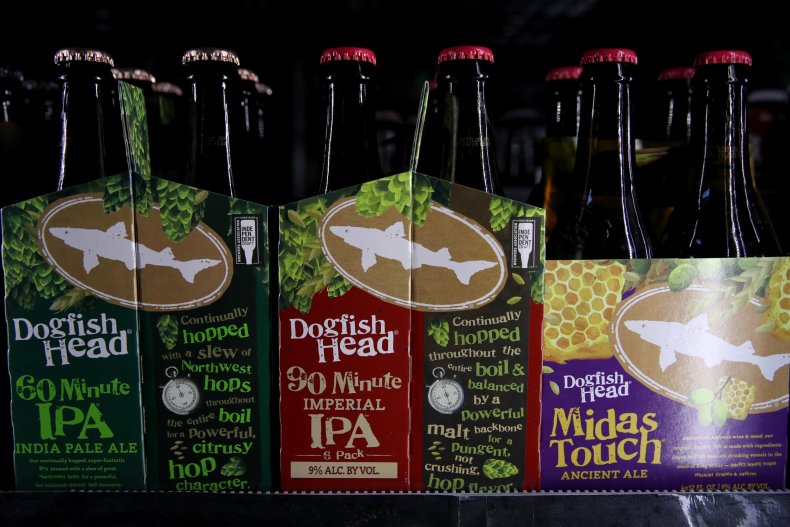 Off Color Brewing
Off Color Brewing produces a range of year-round beers and speciality products. This brewery was established in 2013, by John Laffler, formerly with Goose Island Brewery, and Dave Bleitner, of Two Brothers Brewing, so they know what they're doing. Bottles can be bought at the Off Color Brewing bottle store in Chicago
Dogfish Head Craft Beer
Dogfish Head Craft Beer, based in Milton, Delaware, has tons of exciting beer varieties, but why not try the American Beauty beer in celebration of American Beer Day? It's a "psychedelic" pale ale brewed with granola, honey and all-American hops.
Belching Beaver Brewery
Online craft beer store Craftshack's highest-rated beer is Belching Beaver Brewery's Peanut Butter Milk Stout. Said to taste like a Reese's Peanut Butter Cup, this beer has an average of 4.8 stars on the Craftshack site. It's available in cans and bottles and can be ordered online.
Craft Beer Kings Gift Boxes
If you can't decide on a beer, Craft Beer Kings has beer gift boxes like the California Beer Can Gift Box and the IPA Beer Bottle Gift box so you can gift your loved one a variety of their favorite kind of beer. Prices range from $59.99 to $69.99 for six beers and $89.99 to $99.99 for 12 beers.