American Bus Industry Could Lose Billions of Dollars, Thousands of Jobs Amid Shutdowns
The American bus industry could lose billions of dollars and cut thousands of jobs as the wider economy is hit by the coronavirus pandemic and related shutdowns, according to a new report.
Research published by the American Bus Association (ABA) on Monday warned that the private motorcoach industry stands to lose $4.7 billion and cut as many as 27,350 jobs, even if coronavirus lockdowns are largely lifted by the end of May.
The report released by the bus industry trade group, and conducted by John Dunham & Associates economists, also projected that the industry would lose more than 82,000 jobs and make $14.2 billion less in sales if the pandemic continues throughout the year.
"This is the worst crisis our industry has ever faced in our more than 100 years of business," ABA Foundation President Peter Pantuso said in a release on the report.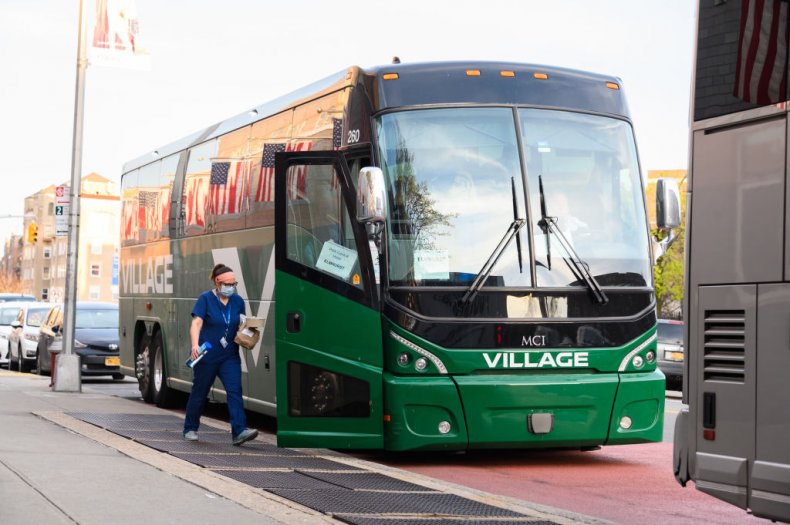 "We are seeing devastation worse than 9/11 and we have had no help from the federal government. When Congress was handing out $100 billion to airlines, Amtrak and public transportation they left out the private motorcoach industry.
"If this industry fails how will working class Americans get to their jobs? Who will evacuate Americans during wildfires, tornados and hurricanes? How will Americans get from rural areas to urban centers for work and leisure? This is going to be a less mobil world without the essential services that motorcoaches provide."
Speaking to Newsweek by email, Pantuso added: "Congress and the Administration addressed every mode of passenger transportation in the third stimulus package except for the private bus industry.
"We are part of the national network, we connect with all modes, we connect rural and urban areas, and serve the federal government through the Department of Defense and the Federal Emergency Management Agency. We provide nearly as many passenger trips as the airlines annually, but were completely overlooked."
According to the report, bus operators running private charters have been hit particularly hard by the pandemic as demand for tours and conferences has nosedived.
Shuttle services offering buses for school trips and sports teams are also estimated to have seen their business decline by around 95 percent, according to the industry group research.
In a letter to Treasury Secretary Steven Mnuchin and Federal Reserve Chair Jerome Powell, Democratic Reps. Richard Neal and Peter DeFazio asked the pair to provide $5 billion in loans to "over-the-road bus carriers" amid knocks to the motorcoach industry.
"While the short term impacts are staggering, in the longer term if bus companies go out of business, hundreds of thousands of travelers who rely on buses to get to their jobs and reach vital services, intermodal connections and educational facilities, especially in rural America, risk losing what may be their only means of transportation," the committee chairmen wrote.
Newsweek has contacted the lawmakers for comment, and will update this article with any responses.
As the U.S. economy experienced its biggest contraction since the financial crash in the first quarter of 2020, the transport industry was one of many to experience a downturn in revenue as people stayed at home.
According to the Bureau of Economic Analysis, the American economy took a 4.8 percent fall in GDP during the first three months of 2020. Much of that decline took place last month as stay-at-home orders started coming into effect.
In order to alleviate economic pressures caused by the novel coronavirus, lawmakers gave Amtrak $1 billion in the $2 trillion Coronavirus Aid, Relief, and Economic Security (CARES) Act.
Airlines are also set to receive relief funding from the stimulus package, with The Guardian reporting in mid-April that the sector agreed on a $25 billion bailout.
This article has been updated with comment from Peter Pantuso.