Last year, Vulture declared that we were living amidst a second comedy boom. Whereas the first boom brought the world ratty comedy clubs across the nation and hundreds of canceled sitcoms titled after the first names of hacky, blazer-wearing comedians, the second is more diverse and artistically daring. It's brought us Louie and Broad City and Master of None. The UCB is now an institution. Audiences are willing to look beyond major networks, choosing instead to watch shows on online streaming services and public access television.
And yet, despite the boom, there's a surprising lack of outlets dedicated to prose humor. The National Lampoon flamed out long ago, and so too did the Toast and Funny or Die's The Occasional, and PBQ hasn't had a new issue since 2014. The few publications that remain—The Onion, McSweeney's Internet Tendency and The New Yorker—still offer brilliant comedy, though are limited in tone and scope.
Is it possible that, despite the second boom, people just don't want to read comedy? Do people even know how to read anymore?
I certainly thought so until in the fall of 2015, when I came across The American Bystander, a quarterly print magazine modeled after the early Kenney/Beard/O'Donoghue era National Lampoon. It had a solid lineup, featuring writers from Saturday Night Live, The Simpsons and The Onion. George Meyer and Jack Handey were in there. It was instantly successful. They hit their Kickstarter goal in four days on Kickstarter. They're now raising money for their third issue (the deadline is October 11).
It was a few decades in the making. The first attempt to create the Bystander occurred back in 1982, by Lampoon, SNL and SCTV alum Brian McConnachie. It was then backed by Lorne Michaels, Dan Aykroyd and John Belushi, among others. A pilot issue was created, but ultimately the project was shelved. Then, roughly four years ago, McConnachie, along with TV writer/producer Alan Goldberg, decided to try again. They reached out to writer and editor Michael Gerber, and printed the first two issues.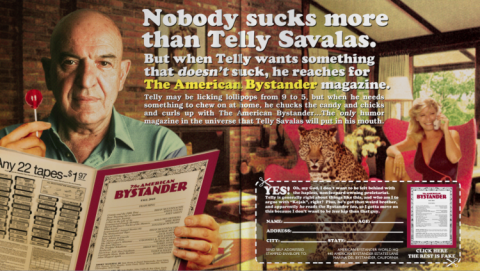 The crowdfunding model allowed them to publish while maintaining editorial independence. Soliciting advertisers can be tricky for a humor publication. "Advertisers don't like humor. And you can understand why," Gerber says. "The content is risky. The potential for blowback is constant. Humor magazines appeal to readers, not to advertisers."
He's not wrong. Though advertisers are more recently willing to support edgy content—see pretty much any show on Adult Swim—there's always a line that can be crossed. Even the typically merciless Lampoon wasn't safe from corporate meddling. In one issue in the early '70s, an anti-cigarette piece written by Paul Krassner (who will be contributing to a future Bystander issue) was neutered to remove a cancer reference to avoid alienating tobacco companies, whose advertising—recently banned from television—largely funded the magazine. That's at least according to the biography of Michael O'Donoghue, Mr. Mike, written by Dennis Perrin, another Bystander contributor.
So far, the magazine is mostly a labor of love. They have enough money to print it and pay their writers. There's not much more money beyond that. But the goal is to keep it relatively small and self-sustaining, and offer an outlet for comedy writing that might not find a place anywhere else. "Santa Monica has a $15 minimum wage law, and I'm getting nowhere near that," Gerber says, though he isn't exactly bothered by it. "As long as we have enough backers, I'll continue to do it." In other words, until people stop caring, or become fully illiterate.