American Refugees: How Climate Change Might Force U.S. Migration North and Where They Could Go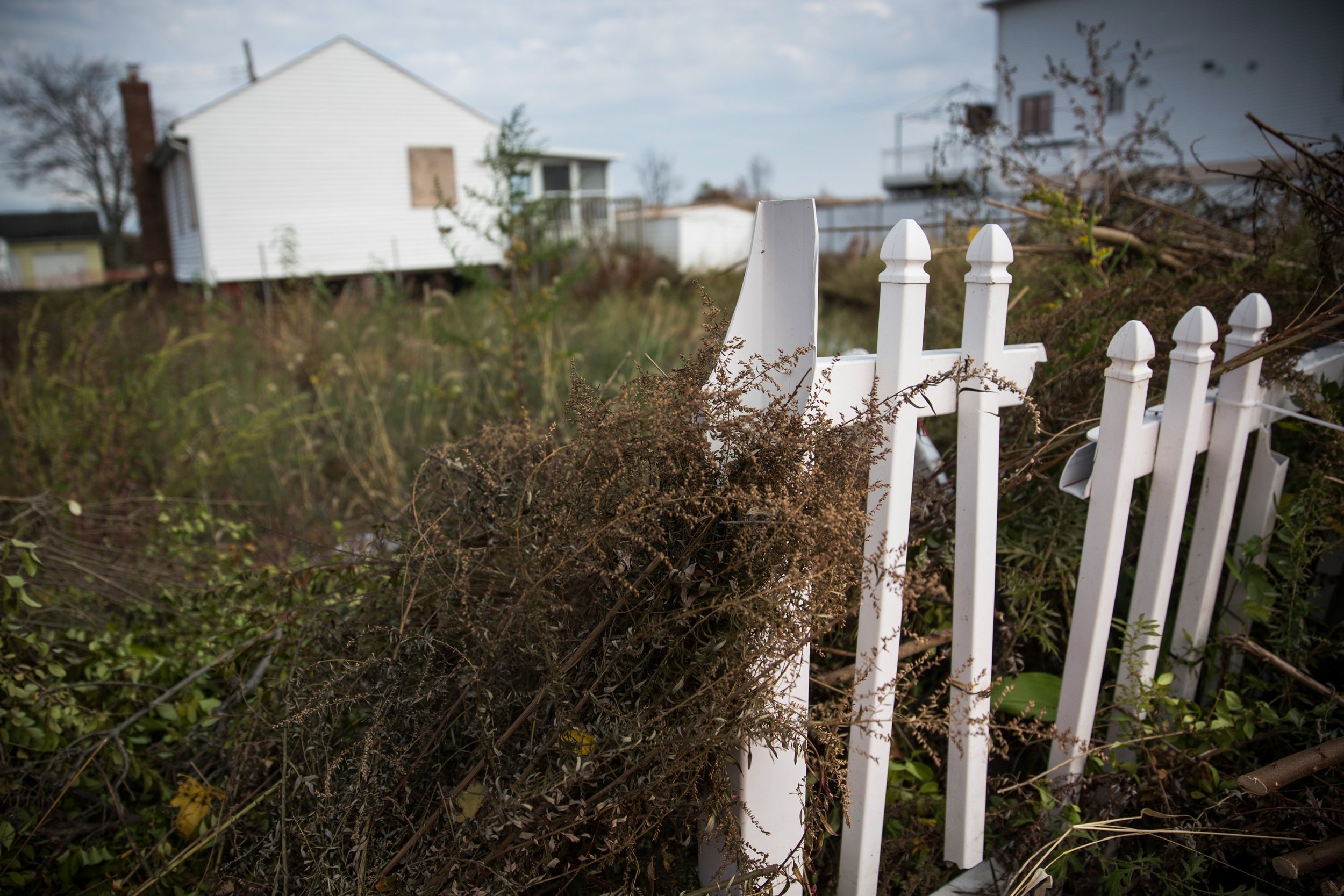 Climate change is sometimes pouring down or boiling above. But it's not always obvious. And for a segment of the population throughout the United States, climate change could be the culprit that displaces them, creating a new wave of American refugees. Rising sea levels and temperatures are already uprooting residents and leading some experts to question if we'll see a mass migration north.
The barrage of big storms (known as "heavy precipitation events") the last half century and the rising mercury levels atomizing the polar ice caps and scorching so many states may one day force Americans to make a tough choice: either become weather refugees and migrate to cooler Northern Hemisphere domains, or suffer the consequences of staying.
In Duluth, Minnesota, this week, Jesse Keenan, a faculty member of the Graduate School of Design at Harvard College, opened the floodgates to the idea that certain places may be prime to hordes of people fleeing Mother Nature's wild side.
Keenan told The Duluth News Tribune, Duluth was one of a few cities that could draw an onslaught of so-called "climigrants." Buffalo, New York was another.
He touched on how humans may soon have to follow the lead of other creatures.
"What we understand is the northern migration of flora and fauna, fisheries and everything else in the Northern Hemisphere…. They're moving north slowly," he said. "So why wouldn't people also do that?" Keenan said, according to The Duluth News Tribune, before partaking in the panel discussion for "Our Climate Futures: Meeting the Challenge in Duluth."
It's not just fish that are being watched and heading for cooler dwellings, but caribou, birds, insects and even plants. "Every organism has a certain set of conditions where it's comfortable to live and reproduce," Patrick Schoff, a biologist at the University of Minnesota Duluth told Newsweek.
That means it's only natural to go where those conditions are met. And with the depletion of polar ice caps, dark sun-absorbing rocks are causing more heat and the changes are happening at warp speed.
"Biology is used to moving, but it's not used to moving at the speed that we're forcing it to," he said.
This situation makes finding homes away from homes all the more crucial.
Lovely Warren, the mayor of Rochester, New York, described her city, where around 210,000 live, as "one of the snowiest cities in the country." With 99 inches dumping a year, it competes on that score with big cities like Chicago or Minneapolis.
But the summers are easy living. And the year-round average temperature is 48.4-degrees Fahrenheit.
The city had already welcomed "a significant number" of displaced residents from Puerto Rico after Hurricane Maria tore through the island, and the mayor encourages the numbers in a city already hit with population decreases as manufacturing giants left and their workers with them. What she hopes for is a resurgence the likes of Kodak, Xerox and Bausch & Lomb—which all got their start in Rochester.
"Increasing our tax base will lead to more jobs and a more vibrant community for our businesses and residents, and we welcome an influx of citizens for any reason," she wrote.
But how are they going to manage to house a potential endless amount of transplants?
"Rochester was a city that had over 300,000 residents at one point – so we have ample housing stock to handle this," she stated.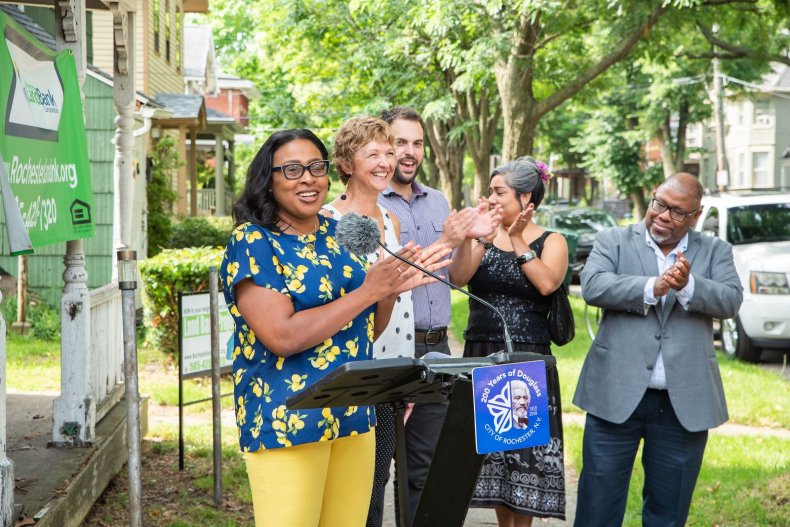 The movement of a species—be it human or bird or insect—can cause adverse effects.
"If you increase a population by a certain amount, you increase the stress on everything including the food deliveries, infrastructure, water, streets and transportation," Kristy Dahl, a senior climate scientist at the Union of Concerned Scientists, told Newsweek.
Dahl is seeing telltale signs of migration to the Northern Hemisphere. But some folks living in particularly vulnerable places are going to have a tough time selling a home whose worth is already sinking under water.
"Homeowners who have a home that is at risk to frequent flooding in the near term may be able to find a buyer," she said. But after so many years pass, "eventually some unlucky homeowner is going to be left holding the bag."
She pointed to Miami, where scientists are studying residential homes "exposed to flooding and appreciating at lower rates than those that don't have that same flood risk."
"There will be places within the next 30 years or so that would be significantly impacted by sea level rise," she said.
This could render into dead zones some parts of the country where it's too hot or too wet to stay.
Superstorm Sandy struck over Halloween in 2012. And it was a monster. The East Coast was decimated by biblical storm surges that killed 117 people. Twenty-two of those deaths were in Staten Island.
Denise English, her husband and two daughters survived the superstorm, escaping with their lives from their two-story home on Fox Beach Avenue as the shifting shoreline (already hampered by erosion) quickly swallowed up most of the homes in their Oakwood Beach neighborhood.
"We were petrified," she recalled to Newsweek, of the whipping gusts and rising waters.
In the wake of the storm, the English family permanently evacuated, as did so many of their neighbors, literally leaving the borough's once tight enclave to the birds.
Patricia Snyder, whose house was on the same street as the Englishes', left behind the home she had lived in since she was an 8-year-old girl when Sandy delivered 6 feet of gushing water.
"Everything was gone from my childhood," Snyder said. "It's all a memory, including the antique furniture that belonged to my grandfather."
Snyder's husband managed to scale up a neighbor's rooftop to ride out the flooding. Her brother Leonard, who was also her neighbor, did not manage to escape.
"He couldn't get out of the house," she said. "He had gone downstairs in the basement—and there's speculation as to why he went down there—and that's when a 15-foot wave came through."
Real estate agent Joe Tirone's investment property was totaled. But he was concerned about the tenants, "who lost everything they owned," as the stormwaters rose to 11 feet outside the home and 8 feet inside.
"The only things they were able to salvage were stuff on their mattresses that floated up and floated down," he said.
Tirone led scores of fellow Staten Island stakeholders to get help and secured 185 homes to be purchased outright by appealing to Governor Andrew Cuomo and utilizing the state's and Federal Emergency Management Association's (FEMA) Hazard Mitigation Grant Program, which cut checks for prestorm sums.
The program boasts taking "sustainable action taken to reduce or eliminate long-term risk to people and property from future disasters" and touts "every $1 spent equals $4 of future damages mitigated."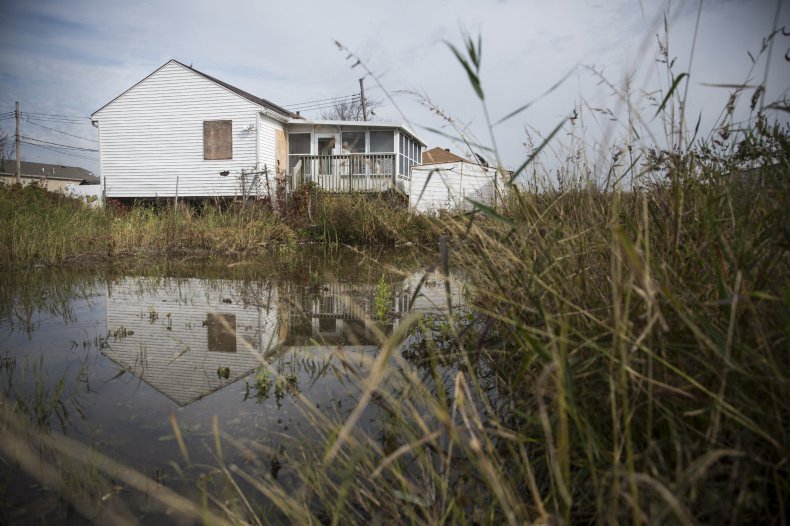 Save for a few stragglers, the Oakwood Beach community is virtually gone. Many relocated out of New York and their homes razed, transformed into open space.
"Anyone who sold a home to the state, [it's] back to nature forever," said Tirone.
This back-to-the-land transformation witnessed in Oakwood Beach is repeating itself in southern swaths of Louisiana and Maryland's Eastern Shore, which scientists believe are also becoming tough places to live.
There have been migrations in the past. There was the massive movement of people West to escape from the Dust Bowl of the 1930s. And throughout the earlier 20th century, millions of African-Americans fled the South in the Great Migration North.
Dahl doesn't think that the next chapter will be so extreme that people may end up trekking to the Yukon. But the appeal of a safer haven is going to become more alluring as human populations grow and resources become more fleeting.
"It could make places that people haven't been seen as destination cities more desirable," she said.
Kevin Dorn is city manager in South Burlington, Vermont. Climate change could wreak havoc for his some 19,000 denizens because of the city's reliance on maple syrup production, which is climate sensitive.
Dorn gets why South Burlington would become a bigger draw for climate refugees. Its schools are top notch and its summers are "pretty cool." The city gets about 81-inches of annual snow, but its winters don't dip too far below 35 degrees Fahrenheit.
But as for a rush for refuge by outsiders—whom locals refer to suspiciously, and as "Flatlanders"—Dorn has some concerns.
Housing is a consideration. Specifically, if more people come to live in South Burlington, the city will face a logjam of issues getting building permits approved.
"The permit process is arduous," he said. "It can take years or even decades depending on the project."
If the population (which statewide hasn't grown or fallen much in recent years) were to swell, residents would likely have to find shelter where "land prices are pretty expensive" and "is experiencing "a severe housing shortage."
"The biggest issue would be the permitting system and the ability to build in quantity to accommodate a big influx of people," he said.
Change of venue may give some protections from the elements—but clearly not everywhere, and not necessarily for long. Michael Mann, director of the Penn State Earth System Science Center, warns that there is only so far we as humans can run.
"While it's true that we can retreat from some of the heat and drought by moving to higher-latitude locations," Mann says, "there will be far more pressure on the diminishing remaining livable locations, and even those locations will potentially suffer from more damaging extreme weather events. No place is safe from the dangers of unmitigated climate change."
Correction: This story was updated to reflect that all of Dr. Keenan's remarks were expressed to The Duluth News Tribune (picked-up by The Brainerd Dispatch) and he confirmed those remarks to Newsweek. The word "climigrants" was also misspelled.