American Coal Miners Undermine Putin's Energy Weapon Against Ukraine
This article first appeared on The Daily Signal.
Kiev, Ukraine—Sometimes wars aren't won by tank battles and infantry assaults. Sometimes it comes down to keeping the heat on.
As Russia's hybrid war against Ukraine nears its fifth calendar year—and as Ukraine's infamously cold winter draws near—American companies are incrementally cutting into Russia's de facto monopoly as a supplier of nuclear fuel and coal to Ukraine, thereby undermining a longtime coercive lever of Russian influence over Kiev.
"In recent years, [Kiev] and much of Eastern Europe have been reliant on and beholden to Russia to keep the heat on. That changes now," U.S. Secretary of Energy Rick Perry said in July, announcing an $80 million deal to ship more U.S. coal to Ukraine.
"The United States can offer Ukraine an alternative," Perry said.
Since the breakup of the Soviet Union in 1991, Russia has often leveraged its power over Ukraine through the energy economy. Particularly, by cutting off gas supplies in winter. Consequently, energy security remains a lynchpin for Ukraine's fight for sovereignty from Moscow.
"Energy for years has been and continues on a daily non-military basis to be the prime Russian instrument for corrupting and subverting Ukraine," Stephen Blank, senior fellow for Russia at the American Foreign Policy Council, told The Daily Signal.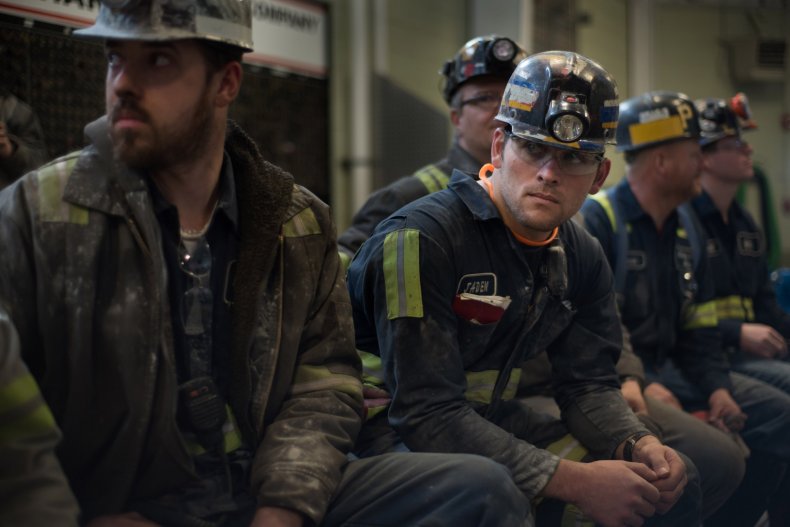 In the past year, the U.S. has upped its coal exports to Ukraine by more than 40 percent. The $80 million coal deal announced in July was for Pennsylvania-based Xcoal Energy & Resources to ship 700,000 tons of thermal coal to Ukraine by the end of the year—in time for the country to stockpile its energy reserves before the winter.
"It is a significant contribution to our energy security and a vivid proof of mutually beneficial strategic cooperation between our two nations," Ukrainian President Petro Poroshenko wrote in a Facebook post in September, following the first delivery of U.S. coal to Ukraine under the deal.
"While it continues to steal Ukrainian coal from Ukrainian Donbas, Russia has lost yet another tool for its energy blackmailing," Poroshenko said, referring to Ukraine's embattled southeastern Donbas region, where Ukrainian forces remain in combat against a combined force of pro-Russian separatists, foreign mercenaries, and Russian regulars.
On Tuesday, Kiev announced it had introduced sanctions against Russia's Yuzhtrans LLC, part of the Yuzhnaya Coal Co., which is one of the largest suppliers of anthracite coal from Russia to Ukraine.
Still, even after 43 months of de facto war between the two nations, Russia remains Ukraine's top supplier of coal and nuclear fuel. Yet, U.S. companies are slowly chipping away at Russia's dominance in Ukraine's energy economy.
In 2014, 100 percent of Ukraine's nuclear fuel came from Russia. By 2016, Russia's share was down to 55 percent.
The U.S.-based nuclear power company Westinghouse now supplies nuclear fuel for six of Ukraine's 15 nuclear reactors, generating about 30 percent of Ukraine's overall energy needs.
In June, Poroshenko announced plans to further reduce Russia's share of nuclear fuel supplies to Ukraine to 45 percent—with Westinghouse providing the remaining 55 percent.
"This will increase nuclear security," Poroshenko said, according to a statement on his administration's website.
Many ex-Soviet states like Ukraine rely heavily on Russian energy supplies spanning the gamut from coal, oil, natural gas, and nuclear fuel. A key means for the U.S. to thwart Russian coercive control over Ukraine and other post-Soviet states is to provide an alternative to Russia for energy security.
Increasing U.S. coal shipments to Ukraine will "allow Ukraine to diversify its energy sources ahead of the coming winter, helping bolster a key strategic partner against regional pressures that seek to undermine U.S. interests," U.S. Secretary of Commerce Wilbur Ross said in a statement about the July coal deal.
According to Blank, however, eroding Russia's leverage over Ukraine in the energy domain will require more than U.S. coal and nuclear fuel imports.
"I do see energy security as a key piece of the puzzle, but Ukraine also must do more to reform its entire energy economy beyond the impressive steps that it already has accomplished to keep it from becoming a Russian political football," Blank said.
"Transparent markets will do a lot to effectuate such movement over time and restrict, though not terminate, Russian influence," Blank added. "The point is to depoliticize Russian energy."
Pressure Points
This November, after 43 months of nonstop combat, Ukrainian troops remain hunkered down in trenches and ad hoc forts along a 250-mile-long front line in the country's embattled, southeastern Donbas region. There, Ukraine's military continues to fight a grinding, static war against a combined force of pro-Russian separatists and Russian regulars that began in April 2014.
The conflict has, so far, killed more than 10,100 Ukrainians and displaced about 1.7 million people. The war has also dealt Ukraine's economy a body blow—particularly when it comes to the energy economy.
When Russia seized Ukraine's Crimean Peninsula in March 2014, it cost Ukraine about $1 billion in energy production assets. Russia's subsequent proxy war in Ukraine's southeastern Donbas region—the heart of Ukraine's coal industry—also hit the country's economy hard.
Russia's proxy territories in the Donbas region amount to about 5 percent of Ukraine's overall landmass, but accounted for about half of Ukraine's coal and all of its anthracite extraction prior to the conflict.
Consequently, overall Ukrainian coal production dropped by 22 percent in 2014, the year Russian launched its proxy war in the Donbas. In the following, and despite the de facto state of war between the two countries, Russia was Ukraine's largest coal supplier and coal shipments still traversed the front lines out of the Donbas into the rest of Ukraine.
Blocking coal supplies has become a key domain of Russia's hybrid war on Ukraine.
In 2014, Ukraine's energy economy faced near disaster. Russia had blocked its coal supplies, forcing 22 Ukrainian power plants to shut down temporarily.
That year, Ukraine purchased about $1.77 billion worth of coal, of which roughly $1.14 billion, or about 64 percent, came from Russia.
From January to October of 2017, Ukrainian coal imports jumped up to $2.15 billion, according to the State Fiscal Service of Ukraine.
Russia was the top coal supplier this year, accounting for 55.7 percent of total supplies, worth $1.2 billion. At 25 percent of the market, or $546.8 million, the United States was the second-leading supplier.
"This administration looks forward to making available even more of our abundant natural resources to allies and partners like Ukraine in the future to promote their own energy security through diversity of supply and source," Perry said.
Ukraine has also turned to the European Union to divorce itself from Russian energy supplies.
In 2014, almost 100 percent of Ukraine's natural gas supply came from Russia. Today, it all comes from the EU.
"Only three years ago resolute measures were taken. As a result, in 2016 and 2017 Ukraine did not consume Russian gas," Poroshenko said in the online statement, adding: "Having carried out revolutionary measures, we buy all our gas in Europe today and do not let anyone blackmail Ukraine."
Close Call
In February 2017, combined Russian-separatist forces shelled power lines supplying the Avdiivka Coke Plant in the front-line town of Avdiivka. The attack cut off all power to the facility.
All power and heating for Avdiivka and its 16,000 residents comes from the coke plant. And so, as temperatures plunged double digits below zero Celsius, Avdiivka went dark and cold. Poroshenko called the situation a "humanitarian disaster."
It was not, however, a unique situation.
During 43 months of constant combat, combined Russian-separatist forces have often fired artillery and rockets at other power plants in the war zone. And Russian cyberattacks have repeatedly targeted Ukraine's power grids well beyond the front lines—including in Kiev.
Collectively, these attacks underscore Russia's strategy to target Ukraine's energy economy and infrastructure with both conventional military attacks and cyberwarfare to exert diplomatic pressure on Kiev.
Such attacks, when they affect the day-to-day lives of normal Ukrainians, play into Russia's ultimate ambition in Ukraine, which is to delegitimize the ruling government and to spread chaos.
The energy economy has also become a domestic political liability for Kiev.
Last winter, Ukrainian political activists and volunteer battalion soldiers established a rail blockade in eastern Ukraine, cutting off the shipment of goods from the separatist territories into the rest of the country, including coal deliveries.
The blocked coal shipments spurred an energy crisis in February that led lawmakers in Kiev to declare a national state of emergency.
Piece of the Pie
In January 2009, Russia cut its gas exports to Europe through Ukraine, plunging the Continent into an energy crisis almost overnight. Russian President Vladimir Putin, who was then Russia's prime minister, ordered Russian energy company Gazprom to cut its exports through Ukrainian pipelines by about three-fifths. The move came amid one of the lowest recorded winter temperatures in London in a century, sparking fears of a sharp increase in oil and gas prices.
In 2014, the year Russia seized Ukraine's Crimean Peninsula and launched its proxy war in Ukraine's coal-rich Donbas region, global oil prices fell from more than $100 a barrel to below $50 a barrel.
At that time, approximately 60 percent of Russia's government revenue came from taxes on oil and gas exports. And about 80 percent of the gas Russia sent to Europe went through Ukraine's pipelines.
In 2014, as the military conflict in the Donbas escalated, Russia and Ukraine were also locked in an energy dispute, with Russia threatening to cut off gas to Ukraine unless Kiev recouped its debts to Moscow. In return, Kiev threatened to block Russian oil and gas from reaching Europe.
Last year, the Russian energy company Gazprom used Ukrainian pipelines to deliver about 46 percent of the gas it sent to Europe, according to Naftogaz, the national oil and gas company of Ukraine.
To bypass Ukraine, Russia is pushing to build the Nord Stream 2 natural gas pipeline under the Baltic Sea to Germany along a pre-existing pipeline route.
If realized, Nord Stream 2 would be an economic body blow to Ukraine.
"Nord Stream 2 would decrease gas transit through Ukraine and cost Ukraine up to $2.7 billion in lost revenues, or almost 3 percent of [gross domestic product] every year," U.S. Ambassador to Ukraine Marie Yovanovitch said at an energy forum in Kiev in October.
U.S. sanctions on Russia for its aggression in Ukraine have hindered financing for the Nord Stream 2 pipeline. The Russian oil company Gazprom has a majority-financing stake in the project.
Russia is also working on another route into Europe through Turkey and the Black Sea.
Flashpoint?
Control over hydrocarbon reserves in the Black Sea and the Sea of Azov are another potential flashpoint for Russo-Ukrainian relations—which, some say, could escalate the simmering military conflict into a wider war.
In 2013, the year prior to the war, Ukrainian energy firms in Crimea extracted 1.651 billion cubic meters of natural gas from Ukraine's Black Sea and Sea of Azov basins. That extraction rate was projected to increase to about 5 billion cubic meters annually—still only a fraction of what the region could potentially produce, according to a 2017 report by the National Institute for Strategic Studies of Ukraine.
That was all lost when Russia invaded and seized Crimea in 2014. Additionally, Ukraine lost control of 10 stationary sea extraction platforms, four drilling rigs, 1,200 kilometers of pipelines, and 45 gas distribution stations.
Altogether, the loss of Crimea's offshore energy extraction infrastructure cost the Ukrainian economy about $300 billion, the report said.
There are approximately 7 trillion cubic meters of methane hydrate deposits within Ukrainian waters in the Black Sea. And, according to a 2010 U.S. Geological Survey study, there are an estimated 218 million barrels of recoverable crude oil and 4,093 billion cubic feet of recoverable natural gas in the Sea of Azov, on which Russia and Ukraine both have coastlines.
"Competing energy claims in these areas might be a minor part of a new casus belli, but not the main ones," Blank said. "The issue is Ukraine's sovereignty and integrity, not energy."
Nolan Peterson, a former special operations pilot and a combat veteran of Iraq and Afghanistan, is The Daily Signal's foreign correspondent based in Ukraine.