More than a third of Americans say they are unlikely to or definitely would not get a COVID-19 vaccine if one becomes available, according to a poll.
Of the 1,003 U.S. adults who took part in the nationally representative telephone survey, 29 percent said they definitely would get a vaccine if and when one becomes available, while 35 percent said they are unlikely to or definitely would not.
The Fairleigh Dickinson University poll was conducted as teams of scientists around the world work on over 100 COVID-19 vaccine candidates. It revealed a fifth of respondents were very confident that any vaccine will have been adequately tested for safety and effectiveness, while 28 percent said they were not at all confident, and 52 percent were somewhat confident.
Republicans were found to be more likely to state they definitely would not have a vaccine compared with Democrats, at 26 and 5 percent, respectively. A quarter of Republicans said they would definitely get vaccinated, versus 37 percent of Democrats.
Julie Kalabalik-Hoganson, associate professor of pharmacy practice at Fairleigh Dickinson University School of Pharmacy and Health Sciences, said in a statement: "The hesitation that Americans have, and their distrustful view of vaccine development may serve as an obstacle to vaccine acceptance in the future. A significant amount of education on the benefits and risks of the vaccine will need to be provided to the public."
When the data was looked at according to the race and ethnicity of respondents, black Americans emerged as more skeptical towards vaccines than others. Some 43 percent of black Americans said they would probably not or definitely would not get vaccinated. Thirty-seven percent said they had no confidence a vaccine would be safe and effective, in contrast to 26 percent of white Americans and 27 percent of Hispanic Americans.
A quarter of whites and 35 percent of Hispanics, meanwhile, said they probably or definitely would not get vaccinated. And 26 percent of white respondents and 27 percent of Hispanics were confident the vaccine will be safe and effective.
At the same time, black participants were more concerned about their overall health during the pandemic than their white counterparts. A total of 45 percent said they were very concerned their health or a loved one's will suffer during the pandemic due to delays to non-COVID-19-related issues, versus a fifth of Americans and 38 percent of Hispanics. This comes against the backdrop of emerging data suggesting that people from black and ethnic minority backgrounds are more likely to suffer complications from COVID-19.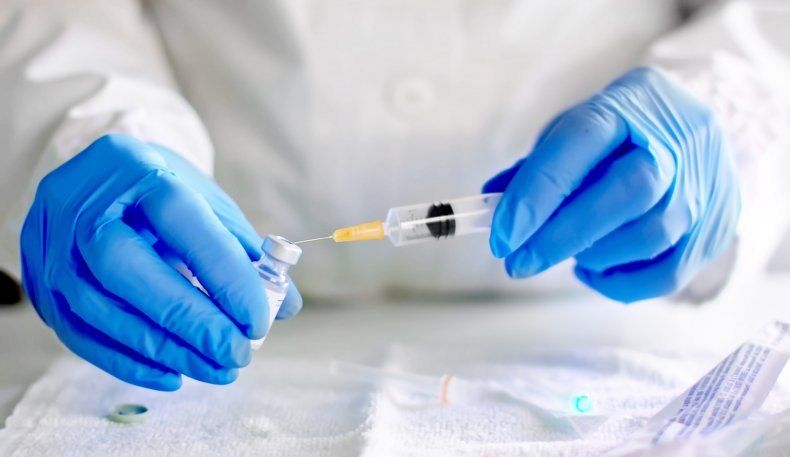 The poll also shed light on the links between attitudes towards President Donald Trump and the pandemic. Half of those who approved of his handling of the crisis wrongly believe hydroxychloroquine (an anti-malaria drug he has repeatedly touted for COVID-19) is a safe and effective treatment for the disease, whereas 80 percent of those who disapproved know it is not.
In addition, almost half (49 percent) of those who approved of his approach believed COVID-19 cases have been overreported, and 66 percent say the death tolls are inflated. However, 77 percent of those who don't support the president's approach believe infections are underreported, and 62 percent say deaths are underreported.
Krista Jenkins, professor of politics and government at Fairleigh Dickinson University and director of the poll said: "You can't hear hydroxychloroquine without thinking of the president, so perhaps it's no surprise that among his supporters we find a greater chance that someone believes in the drug's safety and efficacy.
"He's a powerful source of information to his supporters, even when there is clear evidence that refutes his messages."
The research follows a nationally representative poll by The Associated Press-NORC Center for Public Affairs Research which showed 49 percent of Americans would get a coronavirus vaccine if one were to become available, at 56 percent for white participants, 25 percent for black respondents, and 37 percent for Hispanics. The poll involved 1,056 U.S. adults.
The graphics below, provided by Statista, illustrate the spread of COVID-19 in the U.S. and the worst-effected countries.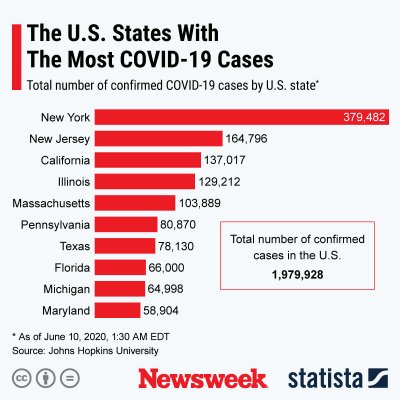 Uncommon Knowledge
Newsweek is committed to challenging conventional wisdom and finding connections in the search for common ground.
Newsweek is committed to challenging conventional wisdom and finding connections in the search for common ground.
About the writer
Kashmira Gander is Deputy Science Editor at Newsweek. Her interests include health, gender, LGBTQIA+ issues, human rights, subcultures, music, and lifestyle. Her work has also been published in the The Independent, The Independent on Sunday, The i Newspaper, the London Evening Standard and International Business Times UK.